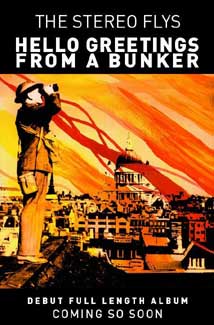 Margin Walker, The Stereo Flys, and The Grave Reviews @ P.A.'s Lounge, Somerville, Saturday, March 20. 21+, 8:30pm doors, tix $10.
Just one featured band this week, due to exhaustion and a pile of other things to get to. Boston's own The Stereo Flys are a happy, crunchy, distortion-loving psych-rock indie trio – Jeff Beam (guitar & vocals), Sam Peisner (bass) and Zander Kagle (drums).
They'll be releasing their debut album, Hello Greetings From A Bunker" in April, and are aiming for a CD (and vinyl) release show at T.T.'s on April 20. For now, you can hear a few samples and see them live at P.A.'s Lounge in Somerville on Saturday. They'll be embarking on an East Coast tour in May with Goodnight Process, to support their new album.
The Stereo Flys – video by Clara Rice
share this: