"I catch a cab outside on 7th Street and the cars fly by through the Bowery…"
I knew this would be a special evening, even without the full moon.
The Bowery Ballroom is a fantastic venue. It's kind of an unusual setup. They first let you in down some steps from street level to a small, cozy lounge with comfortable couches and a mellow ambiance. When that space gets filled with drinking, happy people, they open the double doors and let everyone in upstairs to the ballroom (including an upper level balcony), which is just big enough to fit the 550 capacity, yet small enough to feel intimate. Not sure what the building was originally used for, though it was built just before the 1929 Stock Market Crash; converted into a music venue in 1997. It's a lovely space with great acoustics.
The Henry Clay People came on to, as lead singer Joey Siara noted, about a 30% capacity crowd. Such is the fate of an opening act in New York City, where people don't start their evenings until 10pm. But they were good sports about it, and in quick order, they won the hearts and minds of those who were there. Those guys are just so much fun, no matter what your mood is that day or how cool and detached you think you are, you can't help but get sucked in to their three ring circus. If they can get a bunch of jaded New Yorkers pumping their fists in the air and dancing along to songs they don't know, then they can tackle anything.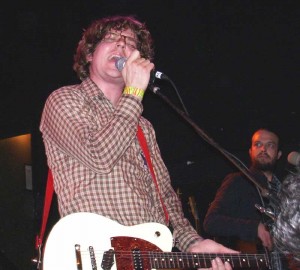 Alex from Alberta Cross joined them for a few songs, and sounded really good, adding keyboards to the mix. I'm slowly getting more familiar with their music, so I'll have an attempt at the set list: The Good Ones, Taste of the Tasteless, (no idea – anyone?), End of an Empire, (not sure, but included the line "there were happier times"), and Something in the Water. Which was then followed by what's known as their "classic rock medley" which tonight was a rather wacky trip through Take a Walk on the Wild Side (very appropriate!), Sometime Around Midnight (kinda, I think?), and You Can't Always Get What You Want. They finished with Digital Kid and Working Part Time. They were joined onstage by a good friend of theirs on guitar. Ok, so was I hallucinating, or was this Malcolm Sosa of Rademacher? Unless I heard (and saw) incorrectly, good heavens how cool, but man, what a tease, as I would have loved to see them playing these East Coast shows. The audience seemed to enjoy their set and – as Joey noted from the stage – yes, I was most certainly rocking out.
---
I really liked Alberta Cross tonight. Not sure what happened here in New York that didn't happen in Boston. Maybe it was a better sound mix; perhaps it was just playing before their hometown audience (they're based in Brooklyn). I don't know. But they sounded wonderful, and much more as I fondly remembered from what I heard of their music on MySpace and their "Thief & The Heartbreaker" CD. Standout tracks for me were the title track from the CD, Low Man, and this gorgeous gospel song they did. I'm not sure about the title, but it was quite beautiful. I do find I prefer their softer, more bluesy tracks. Personal preference maybe, but it's in those slower numbers where I feel they truly shine.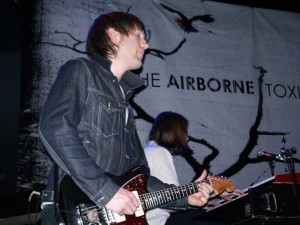 ---
As the stage is set for TATE, excitement builds. The lights go down. To swelling music which has become the opening introduction, the Calder Quartet walks out first, followed by the band, to loud cheering which fills every corner of the rather intimate and cozy ballroom. A quick look around confirms that the place is now packed to the back of the room, with people lining the rails of the upstairs balcony. Just a beautiful sight and feeling; one of those perfect rock 'n roll moments. Actually more than that, because the sight of the Calder Quartet, for me, adds a layer of sophistication to the scene. This is the first time I'm seeing them perform with Airborne, so it's an emotional moment. With everyone in place, the music slowly fades down, and Mikel announces, "this is a true story," which then leads into the familiar opening notes of Wishing Well. This has now become a set piece, giving their performance, from the very start, a kind of "rock opera" feel, magnified 1,000 times this evening by the magnificent Calder Quartet, who provides a gorgeous string accompaniment to the song. Just beautiful.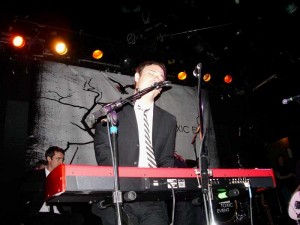 As in Boston the Saturday before, the crowd sang along to every song. Their debut album, 7-1/2 months after its U.S. release, has become the soundtrack to quite a few people's lives. This feeling of connection between Airborne and their audience is what makes this band so special, and it builds on itself, creating that cathartic environment that TATE fans find themselves going to repeat performances to experience. In addition to the wonderful music, heartfelt lyrics and powerful delivery, it's this feeling of connection and shared experience that makes their shows so meaningful for so many.
Mikel's voice is continuing to improve from his laryngitis difficulties. I'm guessing that having several dates along the East Coast has made for a bit less travel between places and more time for him (and everyone else) to rest a bit. Echo Park got a little NYC-inspired lyric change – "I tried to make a brand new start with her that night in Central Park", and they've given it a smoother, less abrupt ending. It sounded fantastic, as did the gorgeous Letter To Georgia, both of which get me very excited about their next album, if those two songs are any indication of what's to come. Goodbye Horses is a wonderful first cover song, and has become a crowd favorite. I was also glad to hear them perform This Losing, as I really love that one.
Lush, sweeping versions of "Sometime Around Midnight" and "Innocence" (the achingly beautiful extended "Heaven" version) just envelop you, thanks to the beautiful string accompaniment provided by Anna's viola, Noah's bass, and the absolutely wonderful Calder Quartet. Anna and Noah's string arrangements always add a touch of elegance to these songs, but with the Calder Quartet adding their magic to the proceedings, the musical maelstrom was breathtaking. Anna's viola playing was especially lovely tonight. It must be pretty awesome for her to play alongside her brother (he's the second violinist in the Quartet).
Does This Mean You're Moving On? was introduced by Mikel as "a New York song"… quite moving to hear everyone singing along to this one, especially. And Missy… raucous as always, with the Henry Clay and Alberta Cross guys – plus the Calder Quartet and a few audience members, up on stage.
From my first live experience of TATE at that crazy 'FNX pajama party show at Jose McIntyre's in Boston on July 30 of last year, to my 7th time seeing them, here at the Bowery Ballroom, in those 8+ months of constant touring, their live show has gone through amazing development. It has matured into this dramatic, flowing performance with a quality you don't usually see except for a small handful of bands that have been together for many years. There's a tightness of their sound, a way they play off each other, and a familiarity they have with each other's styles of playing, to the point where it seems they're of one mind.
Some may miss the casual barroom scrappiness of their earlier club gigs, but if TATE are to move to the next level (and I'm pretty sure we all want them to), they need to expand their music and personality to fill much larger venues and connect with vast audiences the same way they have connected with each person in every club and theatre they've played in up until now. They need to be more than an amazing, kick-ass, bursting-at-the-seams bar band. And with this first headlining tour, they've been building on their sound and stage performance, expanding and stretching it out for ever-increasing audiences. If the rumors now circulating are true, we will soon see the magnificence I witnessed in these recent shows translated to a very large stage and a sea of people, many of whom will be seeing them for the first time. Wicked exciting times.
Wishing Well
Papillon
Gasoline
Happiness Is Overrated
Echo Park
Letter To Georgia
This Losing
Goodbye Horses
This Is Nowhere
Sometime Around Midnight
Innocence
(encore)
Does This Mean You're Moving On?
Missy
[Please forgive me if the set list order isn't quite right. Something happened midway through the show; not sure what. Well yes, of course I know what – I was swept away to some magical place far away, and came back to my little crib sheet where I number the songs, only to find I had two number 6's, an 8 and a 9, and nothing after that.]
---
This wonderful evening was capped off by an after party at Santos Party House, where the bands and their friends kicked back, celebrated, and danced their asses off. Steven, Mikel, Noah, Daren & Anna took turns playing DJ, with inspired choices such as Mikel faves Bowie, The Cure, Brian Eno and Iggy Pop; to MGMT and MIA; to the Clash and James Brown's classic "Sex Machine"; to Prince and of all things, "Popcorn", which I haven't heard since… never mind. Crazy fun.
share this: