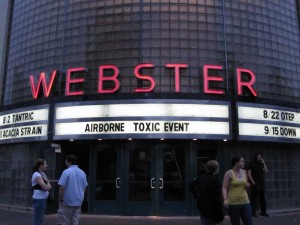 My god, the difficulty in trying to write a review of a band that has meant so much to me in the past year! From first hearing about their residency at Spaceland in Silverlake in January 2008, to purchasing their EP off iTunes and listening repeatedly at work, at home, and in transit between the two. To that surreal "lingerie party" at Jose McIntyre's, other shows and YouTube/internet madness that would follow.
I'm not terribly sophisticated in my music knowledge. On occasion I might recognize a riff that sounds like some other band or reminds me of someone's sensibility or style. I'm impressed by virtuosic playing, but that's certainly not required for me to enjoy a particular piece of music. I'm curious about equipment used, playing technique, etc., but not knowledgeable enough that I can rattle off types of guitars, drum set-ups and effects boxes. What I tend to focus on is the emotional response that music elicits – in myself and in the rest of the audience. Does it give me chills down my spine? Does it dredge up deeply submerged emotions? Do the lyrics jump out and grab me; do I get caught up in the story being told? These are the things that really make me stop and take notice.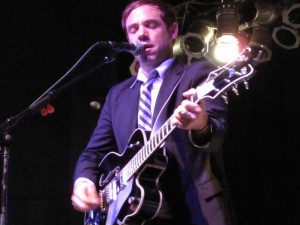 In the case of The Airborne Toxic Event, this emotional response has been intense and at times overwhelming. From reading others' reviews and comments, I realize I am far from alone. The vastness and diversity of the people they have touched is something, I think, quite unique to this band. Their music and Mikel's extraordinary storytelling is at first glance quite dark, full of longing and regret. But there's a stubborn defiance in the face of despair that says "yes, life truly sucks sometimes, but I'm not going to pretend to be happy, I'm going to immerse myself fully and stretch out like a cat in the gloom, explore every single dark crevice, then beat it senselessly into the ground and dance on its grave". Considering this, and after seeing them seven times previously, it didn't seem quite enough to merely "write a review". Their music over the past year has tightly wound itself around events in my life like a slow but persistent vine. Their debut album and especially their live shows have been cathartic in releasing a great deal of stress from various personal and work issues. They've inspired me to get back into writing and were instrumental in my expanding on this blog, which before a year ago, I only wrote for intermittently. I've turned others onto them as well, including my parents, who have both become fans.
Yes, they're just a rock 'n' roll band (albeit a really, really good one). Yes of course, the three shows I saw this past weekend – Hartford, Boston, and Providence – were awesome, their sound incredibly tight and the interplay between them seamless and stunning, from all the touring and how well they all know each other by now… Energetic, passionate, powerful, and ridiculously engaging, connecting with their audience like I've never seen before… but if you're a fan reading this, you already know all that. Telling you what they played, what the venue and audience were like, what new songs turned up, unusual events that took place, and sharing my enormous truckload of photographs and video footage (and tales of newly discovered bands they played with), wouldn't be enough. I needed a personal story.
Fortunately (or unfortunately, depending on how you look at it), events leading up to my drive down to Hartford for their first show there gave me the story I was looking for.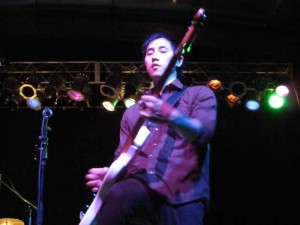 My dad, whom I introduced to Airborne's music a while back, is also a big fan. While not exactly the "hipster clubbing type" and far more likely to attend a string quartet performance, he decided he had to see them, so he bought himself a ticket and planned to go with me. It was decided that my 88 year old mom, who also loves the band, was far too frail and unpredictable to be trusted in a cavernous rock venue with screaming, emotional fans (she would no doubt rapidly become one of them). So the plan was that our adopted family member, Tina, would look after her at home while my dad and I rocked out. My mom, with her inimitable sense of timing, decided she would get sick enough that very morning to have to be brought to the hospital (she's ok for now, stubbornly defiant woman that she is). After driving down to Hartford in a monsoon-like torrential downpour (gosh, how unusual an occurrence this year), I went straight to the hospital and then to the Webster Theatre. My dad followed later, arriving in perfect time for their set, standing up at the front barrier with me. The last (and only other) time he was at a rock concert was for a David Bowie show back in 1983, where he and my mom lasted for maybe 2 songs. This time though, he stayed nearly to the end.
Something about that crazy drive down, careening with blind trust down a rain and windswept Mass Pike; the hospital and uncertainty of my mom's condition, mixed with a healthy dose of job uncertainty (being laid off and then hired back part time a few days earlier) and shall we just say pre-existing conditions, created that perfect storm, an emotional maelstrom like some weird incomprehensible late night movie with of course Airborne Tox providing the soundtrack.
I had never been to the Webster Theatre before. With all due respect to what I'm sure are the best possible intentions to bring live music and cool indie bands to the bowels of downtown Hartford, the place is a hole. It's a skanky, cavernous (and that will clue you in to the sound quality…) gutted-out theatre in a dodgy part of town. And when I say "dodgy", I don't mean in a cool, hip way like Echo Park or Silverlake – I mean in a scary, gang shootings, dead rats, muggings in broad daylight sort of way. I suppose I'm glad they make everyone empty their pockets and fully frisk you before you go in. The no bottled water allowed inside is just a money-making exercise, because I know it irks them that I don't drink alcohol; gotta make money off me somehow. Fine, I get that. The no moshing, no stage diving, no surfing policy (sorry Anna) – well, I guess that makes sense as well, since the venue apparently specializes in metal (gee, who would have guessed?). And the moat-like distance from the stage to the audience, separated by a tall barrier and rough looking security guards… I suppose that's to prepare for that metal audience as well. No, what I find bizarre and annoying (and perhaps a bit comical) is that when you buy your $3 bottle of water, they don't give you a bottle cap. It's because (as I was told), you might use it as a projectile. Hang on. I'm going to use a bottle cap as a projectile? Why not the entire bottle? Or for that matter (and especially if some drunk shit starts talking during that really nice, quiet part of "Missy"), why not just my boot across their head? A bottle cap. When my dad arrived, he aptly pointed out that the only thing the place was missing was chicken wire across the stage.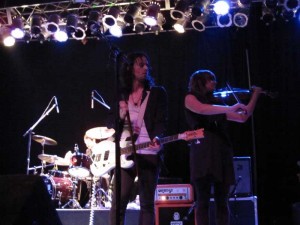 But onto the point of the story… The Show. At first I was worried about the attendance, as there couldn't have been more that 150 people for Brooklyn-based Bear Hands' set, in what's a 1250-capacity venue. Bear Hands… well, I liked them on MySpace, and I think they're probably a decent band, but they were mixed so incredibly loud and the place is so boomy to begin with, I just couldn't make out vocals and musical nuances as I'd like to. Two songs rose up out of the din, and I have scribbled pieces of lyrics, maybe correct, maybe not. "If you believe in the miracle… I believe we will never pass away", and "He's whistling a tune that his mother wrote… part of me has died several times." (I think that latter one is "Can't Stick 'Em"). And I wrote down "2nd to last song interesting", but not having a set list or knowing what they played, that's not terribly helpful, is it?
It turned out my concerns about attendance were unnecessary, as the place instantly filled up just before Airborne came on, and the crowd was amazing. Enthusiastic, singing along to every song… fantastic. As for the band… well, what can I say? They just keep getting better and better, and I don't know how that's humanly possible. Their playing at this point in time is simply explosive, and they're so familiar with each others' styles, their interaction is like a flowing dance. Incredibly beautiful to watch and be swept up in. They performed everything except "Papillon" from the album, plus the lovely "Echo Park", "This Losing" (a favorite of mine), "Goodbye Horses" (really great), and the truly wonderful most recent new song, "All I Ever Wanted". As much as I love their debut album, these new songs that they are now "road testing" portend amazing things for their follow-up. Sadly, they seem to have at least temporarily dropped "A Letter To Georgia" from the set (or maybe they didn't have quite enough time at these three recent shows; we'll see), but that one as well… WOW.
A word of Anna Appreciation here. Classically trained and not even interested in rock music until she joined the band, she's coming from a very different place than Mikel and Steven with their literary background, Noah with his jazz sensibility, and Daren with his punk rock beginnings. There's this regal presence and seriousness about her that comes through when she's playing her viola that adds a special classiness to the proceedings – something which makes Airborne unique and not just another "indie rock band". And then, the moment passes, and she's up on an amp or with a tambourine out in the crowd, and suddenly she's this kinetic ball of punk energy. Amazing. Now to get her to stand still for a millisecond or two so I can get a decent photo…
Near the end, Mikel introduced their guitar tech, Justin (one hard-working guy, as would become evident at the Providence show), and brought him out on stage since it was his birthday. So we all sang "Happy Birthday" to him.
The encore, which has now become a joyous, communal homecoming experience, saw Mikel and Anna crossing the moat, and Mikel further foraying out into the loving, welcoming arms of the front rows. I suppose at this point, especially for us "frequent flyers", the coda of "Does This Mean You're Moving On" and "Missy" should be getting a bit old… but it never does. Daren comes out first and gets things going with a pulsating beat and it's a mass tribal drumming and hand-clapping ritual. As soon as the others come back onstage and the opening riff of "Moving On" arrives like a familiar friend, the crowd erupts, and if the audience is really there, as they were in Hartford this night, it's a soul-soaring, religious experience. "Missy" is as perfect an ending as it ever was (though I do find it brings a kind of wistful sadness along with it, as I will forever associate it with the end of this magical evening – or at least until the set changes!). But that part of the song that is one of my all-time favorites lyrically, makes the inevitable sadness (until next time) well worth it…
"I met her one night at the coffee shop,
her face so bright my heart just stopped.
Hello, my dear, I fear I'm not what I seem, I'm not what I seem.
I should have become a better man,
I should be more deserving than
the beggar, thief and courtesan I've been, oh that I've been.
But I swear, I lie, I curse all of my dreams…"
After the show, we were pushed outside by club security onto the street, as abrupt as a lover who jumps out of bed, throws on their clothes, and is out the door. But true to their nature, everyone (sans Daren and his broken foot, but more on that in my next installment) was out at the bus with a throng of fans, cuddling and enjoying the afterglow.
The next morning, I was back at the hospital with a portable DVD player to visit with my mom before high-tailing it back up to Boston for the Best Music Poll show. Even when I thought she'd be spending a quiet evening at home, I had compiled a DVD of early Airborne footage off YouTube, since she wouldn't be able to see them in person. Watching her rapt expression Saturday morning as she viewed such gems as the Spaceland residency short film, 'Moving On' video, early interviews, and the Echoplex performance of "I Don't Want To Be On TV" made my technological dance of laptop, converter box and cables worthwhile.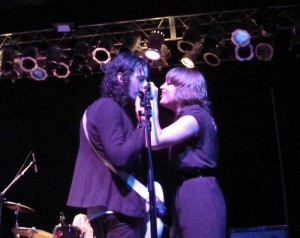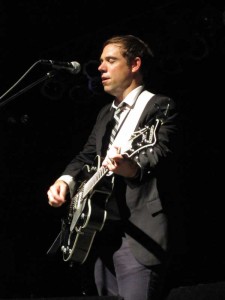 All photos up on Flickr | Rest of video up on YouTube
share this: