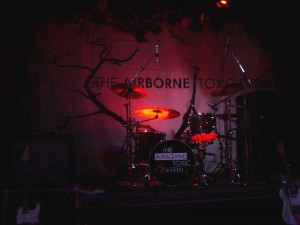 my thoughts on the eve of their north american autumn 2009 tour kickoff…
generic American cities, all of which must blend together and look the same, after a while. 'drive-by' visits to exotic foreign lands, mostly just seeing the airport, a hotel, and in the case of a festival tour, a scorching airstrip or cold and muddy cow pasture. long periods of time away from family, friends, and favorite coffee shops, clubs, and taco restaurants. a resident of everywhere, a resident of nowhere. trying to find healthy food in culinary wastelands. late nights of endless faces, countless requests. never-ending jet lag. the sheer logistics of getting from place to place, venue to venue, soundcheck to soundcheck. is it even possible to sleep properly on a moving bus?
I'd like to dedicate the following video to The Airborne Toxic Event, and wish them safe journeys free of lost luggage, with enthusiastic and joyous crowds that make it all worthwhile.