The Airborne Toxic Event, The Henry Clay People, and Red Cortez at The Trocadero, Philadelphia, PA, October 10, 2009
In an interview at the Reading/Leeds Festival, Mikel joked about performing on Mars (as in, one of the few places they haven't been yet). With how I felt by the end of this epic evening, though it wasn't Mars, it may have been a nearby galaxy.
Red Cortez
I was really looking forward to seeing these guys, based on all the excited "tweets" of concertgoers on this tour, and I now see what the buzz is all about. Man, they're incredible! Harley Prechtel-Cortez is an amazing and charismatic frontman with a beautiful voice. Along with fellow bandmates Ryan Kirkpatrick on bass, Diego Guerrero on drums and percussion, and Calvin J. Love on guitar and keyboards, they are just explosive and extremely engaging. I previously profiled them, and discovered music that was bluesy and rootsy, Latin-tinged garage rock with a punk rock attitude and poetic lyrics. Live this all comes across quite strongly and is very impressive.
In addition to singing with incredible passion and prowling around the stage, Harley engaged the audience between songs and it was obvious how excited they are to be touring, and grateful for what was a very positive audience reaction. Clearly everyone had gotten there early to check out these two brilliant bands from Silverlake. This isn't always the case for opening bands, so I was delighted to see it. Especially funny – "this is a new song, doesn't matter, you don't know who the fuck we are" – which got everyone laughing. But you know what? I'm pretty certain everyone who was there that night is going to make a point of finding out.
The Henry Clay People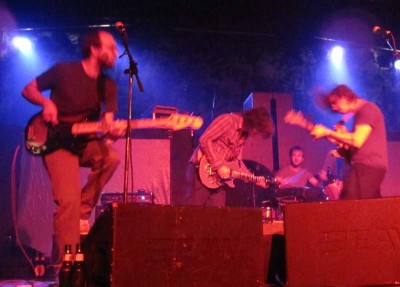 Every bit as good as ever, I already know how much fun The Henry Clay People are going to be, so apart from dancing and singing along to my faves, I'm looking around, anxious to see what everyone else thinks – especially the "HCP virgins". One word for the crowd tonight: magnificent. You never really know how a band is going to come across, but the crowd this night just "got it", and partied along, enjoying the camaraderie and humor.
HCP performed some songs from their latest (and wonderful) album For Cheap Or For Free, plus four new ones – "The Switch Kids" (written for fellow Eastside L.A. band Le Switch), "End Of An Empire", "Keep Your Eyes Closed", and the especially beautiful and poignant "Randy, Where's The Rest Of Me?", a song written about touring and missing one's home. This is well on its way to becoming a favorite HCP tune of mine. You can hear these new songs on HearYa.
The loose and crazy "Andy Sings!" became looser and crazier when, mid-song, Joey got lost in the moment and did an emphatic kick, his sneaker flying clear across the stage (I'll have to believe that was not part of the choreography). Hilarious, and so very Henry Clay People-ish.
I also need to say how much I enjoyed Jordan, their new keyboard player (who had just recently quit his job to join the tour). He's just awesome, and I scribbled down 'beauty of a Beethoven-worthy piano solo' before "This Ain't A Scene".
And speaking of "This Ain't A Scene", during that wonderful song (one of my faves) Mike kicked right through his bass drum, resulting in a mad scramble on stage to replace it (with Blake and Daren lending assistance). Joey and Andy (who I think must have been a Vaudeville act in a recent past life) rose to the occasion, with Jonathan and Jordan nimbly following suit. Well, one is tempted to say that the Henry Clays live for such moments, or at least dare them to happen, what with their just on the edge of falling apart stage persona. While the drum set was being fixed, we were treated to a rollicking (and drumless) version of Springsteen's "Thunder Road". The audience loved it.
The Airborne Toxic Event
Excitement builds in the Trocadero as the stage is set. As has been the case for a while now, they begin with an instrumental introduction, starting with Daren laying down a hypnotic, tribal drumbeat. From there each band member comes out separately and joins in. I really loved this when they first started doing it earlier in the year. Now it's even better, in complete darkness with the new video screens and spotlit raised drum set and backdrop. Stark, rather eerie and very dramatic. The swirling, moody intro. envelops, and then gives way to "Does This Mean You're Moving On?" Odd to hear this first instead of last, but it works really well as the opening song, bursting out like an impatient horse from its gate. As one of the original 'pre-release' songs available on iTunes, I have to say this is probably the first Airborne song that I really took notice of and could not get out of my head, so it's appropriate to start things off with something so fondly familiar.
I'll admit, when I first heard about the new stage set, video screens, and choreographed lighting, I was skeptical. Though I enjoy theater, I usually prefer my rock bands with minimal production, both musically and visually. Especially with Airborne, loving their music and Mikel's lyrics as I do, I tend to be a purist. Having said that, I thought the new stage design turned everything up a notch and made for an uber-dramatic and highly emotional presentation. The video screens, lit backdrop and choreographed lighting created some really interesting and sometimes quite beautiful visuals.
The 'first act' included "This Losing" (love this song, always will) and two new covers – The Drifters' "This Magic Moment", surprising and fantastic, and Yo La Tengo's "Sugarcube" (lovely).
The addition of the acoustic set midway through was brilliant, and is the answer to many fans' prayers, all those whom, like myself, have been enjoying Airborne's acoustic video series. Tonight we got "A Letter To Georgia" and "Wishing Well" (sometimes the Magnetic Fields cover, "The Book Of Love" is included as well), and it was just gorgeous, with Noah on his upright bass, Daren with a single snare, and Steven on piano.
I thought the contrast between the awesome visual effect of the screens and lighting, and then the very minimalist and basic acoustic set in the middle of the evening was stunning. You're swept up in this emotional maelstrom; songs that are like close friends are seen in a new light (literally), intriguing and powerful with silhouettes and shadows and a variety of hues. Daren at his drum kit, perched high above the proceedings as the heartbeat of the band, and appropriately the visual focal point as well, with white spotlights illuminating him and the backdrop. What is the meaning of the blindfolded audience, I wonder? Mikel, Noah, Steven and Anna move around the stage below him, at times at the edge of the stage interacting with the audience; at other times silhouetted against the video screens, or playing off each other. Each song becomes a vignette in a complex and elaborate sort of rock musical, with powerful white flashes exploding at climactic moments. Truly breathtaking.
The rest of the main set followed, which included major crowd singalong, of course, "Sometime Around Midnight", the William Garvey song, "Goodbye Horses" (now a much-loved standard as a tribute to the songwriter), "All I Ever Wanted" (inspired by the Milan Kundera short story "The Hitchhiking Game"), and the very beautiful long version of "Innocence".
The encore included a song they started performing soon after the passing of musician and poet Jim Carroll, his classic "People Who Died". A great version which included members of Red Cortez joining in.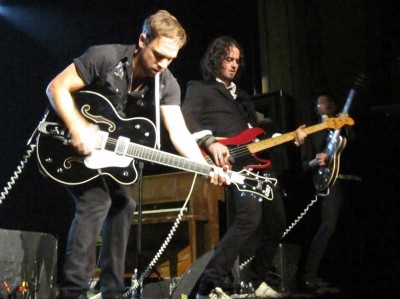 A choreographed show, when done properly and in service of the music as this one clearly was, is incredibly powerful and adds to the emotional experience. But there's also value in the unplanned and unexpected. Fate took a hand Saturday night, perhaps to point out that while an orchestrated production can be quite beautiful, sometimes it's good to get back to basics. One never wants things to go wrong, but it's the sign of a true artist who is unfazed when events don't quite go as planned, not only coping, but grabbing those mishaps around the neck and shaking them with mad glee, turning them into those magical, transcendent moments.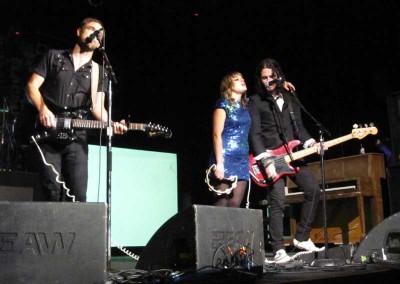 First there was the HCP bass drum incident. And for Airborne, this came at the start of the final song. Mikel's Gretsch suddenly cuts out, so he switched to his trusty Jaguar, but nope, turns out it was the amp. Unflustered, he grabs the mic and, saying something about doing "an acappella version", he first starts singing "Missy" sitting on the edge of the stage, and it turns into an absolutely searing version, with him standing on a step at the barrier and the audience going completely nuts. It was the perfect way to end such a mind-blowing night. Just as good as anything they could have planned — and perhaps even better.
Intro
Does This Mean You're Moving On
Something New
This Magic Moment
Gasoline
Sugarcube
This Losing
Papillon
This Is Nowhere
(Acoustic set)
Letter To Georgia
Wishing Well
Sometime Around Midnight
Goodbye Horses
All I Ever Wanted
Innocence
(Encore)
Happiness Is Overrated
People Who Died
Missy
Other videos up on YouTube:
(The Henry Clay People):
"Bang A Gong (Get It On)" (T. Rex)
(The Airborne Toxic Event):
"Sugarcube"
"This Losing"
"Wishing Well"
"All I Ever Wanted"
More photos to be uploaded to Flickr, in time…
share this: