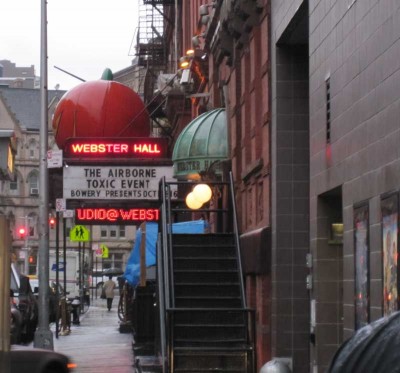 "Talking 'bout Monroe and walkin' on snow white, New York's a go-go and everything tastes right…" – The Jean Genie, David Bowie
There's just something about New York City. Maybe it's because I was born there; something genetic in the blood. I feel a calmness that seems out of place in this crazy, bustling city. A synching of biorhythms. Who the hell knows? There's a coolness, a vibrancy, and a level of convenience – anything, anytime (such as this Japanese grocery store that happened to sell some awesome and cheap vegetable soba noodle soup on the opposite corner from a cold, windy and wet wait outside Webster Hall) – that soothes the soul. At the same time, it's a high stakes city, the largest media market in the U.S., uber-important shows, loads of press and industry people. And, though they're a friendlier lot than their reputation would suggest, I have to believe a pretty jaded audience. I mean, every band comes through here, right? I imagine that as a band, you just have to say "fuck it" and enjoy yourself, because thinking about it will screw you up.
Red Cortez
I know they've played in NYC before (and I guess Harley's originally from here), but I believe this is the first show they've done anywhere near this size. Which would unnerve any band, but these guys, as young as they are, play like seasoned professionals. My third time now seeing them, and they have been consistently explosive, engaging, and wonderful. While it's hard to fully appreciate Harley's poetic lyrics in a live concert setting (being up front, you also lose some sound quality), what you get is the power and passion of his delivery, and how he along with Calvin, Ryan and Diego completely inhabit their songs and put absolutely everything they have into them. They're all incredible live performers who really connect with what's a brand new audience (as Harley joked before one of the tracks, "this is a new song, but it doesn't matter 'cause you don't know who the fuck we are anyway.").
"Listen boy what you gotta prove to the world at rest
Shooting metaphors through a pistol made of words
he says like Verlaine and Rimbaud, he'll shoot you in the
heart…" – World At Rest
"Look at him with his sordid eyes
He gives away what you can't disguise
He's born of thoughts that you failed to mention
He came to this place with an earnest intention"
"Try to pretend as you start to begin
You know everything don't you
watch the loose ends
You know everything don't you everything don't you"
– "Fell On The Floor"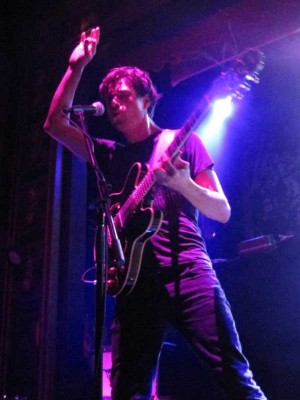 What comes through in the shows is their initial emotional impact; the deeper understanding of what they're saying follows later, quietly sitting at home and listening. The CD they've been selling at these gigs is a simply packaged, low-budget but lovely collection that includes their new EP, Hands To The Wall, their "Seasick Brigade" demo, "El Barco" from the Live from Groupee.com Session, and selections from their earlier Weather Underground EPs. It's a perfect introduction to the band's music, and I very highly recommend it. The CD finishes with the absolutely beautiful Weather Underground gospel song, "All Ye People".
"Come all ye people,
you're dancing on steeples
hoping that one doesn't slip away.
Your life's in danger
of being a stranger
you've come too close to dying.
Oh, man can't you see,
won't you believe?
Your walls are coming down
but there's no one around
to witness it.
– All Ye People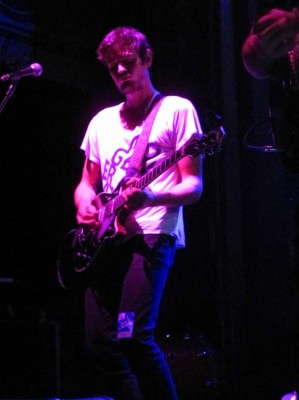 The Henry Clay People
After the razor-sharp, tight as a drum sounds and visuals of Red Cortez, to see Andy and Joey Siara and the other Henry Clay Peeps wander out on stage looking like they just got out of bed is hilarious and heartwarming. I've grown to love and appreciate these guys so much. That deceptive onstage sloppiness that morphs into seriously tight jamming. Well ok, maybe it's not always deceptive sloppiness with a case of Heineken up there with them, but I have yet to see things totally fall apart. Even when Andy toppled over one of Airborne's amps at Northern Lights, he kept playing – from the floor, flat on his back.
They stuck to their tried-and-true 'frat party fun' persona, and seeped their way into these jaded New Yorkers' hearts the way they have into mine. Propelled by Joey and Andy's brotherly antics, Mike, Jonathan, and newest member – but oh, does he fit so well into this band – Jordan get swept up in the playful silliness, and it becomes this big, goofy, lovable beast with a jangly, happy romp and some lovely guitar riffs from the bros (and great slide from Andy on his sparkly guitar). Jordan is one truly fine keyboard player as well. My favorite moments from him have been the little unexpected piano riffs, whether it a sweeping classical thing, or – as at Northern Lights a few nights later (and maybe NYC as well; can't recall) – some apropos honky tonk.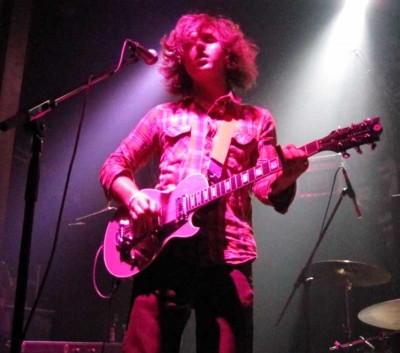 "Bang A Gong (Get It On)" (T. Rex)
The Airborne Toxic Event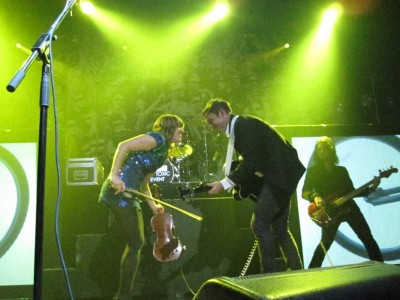 This was the third time I've seen Airborne in NYC. The first was as support for The Fratellis, at the Roseland Ballroom, September of last year. It was at this infamously swealtering show where I met my friends Matt and Drew from Pennsylvania, who came to see The Fratellis and left as Airborne fans (Drew's review of NYC night #2 is coming up next). Though Airborne seriously stole that show, it was still not about them; not yet. The second time was their first headlining tour, and it sounds like I'm talking about 15 years ago and not back in March. This one was at the Bowery Ballroom, a 550-capacity venue. The first night sold out, so a second show was added. And now… two sold-out nights at the 1500-capacity Webster Hall. It's pretty amazing, though I'm sure it doesn't feel like a "sudden ascension" to a band that's been touring nonstop for about two years.
So tonight was bound to be a celebration, and it most certainly was. The full dramatic stage set with backdrop, video screens and choreographed lighting felt especially right at a New York City nightclub. Though this band, for me, always vibrates with energy and power – even if it's at a small club playing for a few hundred people – in a big hall like this in NYC on the first of two sold-out nights with a large audience roaring with approval, the sights, sounds, and emotions were definitely over the top.
"This Magic Moment" (The Drifters)
The set list was identical to Boston's, though they didn't do "Book Of Love". The encore tribute to New York City-based author, poet and musician Jim Carroll was especially poignant and crazy, eliciting cheers from the crowd.
"People Who Died" (Jim Carroll)
I've read some things about the 2nd night, about the audience talking over songs and being distracted. From where I was up at the front, this audience seemed very responsive, singing/chanting along to many of the songs. I'm realizing now that since this was the first show to go on sale, the bigger fans who bought tickets right away and couldn't go both nights were probably at this one, and it's possible that the second show had more of what I'll call "casual fans". I wondered, even back in March, what would happen to them as a band, as they inevitably became more and more popular as I knew they would.
I don't think that they've changed, at least not at the core. Yes, it's a more elaborate stage show to give a more theatrical performance for larger audiences in bigger venues, and yes they now (thankfully) have people helping them lug equipment around, and a tour bus instead of a van to travel in. But it's still the same heartfelt singing and playing; still the same desire to connect on a gut-level with their audience. The acoustic set strips things back down to the basics, Mikel will occasionally sit on the edge of the stage to literally sing a few songs into the faces of those in front, and Anna continues to – when the venue allows it – do her crazy crowd surfing. They continue to pour out everything they've got with an astonishing level of energy and commitment – and they still take the time to chat with increasing numbers of fans after their shows.
They haven't changed, but the audience and atmosphere is slowly changing around them. Obviously, it's no longer just those who listened to them on MySpace and picked up the EP from the band. Now they've got heavy radio airplay of a few songs, distribution by a major label, their music in films and on TV shows, and yes, in a Buick commercial. You're now far more likely to run into people seeing them for the first time who are, say, Dave Matthews fans (as was the case of the two guys standing next to me up at the front in Boston), rather than just in-the-know indie hipsters. This is very cool, because it means wider appreciation for what I feel is one of the best bands to emerge in a long, long time.
Why can't a band with an indie sensibility and music that is alternately quirky and punky, anthemic and celebratory, orchestral and beautiful, stark and literary, appeal to both alternative rockers and mainstream music fans? The problem is, though most people seeing them will be there for the music, a larger audience and bigger buzz means "casual fans" as well; people who are just looking for somewhere to take their date that night, or who may be mildly interested at first, but once they have a few drinks, couldn't care less. There's an excellent review of the 2nd NYC show written by 32ft/second (who were very early followers of Airborne's) which talks about this "emerging new audience" and the changing scene around them. What can be done? Nothing. It's an inevitable trade-off for increasing popularity. If you're a huge fan and someone is talking behind you at a particularly poignant moment, try to educate them. Or just tell them to shut the fuck up.
So what does it all mean? Maybe nothing. When I first saw the new stage design, I was curious about the backdrop, the massive crowd with censor blocks over their eyes. A deeper meaning, a sly joke, or something totally random? I could say it's a comment on their growing popularity – a bigger audience, but generic, without identity, just endless faces in a crowd. An increasing blur of cities, venues, names, faces. Or not.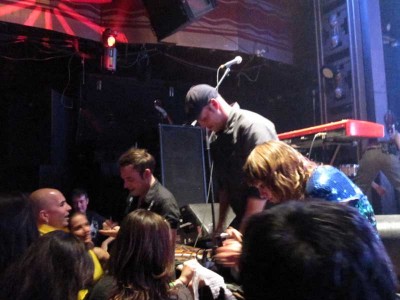 Such were my thoughts in the media capital of the world. Bottom line: they're just a rock & roll band. And a damn fine one.
"Innocence"
Other videos up on YouTube:
(The Henry Clay People):
"Randy, Where's The Rest Of Me?"
(The Airborne Toxic Event):
"Sugarcube"
"All I Ever Wanted"
[I'll be uploading more photos to Flickr… in time.]
share this: