by Andrew Koskie, guest blogger
So it's about 4:00 am and I receive an urgent email from Julie, "You gotta check out this site, and register for tickets". I wake up about three hours later and realize it wasn't another dream about The Airborne Toxic Event coming back to the East Coast, but the real thing! I was on my way to New Jersey at the time to visit with my sister, and thank god I was able to register on my phone! I received a confirmation email saying, "your information has been received. We will notify you a week before the show if you have won tickets". Boy was I excited! About two days later I receive a Google update saying the Aquarian Weekly was holding a contest to win tickets. I enter, and dream of winning the golden tickets!
Setlist: Tokyo Radio, The Kids Are Ready To Die, Papillon, Gasoline, Happiness Is Overrated, It Doesn't Mean A Thing, I'm On Fire, (Something New – on setlist, but I believe not played), Days Of Wine And Poses, Wishing Well, Half Of Something Else, Sometime Around Midnight, Goodbye Horses, Innocence, All I Ever Wanted. (Encore): Does This Mean You're Moving On?, Something You Own, Missy
Fast forward to three days before the show. I have not received an email, and am crumbling inside because of this. I don't know how to act. I have read forums saying no one has received an email, and read nothing of anyone getting tickets. I guess it's time to go big or go home. I contact a member of the band, they at first say they have no idea about tickets, and all they knew was the set they'd be playing. At this point I knew for a fact there was no way of getting tickets. But then it hit me! I read a post on a forum saying they were only giving tickets to residents of New Jersey. Hmmm… my sister lives in NJ. So I registered with her address. (I am from central PA). The next day I wake up to a message in my inbox from a special someone saying, "it's your lucky day. Your name is on the guest list +1." Ok, now it's time to plan to miss classes! That same day, I receive an email saying that I had won tickets through the Aquarian. Why use those when my name was on the guest list? I knew that the insanely awesome, totally rad member of the band would come through!
Fast-forward one day. After a three hour drive turned into four and half hour drive because of traffic and a stop at Joe Canals Discount Liquor Store (mind you, liquor is not controlled by the state government like in PA) we had arrived at KatManDu. "This doesn't look like a concert hall," says Matt. Yeah, you are right. We sat in the parking lot for ten minutes watching the different ads flash up on their sign to see if there was anything remotely close to an Airborne show. "That ad came up a little bit ago. I think we saw them all. This must not be the place". I said that we should go check just in case. Well sure enough we were at the right place. While walking in we passed Daren, who had shaved all his facial hair and looked like he was Fonzie's right hand man in Happy Days. Restaurant by day, club by night. We showed up at about 6:15, thinking we would have to wait in line with die-hard fans. Well, that's not how it ended up.
We sat down, ate a full meal, and still had time to kill. We waited outside, thinking we may catch the band running back and forth. A few older couples showed up, wearing Jack Daniels gear. They had never heard of the band and were here just because of JD. We chatted it up with them for a while, until a representative from JD came out for us to claim our tickets. The couples had printouts verifying they had won tickets just like us, but that's no fun. I tell the woman that we were on the bands guest list, and after a shocking look from both the old folks and the rep, she tells us she will be right back. She comes running with a clipboard, and asks me my name. Sure enough, there it was! Right this way Mr. Koskie. We filled out a small slip on the end of our ticket, and threw it into a box. A hand stamp and two Jack Daniels coupons and BAM! We were the first into the so-called concert room. It was quite small, maybe a 300 person capacity? Anyways, we walk over to the JD table and are greeted by gorgeous women. They ask us trivia about JD, but who the hell knows how many times Jack Daniel was married. She says well try again. Eventually we get it right, and we were told to pick a prize. Being a college student, a light clicked on, and soon all my pockets were full with belt buckles, drink stirrers, buttons, pins, headphones, guitar picks, and even a harmonica! All covered with the Jack Daniels logo. There was also a table covered in food, which was also free for the taking. Its 8:50, and Matt and I are already one FREE drink down, and we look around and notice that there is still hardly anyone here. We move towards the front of the bar towards the stage, and wait. The cover band comes out, and the show begins.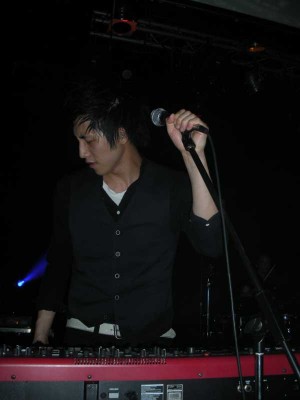 Wakey!Wakey!, from Brooklyn is the band. They took the stage looking like the average garage band, but then they began to play. I really don't know what to compare their sound to, but I did have "The Oh Song" and "Cirque Du Soleil on crack" in my notes. Their overall stage presence was laid back, and "yeah, we have a dude playing violin and the Jesus of rock on keyboards" attitude. Two women members, one on the bass, as well as one on the board. The drummer reminded me of Nate Donmoyer, the drummer of Passion Pit. He was wearing large headphones, as well as the rock star model of corrective lenses. They played about seven or eight songs, and kept the crowd going. I bought their album, and found out that The Oh Song was really called "The Oh Song".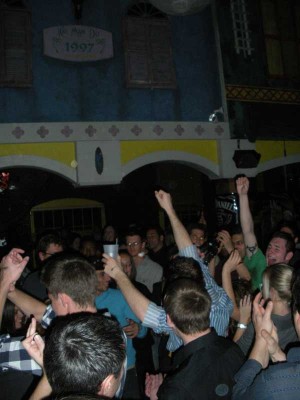 After another FREE JD and Coke, and a switch of equipment, there were lovely ladies on the stage. It turned out the slip we filled out and placed in the box was for a raffle. Two bags full of JD stuff, most of which was already stuffed in my pockets, were the two small prizes. The grand prize: a Jack Daniels guitar signed by the band! I told Kevin, who was a fellow TATE fan we had met a few minutes earlier, that I may just have to meet whoever wins that in the parking lot after the show. Not to mention any names, but Mr. Lee was the winner. I later confronted him and asked what the price was, and he had that look of "leave me alone or I will kill you" on his face.
I take a look behind me, and notice about twenty drunk men, mid 20's, and about eighty elderly people. What I mean was people older than me, which didn't say much as Matt and I were the youngest ones there. They were ranging from 30-70. All carrying the same "CEO" look.
Airborne time! They come out through the kitchen, which much have been their "green room". Mikel asks if the crowd is ready for a show, and due to the "old" crowd, not much of a response is given. "You have been drinking more than that" he shouts out and then thanks JD. They open with two new songs, "Tokyo Radio" and "The Kids Are Ready to Die". The songs were truly amazing! The first one a more trippy slow song, and then a song to replace Missy on the new album! Their set list was very long, but I am pretty sure they didn't play every song on it. A few songs of the old record followed, then a song titled "It Doesn't Mean a Thing". The band members all turn to each other with a look of confusion and ask what key is it in. In between each song Mikel bleats out random facts about the new health care bill. Quite entertaining! A cover of Bruce Springsteen's "I'm on Fire" was next, followed by a song called "Wine and Poses", which was written about Mikel's mother. At some point Mikel references what I thought of as a Titty Barmitzvah. A few more songs from the first record and the always entertaining "Goodbye Horses". "This is the smallest show in three years" Mikel said, then telling a story about how they had been writing random songs before the show with Wakey!Wakey!, just like he did at home, but just not in his living room.
More songs followed, Daren singing into a mic, something new to me, Anna jumping around like always, Steven and Noah jamming out, and Mikel singing the touching lyrics. Their last song was "All I Ever Wanted". I hope they learn soon to not put the encore on the set list. All of the ten or so "true fans" in the front row already knew it was coming. Daren came back out, started to clap, then began a drum solo. It transitioned into "Does This Mean You're Moving On". At the end of this song, Mikel references people who are complete total fuck-ups. All the drunk assholes in the room begin to scream, and make even bigger asses out of themselves. Wakey!Wakey! is invited on stage, and another new song is played, "Something You Own". Some of the members try to play the keyboards, and look over to Anna and say what the hell should I play. Let's just say a remix of a brand new song was played, but still sounded amazing. Mikel cut it off just a few bars in, due to the Anna playing in the wrong key. A simple adjustment and off we go again.
Missy was last, and included lyrics from another song [The Smiths' "Ask"], as well as solos and even the theme from Mario Brothers. The whole set was truly amazing, and you could tell the band was refreshed from a long touring season. The whole front row (or about ten of us) were jumping up and down, and screaming the lyrics. The end of the song came, and as soon as it ended, I was overtaken by the cast of season two of Jersey Shore, fist pumps and hair gel included. The venue was in a great hurry to let in the fellow clubbers, taking over the room. So much for talking to the band afterwards and thanking Anna and the rest of the gang. We picked up some more free JD items for the road, and headed out.
Watch out Boston, Atlanta and Scottsdale, the rock and roll train full of new songs, seven if I counted right, is coming to town! If you are holders of the so-called "Golden Tickets", congrats! You are in for one hell of a show!
share this: