A highly anticipated evening with The Airborne Toxic Event, courtesy of Jack Daniel's Studio No. 7, WFNX, and The Boston Phoenix. Emerging from an intensely creative time in the studio, this was a chance for the band to road test some new songs, and a wonderful opportunity for fans to get a sweet taste of things to come.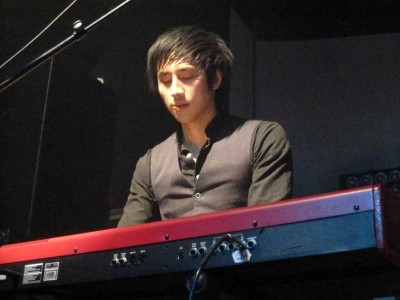 It's quite a rarity for a band to seep into the consciousness and bloodstream of people with such a wide diversity of musical tastes and preferences – indie hipsters, mainstream music fans, casual music listeners. Of course Airborne has stirred the wrath of some; I mean, what's their secret? If it were something that could be orchestrated and pre-planned, wouldn't every band on the planet be doing it? For me, it's their passion and energy, openness and honesty. Observations, ruminations, soul-searching, demon-purging, protest… nothing held back. Full on, uncensored. Deeply personal, and expansively communal. Bursting at the seams with profound thought; rife with comic irrelevance. And it's contagious. Cathartic. Freeing. It's what rock 'n' roll is meant to be.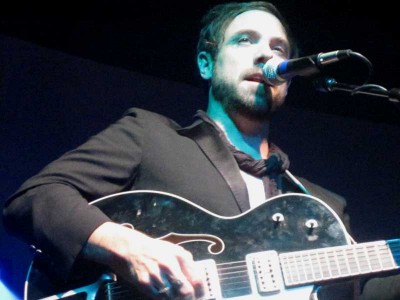 The new songs…
[with my usual disclaimer: "these may or may not be the actual song lyrics – read at your own risk."]
Days Of Wine And Poses ~ a reworking of an older song of Mikel's; he performed it at Web In Front and Classical Geek Theatre's "My Little Underground" solo acoustic show at Bordello in Los Angeles on 7/8/08.
"Oh these days of wine and poses, they are going by so fast
And you wonder why I buy you roses, or live here in the past.
This is everything I want, this is everything I want.
Just falling freely, your presence near me, your face so warm and gaunt
But the price I pay for a little mistake, like tearing your life in two
It seems meager compared to these melodies spare,
It's selfish, I know, but it's true
Take a bow, take a bow, take a bow, you've won."
It Doesn't Mean A Thing ~ an incredibly personal, loving tribute to Mikel's hippie folks; about parents' expectations, figuring out one's place in the world, and staying grounded.
"It was a loneliness they would confess
Like the world had just gone bad I guess
And they'd hold hands, look into the eyes of God

And they'd say 'tell me why you hid from us
Why you filled us with such wickedness
Why you spared us from your grace but not the rod?'
Now my dad says fuck the details
You just keep your head down hard
Gotta find yourself alone before you find those eyes of God
You may be broken, scared, and (at a tear?)
????
You were born to be a peasant not a king
So just stop acting like you're running from something
Yeah just sing, and sing, and sing
It doesn't mean a thing."
Tokyo Radio ~ radio promotion in the Far East and fatalistic, bone-rattling fatigue, with a pretty Asian-flavored guitar melody.
"And the dj shakes me in my seat
Oh I'm sorry I haven't slept in weeks
It's a waking dream at best
I could use a little less.
So I finish the song, and the dj sings
And I stare at the ground and I tune my strings
We've got three days 'til the show
I've got nowhere else to go.
All these barrier waves (?) so goddamn blind,
I was thinking of jumping from my room last night
I've got one more year to live
I've got nothing left to give.
Hello from Tokyo, hello from Tokyo
Hello from Tokyo."
The Kids Are Ready To Die ~ a raging punk rock protest anthem about young soldiers going off to war.
"All these enemy places feel like they're changing
And the kids are lined up on the wall, look like they're ready to die
All these thoughts they keep sending me, it's like they're just rearranging
'Cause we were caged up like animals, crushed up(?) and ready to cry."
Something You Own ~ on the importance of mutual trust and respect in a relationship.
"All these buckets of rain, you can forget about
You say that I lie
I am a gentleman
Didn't I pay for every stitch, every dime,
Every bit, every time,
And then you feed me some line
I can't hear one more word about changing, changing…
… Days pass and turn into weeks, when we don't even speak
We just lay wide awake, I pretend I'm asleep
And you come home alone
And you're checking my phone
And you're right next to me, but I'm not something you own."
Half Of Something Else ~ a triumphant, unabashedly romantic love song – and about searching for the other half of your soul.
"On the night that we met,
you said that you wanted something more from me
And it was all that I could do.
I remember your face, like a child,
The way that you blushed and the way that you smiled.
And now it's all that I can do.
So I woke up feeling new…
…It's like you're searching for something to make you feel whole
Like you're half of something else."
Mikel's heartfelt and personal reflections about his parents; observing young soldiers heading out to fight – and possibly die – in yet another of our endless generic wars; issues and expectations in a relationship. Softly sung, sweet ballads; rollicking rock 'n' roll; a protest punk rebellion. Beholden to no genre, to no particular subject matter. Just pure, unadulterated self-expression, flowing freely from an unclogged faucet, straight from the heart. Cannot wait for the new album. We love you guys…
Other videos:
All I Ever Wanted
about young love and the loss of innocence. based on the short story "The Hitchhiking Game" by Milan Kundera (from "My Mistress's Sparrow Is Dead").
I'm On Fire (by Bruce Springsteen) | The Book Of Love (by The Magnetic Fields)
Does This Mean You're Moving On?"
share this: