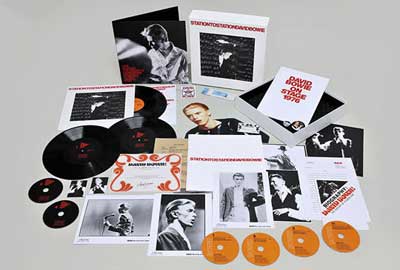 Yes, I'm two months late on this, but it's just in time for your gift-buying consideration. Back in September, one of David Bowie's most important albums was celebrated in grand fashion with remastered special and deluxe editions by Virgin/EMI. Station To Station is an astonishing album on many levels. As an artist known for his musical departures, this particular one was probably one of the most important, both personally and professionally.
As EMI's press release states, "the introduction and intention of The Thin White Duke – taking in Crowley, Cocaine and Kabbalah and Romanticism…" – the mid-70s were some of Bowie's darkest, most harrowing days (there was also that brief fixation with fascism), but creatively it ushered in some of the most inspired and experimental, risk-taking and brilliant music of his career. Influenced by American R&B (hot on the heels of the Young Americans album), German electronic bands and European cabaret, it starts with the 10-minute title track and all its grand, sweeping, epic grandeur – Earl Slick's searing guitar, Roy Bittan (of the E-Street Band) and his crazy honky-tonk piano, the relentless pounding funk rhythm of Dennis Davis (drums) and George Murray (bass), and Bowie's majestic vocals…
"Once there were mountains on mountains
And once there were sunbirds to soar with
And once I could never be down…"
The smoothly gliding voice, spiritual introspection, and musical coherency of this album doesn't seem to square with the lost soul of its creator, who was, at the time, living on a steady diet of cocaine and storing bodily fluids in his fridge as a way to guard against demon possession. But it is just that type of personal pain and confusion from which transformative creativity can emerge. He had help, of course, from an amazing band. Slick, Bittan, Davis, Murray, plus backing vocals from Warren Peace (Bowie's childhood friend Geoff MacCormack), and the funky, R&B-steeped, steady, calming presence of Carlos Alomar, who would go on to be Bowie's rhythm guitarist and musical director for many years. This is the album that includes the deeply religious plea for help, "Word On A Wing," and what is probably one of Bowie's finest vocal moments, his cover of the Dimitri Tiomkin and Ned Washington ballad "Wild Is The Wind." In addition to its own considerable merits, Station To Station should also be revered as the doorway to Bowie's Berlin Trilogy masterpieces – Low, Heroes and Lodger – which I assume will be soon to follow.
On to the details, and quite a lot of details there are in this massively ambitious effort. Both the Special and Deluxe Editions are taken from the original analogue master, and include the widely bootlegged 1976 Nassau Coliseum show, for a 3-disc set. The Special Edition includes a 16-page booklet with liner notes written by renowned journalist Cameron Crowe, whose Bowie interviews for Rolling Stone and Playboy are legendary, plus 3 Bowie postcards. The Deluxe Edition has a 24-page booklet with additional photos, and adds a 5-track EP of singles versions, an audiophile 3-LP set of the studio album and concert, a DVD of three different audio mixes, and a plethora of paper memorabilia including replica fan club items.
Digital release: The 3-CD set is also available as a Digital Download, with an exclusive bonus track.
Current pricing (as of 12/2): Special Edition ($23.75) | Deluxe Edition ($99.99)
For more information and detailed track listings, see the official site
share this: