I managed to get a Friday night off and headed to Toad again to catch a few bands. I'm hesitant to repeat what a nice, cozy place this is to see music in, because it gets packed enough as it is. But it is a cool little venue, and they have some really great performances – albeit some noisy and clueless patrons. But more about that in a minute [yes, it's going to be another one of Julie's rants, so buckle up.].
Opening was Boubacar Diabaté with someone, I'm not sure who, playing what looked like a giant half-pumpkin. I had to look up information about this guy (and purchase his CD), because he's really wonderful – a lovely voice, and some very nice guitar playing. His percussionist was playing what were probably traditional African instruments, though of course I'm quite ignorant, hence my description above.
"Griot singer, guitarist, drummer, songwriter and storyteller Boubacar Diabate from Bamako, Mali comes from the Mande lineage and has combined traditional rhythms with modern influences to create his own style of contemporary Malian Griot music presenting his own compositions and arrangements, singing and playing guitar with his group, Samba Lolo. Singing in Bambara and Manding, Boubacar Diabate and SambaLolo create a performance that spans the full spectrum of Traditional to Contemporary Malian music from West Africa combined with Blues, Jazz, Reggae and Bluegrass – Bouba sings of our common shared experience of love, life and humanity, giving all an opportunity to hear the age-old West African tradition of Griot storytelling through song." (from his MySpace page).
I was completely unfamiliar with this style of music, and it was quite a treat. His smooth, sensuous vocals draw you right in, with his fabulous guitar playing and just the right amount of traditional percussive accompaniment making for a truly beautiful performance. I felt myself swept away to a distant place, interested in learning more about this fascinating storyteller.
And here's my rant: although it's always nice to see a show like this in an intimate venue, it would have been far more enjoyable to be able to listen to his thoughtful storytelling song craft without the constant stream of mindless chatter by inebriated Toad patrons. This is an inherent problem with live music in bars. Yes, it's the most common sort of place for artists to perform – people gathered together in a friendly, informal setting. But something happens when people start drinking: they become very stupid. Please understand. Though I don't drink anymore, I do remember what it's like to get completely shitfaced, so I'm not coming from a pious place of ignorance. Hardly. But I cannot understand why people go to an establishment where music is being performed, when all they really want to do is drink and talk to their friends. Wouldn't it be better to go to a bar where there's quieter piped-in tunes? Wouldn't it be far more respectful to the musicians who are trying to introduce an audience to their work?
Ending on a more pleasant note, I'm delighted to see that SambaLolo is based here in Boston, because this means I can see them again sometime! And I highly recommend that you see them too.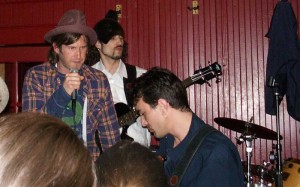 Don't Kill Antz was an unexpected pleasure as well. A rootsy stomp with rocking guitar riffs and a highly engaging lead singer (Brendan Fitzgerald) provided for a very enjoyable evening. The rest of this talented band consists of: Donald Bakerian-guitar, Jimmy Trapella-bass, Will Szabo-drums, and Mike Weafer-guitar. Trapella and Weafer were previously in a reggae/dub band called The Well, and indeed they've brought that jamming sensibility to "Antz", which has only been around since August 2008. Not even a year, and yet they have that cohesive sound of bands who've been together much longer. "[Singing] is like surfing. I wait to catch my wave… I feel [the song's] melody and fit the lyrics to it, let them rhyme, drop something funny or smart…" – Brendan Fitzgerald, from the band's website on ReverbNation.
share this: