On a Sunday night at T.T.'s, there were only about 20 people when The Break Mission came on (I'm guessing mostly other band members and their friends). Which is a shame, because these guys are incredibly good. [What is it with Boston residents and really great indie pop bands who come to play here?] From Brooklyn, NY, there's Matt Hershey, drums, percussion; Jeff Knowlton – guitar, piano, vocals; and Ben Lindell – bass, keyboards. They've been compared to Elbow, Death Cab for Cutie and Doves (as well as early Shins and Band of Horses). Even without the piano that features prominently on their excellent "The Prospect" EP, they have a very full, complex and engaging live sound. As much as I love live shows, I often feel that the subtlety of a band's material gets lost in your average bar setting, but I didn't feel that way with these guys.
They have two previous albums – their self-titled debut, and "As Much Light As It Will Take" (2007) – and have been around since 2000, previously known as Redletter (and I guess originally from Boston, though they're based in NYC now, and wisely so). They're performing on May 13 at The Annex in NYC, June 25 at Rockwood Music Hall (also in NYC), and August 7 at 107.1's The Peak Concert @ Rack n Roll in Stamford, CT. Definitely go see them if you can. Or at least pick up some of their music – "The Prospect" is quite nice.
Next band to play was Midatlantic (formerly known as the Bleedin Bleedins, based here in Boston). Well, I don't know. I see these guys have great reviews and a decent following, yet I felt under-enthused by their set. Musically they were very good (Barry Kelly – guitars, keyboards; Rob Fusco – drums; and Matt Diekmann – bass), but I personally found Mike Coen, their lead singer, rather irritating and his stage antics distracted me from the music – not in a good way. He seems to have a penchant for picking up the microphone stand and moving around with it, which only resulted in the mic getting unplugged a few times and added nothing to their stage performance. It also seemed like choreographed moves, rather than a music-inspired spontaneous moment (not to mention being a bit silly and potentially dangerous on a stage the size of TT's!). Their influences include The Who, U2 and The Cure. Obviously they're aiming for that anthemic, stadium-sized sound, but for me at least, they don't quite get there.
Having said all that, my comments should in no way turn anyone off to checking out this band, if their music appeals to you. Their releases are Life Without Computers (2005) and The Longest Silence (2008). Upcoming shows include May 3 – NE Revolution Performance, Foxboro Stadium, Foxboro, MA and May 27 – Pinups for Pitbulls Benefit @ Middle East, Cambridge, MA.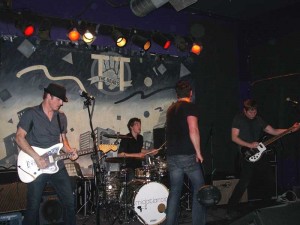 Youth Group were the headliners, and they were awesome. A little background first. Hailing from Sydney, Australia, the band includes Toby Martin – vocals/guitar, Danny Lee Allen – drums, Cameron Emerson-Elliott – guitar, and Patrick Matthews – bass. They've been around since the late 90's, though I wasn't familiar with them until now (better late than never). They have a lush and dreamy, wistful and melancholy, emotionally engaging sound on their recorded works (currently listening to their beautiful new release, "The Night Is Ours"), and they're just as compelling live. I'm delighted to see lyrics on their official site, as thoughtful songwriting such as this deserves to be poured over and pondered. They have four albums and several EPs, are compared to bands like Teenage Fanclub, Pavement and Death Cab For Cutie, and have toured with The Vines, Death Cab, Coldplay, and Kings of Leon.
By the time YG came on, the crowd had expanded to maybe 75 (I'm counting those at the stage area, not the people around the bar chatting away). Still a pathetic turnout, but I suppose impressive for Boston on a Sunday night (how sad is that?). They were unfortunately plagued with some technical problems during their set, but even so, I had that privileged feeling ones gets when seeing a band perform in a place that's obviously smaller and more intimate than places they probably could be playing in. Toby Martin's lovely voice draws you in, and although it's difficult to make out lyrics in a club setting, I found myself making an effort to hear them all, fully involved in their performance.
On two tunes their drummer, Danny Lee Allen, played some sort of xylophone thing in a small briefcase, which added a unique sound and worked beautifully with the acoustic guitar on… well, I think it might have been "Sicily" from their album Casino Twilight Dogs. The xylophone made another appearance on one of the new songs from their just-released album, and I see in my hastily scribbled notes "beautiful interplay between guitar and vocals". Toby spoke a little about their experience of recording on an abandoned ship in Sydney Harbour, and at least one of the songs performed from the new album included "ship sounds" that they brought along with them on tour to maintain the proper ambiance. Very cool.
They've been playing a few residencies here on the East Coast, and they have one more show at T.T.'s on Sunday night. Try to see them, if you possibly can. They finish up their NYC residency at Pianos on April 28, and at M Room in Philadelphia on April 29. From there it's on to Pittsburgh, Columbus, Chicago, and elsewhere as they make their way west. For full tour dates, see their MySpace. "Your skin speaks in patterns, your eyes speak in codes…" – from "A Sign", on The Night Is Ours.
share this: