A most unusual and extraordinary evening of carnival, cabaret and social commentary, the perfect musical accompaniment to the controlled chaos that so often transpires inside my brain. Imagine a lifetime of scream-therapy; Cirque de Soleil, a tawdry Parisian brothel, and the Victorian Era; Dead Can Dance, an apocalyptic Hans Christian Anderson, and Democracy Now, stuffed into a dimly-lit hat box, and you'll maybe come close to my experience seeing Do Not Forsake Me, Oh My Darling; Walter Sickert and the Army of Broken Toys; and H.U.M.A.N.W.I.N.E. at the Church of Boston Saturday night…
Sarah RabDAU & Self-Employed Assassins
It was with profound regret that I missed Sarah RabDAU's set, as judging from her gorgeous vocals and lovely piano playing – and Matt Graber's tasteful drum flourishes, it must have been quite beautiful. You can listen to her music on her official site, and there are links to purchase her self-titled debut album.
Do Not Forsake Me, Oh My Darling
I arrived to Sophia Cacciola and Michael Epstein (The Motion Sick) of Do Not Forsake Me, Oh My Darling exorcising demons in the most satisfying way imaginable. With her driving, pulverizing percussion and 'hell hath no fury' vocals, Sophia whips it up into a cathartic frenzy, and Mike adds an anxiously thumping heartbeat. I especially liked "Episode 9: A.B.and C." (which will be on their forthcoming CD), the mesmerizing "Checkmate" ("Don't follow me, don't follow me, stay with me, walk with me…"), and a searing, pulverizing cover of Leonard Cohen's "First We Take Manhattan". They'll be having a release party for their debut EP The New Number 2 on April 3 at Church.
Walter Sickert and the Army of Broken Toys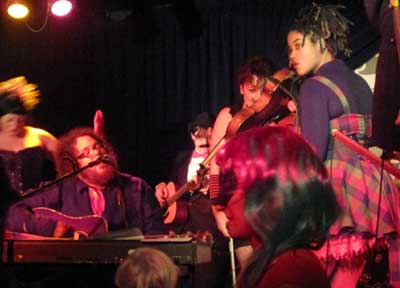 My fascination for Walter Sickert and the Army of Broken Toys began before they started playing. The 15 or so people who make up this bizarre gypsy caravan take to the stage and make their final preparations… a stand-up bass and classy-looking jazzman and his clarinet, two vaudevillian ladies on violas, someone in a bowtie and moustache with a guitar, dancing girls and a human marionette with her puppetmaster, the Victorian matriarch Edrie with her accordion and massive… presence. And Walter Sickert himself – on piano, guitar and vocals – presiding over the bawdy festivities like a bluesy shaman.
They begin with a song that includes the line "this is how we end ourselves" – incredibly gorgeous, with the violins in a delightful minimalist pizzicato accompaniment. It's a startling beginning for such a complex and varied group, and incredibly effective. From this serene start, all hell breaks loose in delicious ways. Musically sophisticated and immensely talented, wildly unusual and diverse in material and presentation, a Dada-esque circus carnival run amuck, and just plain good 'not-always-so-clean' fun. A heartfelt rant in support of gay marriage was followed with a wonderfully subversive and crazy few bars of "Love and Marriage". There was an insane cover of "Ghostbusters". Edrie came to the front to instruct us all in our role as chorus for "Off With Her Head!" (which has to be experienced to be believed). A dramatic, churning maelstrom and vast musical ocean whose waves come crashing down, leaving one simply stunned.
They ended their (again, way too short) set with a truly astonishing version of "I Put A Spell On You". A surreal experience that cannot be missed.
You can order a physical copy of their 2009 CD Casualty Menagerie (which includes a video for "Sacrilege") from CD Baby or download it w/o the video from iTunes (where you can also get their 2007 self-titled release). They'll have a new album out in Spring or early Summer. For now, you can download new tracks from Bandcamp and check out their official site.
H.U.M.A.N.W.I.N.E.
I was already knocked out once by H.U.M.A.N.W.I.N.E., at their recent performance at Cafe 939, so I'll just say a few words. Gothic cabaret with a social conscience. Holly's voice floats and soars, bites and taunts, questions and informs. She doesn't just sing a song, she theatrically performs it, and is quite mesmerizing to watch. Visually, she conjures images of ancient storytellers telling their tales around a raging bonfire, long ago in distant lands.
Their next show is at Somerville's Center for the Arts At The Armory on March 6, and they'll be doing a Tuesday residency in March at The Lizard Lounge. Definitely see them if you can.
share this: