Trying to discover that cool new indie band just ahead of everyone else is all well and good, but sometimes it's nice to put on some comfy clothes, head on down to the basement of the old Somerville police department, and listen to some good old time rock 'n' roll. And sometimes it's nice to see people past the age of 25 kicking it out past 1am. Actually, it's really nice to see that. So it was at Asa Brebner's CD release party for Sueños De Los Muertos.
I unfortunately missed part of the openers, The Doug MacDonald Band, but they were quite good – scrappy garage rock, kinda psychedelic, with definitely a '60s vibe – and featuring Doug MacDonald's pop/psych vocal style. Check them out on MySpace, and you can see them at Murphy's Law in Southie on March 6 – if that's not too scary a proposition (by the way, the bar was featured in the movie Gone Baby Gone).
For those of you who haven't had the pleasure of attending one of his hoedowns, Asa Brebner is one class act. Joining him for the "Asa Brebner set", which featured old crowd favorites and selections from the new CD, were three of his Family Jewels cohorts – drummer Kevin Shurtleff (his main co-collaborator on Sueños De Los Muertos), bassist Andrew Mazzone, and Steve Sadler on lap steel guitar. It was my first time hearing "Come Back To Me", which is a beautiful song (see below for my first impressions the new album). Kevin and Andrew got people rocking and dancing up at the front, and Steve's lap steel added a classy touch along with some lovely 3-part vocal harmonies mixing with Asa's cool guitar licks.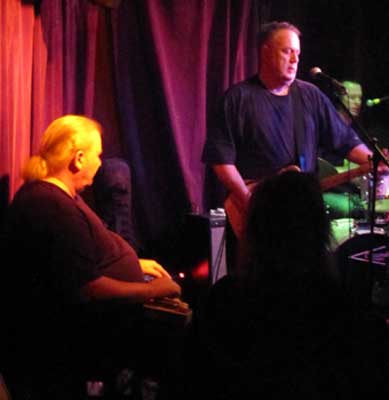 Their friend Charlie Ledger came up to seriously jam on harmonica for "My Blues Is Over" (from the new CD) and the Jerry Lieber and Art Butler tune, "Down Home Girl", and Dennis Brennan (whom Asa jokingly refers to as his "arch rival") came up as well to sing on the latter. This was one of my favorite musical moments of the evening, which was then followed up by a rollicking version of the crazed "AllNightUpTightBagBiteKoKainePahty" (also on the CD, and classic Asa).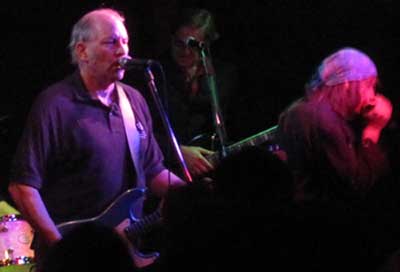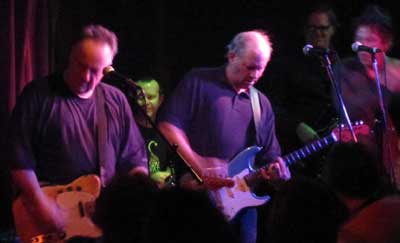 They performed the endearing ode to the Boston club scene, "Babes In The Bar", and ended their set with another crowd pleaser, "Jack's On Drugs" (from Asa's Accurate Records release I Walk The Streets (2000).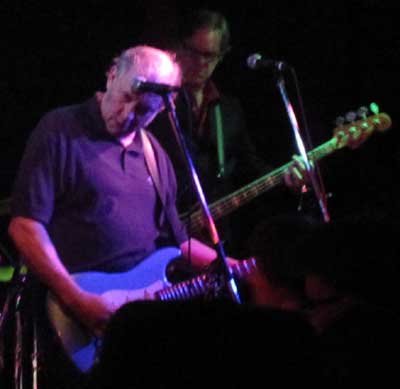 The Heygoods (Dave and Katy Champagne) were up next, borrowing some of the Family Jewels for some fine support (and Katy borrowing Asa's pretty blue guitar). My first time seeing them, and they were absolutely delightful. They joked about "coming out of retirement" for Asa's party, so I guess they don't play out often anymore. They played a lovely (and definitely too short) set of their quirky upbeat country and alt-country selections, with Dave and Katy singing playful back and forth duets. They started with "Baby It's Cold Outside" and there was a great song in loving tribute to their dog "Pup". They're a lot of fun, and I hope they 'come out of retirement' more often!
It was then time for The Family Jewels, so Fred Griffiths came up to join the others in a rousing set of rootsy R&B, rockabilly, swing, and doo-wop. The dance party continued with their slick sound, 5-part harmonies and Fred's fantastic lead vocals that create quite a groove. I gotta be honest; I don't normally listen to a lot of doo-wop (who would have guessed that, right?) but live, these guys seriously kick ass. Though most of this music was written before my time (I feel a sudden need to point that out), it was a hell of a good time. A few stand-outs for me were "A Certain Girl" (performed by The Yardbirds, Elvis Costello, and Warren Zevon and written by Allen Toussaint a.k.a. Naomi Neville – yes, I looked it up); "Drivin' Nails in My Coffin" (originally performed by Floyd Tillman and written by Jerry Irby); and the Monarchs' "Pretty Little Girl". They stuck in an Asa song or two at the bellowed request of some audience members, after which Asa said "that was for the Asa fans; now here's some more songs for the musicologists". Sure enough, The Family Jewels are a godsend to (and perhaps best appreciated by) old-time rock 'n roll music historians, and happily there were at least a few of those in attendance that night.
Fred had joked "we've never been up this late", but even so, they rocked out well past midnight with people dancing up front, and even after they ended their set, Asa and the others (minus Fred) came back on for a wonderful three-song mini set encore of "Bye Bye Johnny", The Trashmen's "Surfin' Bird" (which is actually The Rivington's "The Bird's the Word" and "Papa-Oom-Mow-Mow" – and yes, I looked that up too, but it's from Wikipedia, so make of it what you will), and "Roadrunner".
The cozy atmosphere of The Precinct along with an audience full of friends made for a fine, laid-back, rockin' good time.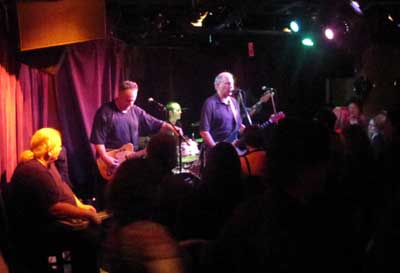 ~~~~~~~~~~~~~~~~~~~~~~~~~~~~~~
Sueños De Los Muertos ~ first thoughts
[to purchase a copy of your own, contact Asa via his MySpace.]
I'll start with a quote from Asa about the new album, part of an excellent interview with RockWireD, which I highly recommend.
"SUENOS DE LOS MUERTOS means DREAMS OF THE DEAD.. I sort of came up with the title when I was sitting on a barstool one day. It's all about looking back on ones life and trying to imagine what people who have passed away – should they have a consciousness – be thinking of about their lives, kind of like that Thornton Wilder play 'Our Town'. The narration by people who have passed away in a small town in that play was a sentiment that kind of informed the album. It's about looking back on life from someone who no longer has it."
You Won't Know Me – begins with 50s doo-wop harmonies and eases into a gentle rocker; to my ears, has kind of a "Windy" vibe going on in the chorus. "There'll come a time when you won't know me, won't seem funny when it's true, I'll live a life so sad and lonely, but I'll remember you." Sad but sweet, nostalgic.
Tired And True – Another gentle rocker, this time a heartfelt duet with Boston artist Andrea Gillis [who, by the way, is performing on Saturday at Plough & Stars. The Family Jewels are doing a set there at 4:00 p.m., and she'll be on at 10:30 p.m. I'm guessing it'll be a nice afternoon and evening of music, as Asa is bound to sit in with her band, as he often does it seems – mind you, I ain't making any promises!]
My Blues Is Over – A soul-satisfying blues fix, with great gritty vocals melding perfectly with mournful harmonica. "My blues is over, baby yours has just begun". Nice. One of the top tracks for me.
I Am Not Gone – Beginning with a heart-rending phone message from his mom from her hospital bed, this one has a "Johnny Cash poignancy" – sad but incredibly sweet and sentimental, comforting and deeply personal. An emotional side of Asa that, for me at least, was quite unexpected. Beautiful.
Name Damage – Back to classic crazy Asa, like the flick of a switch, with the hilarious "Name Damage" –
"My friend, he offered me this bottle of coke
I snorted it all, just for a joke
I knocked up a girl, and she had the baby
she acted "like hell", but I said, "well, maybe"
I bought a gun and i used a nun, and i acted just like attila the hun
I shot some skag and i bashed a fag, and i called my mother a dirty hag
Name, name damage."
Oh, Asa…
Like It Or Not – More introspection and maybe a touch of wistful regret at a relationship lost. But still the music, and ultimately the mood, is upbeat.
"I can stop the charges on the credit cards you stole, I can take a hand in things in my control. But I can't stop the night time, and the dreams that roll on by, like a broken-record-hearted lullaby…"
Erkin's Revenge – A two-minute instrumental that opens with a reggae-beat and meandering spaghetti-western feel. Grows into a serious grove with some gorgeous lead guitar lines. Another of my favorites.
Come Back To Me – Mexican-gypsy vibe, with a flowing Spanish melody… delightful. Some pretty hokey lyrics ("It's been a long and lonely life, but I've loved so many girls. Never made no one a wife, and I strung 'em just like pearls. But I'd never met a gem, 'til you made me forget all about them."), but it just works.
AllNightUpTightBagTiteKoKainePahty – More classic Asa. I don't even know where to begin with this one, so I'll just leave you with this line:
"It's six o'clock and the walls are leanin', the frantic conversation's overwrought with meanin' – 'that cooking wine looks good – why don't you pass me that jug' – so we'll be looking for rocks in the dirty shag rug…"
Gate Of Hell – Strong thoughts of the late, great Townes Van Zandt with this one. "Staring at my face in the mirror, wondering how I'm gonna make it through the working day, the devil knows the price of admission, you've had your fun, now you've got to pay." Quintessential 'morning after' song. Oh, the regrets!
Gurl – A sucker for a happy ending, he ends with a swinging sax-propelled doo-wop number. Jeez man, what a friggin' roller-coaster ride! Come to think of it, just like life.
share this: