Some Mercury retrograde weirdness pushed the schedule back a bit, and bands were still sound checking as fans gathered in the Paradise front lounge. But it was well worth the wait when Sea Wolf took to the stage. And The Album Leaf were all-encompassing, quite amazing, and they even brought along a string quartet! Nice.
"Orion & Dog", their magical ode to the great hunter of Greek mythology (and his dog, Sirius) began Sea Wolf's set, with Alex Brown Church alone with just acoustic guitar and vocals. Lovely. The full band followed with "Traitor", another song from their 2009 album, White Water, White Bloom.
And coming through the mist
into the calm and clear
In the emerald gleam
I can feel you near
The dogwoods on the banks
glowing in the gloom
On every naked branch
a beautiful white bloom.
– "White Water, White Bloom"
White Water, White Bloom is a journey lyrically and musically rich with mythology, elements of land-sea-wind, spiritual yearning, and wanderings across dew-filled grasses, winter fields of snow, and flowing rivers. Recorded, the music is folk-based but lush, with guitars; violins, flute and cello; mandolin and pedal steel; piano, organ, dulcimer, bass, percussion… a thick and very satisfying earthy stew. Live they're just as gorgeous, with beautiful interplay between acoustic guitar and cello; with xylophone (glockenspiel?) and chime flourishes, creating a mystical quality from a distant time. Alex's warm vocals have a comforting down-home vibe, and special mention must be made of the absolutely awesome guitar solo during "Dew in the Grass". They finished with "You're A Wolf" from their first EP (when I first fell in love with their sound), and then "The Promise," introduced as the b-side of their first single.
The Album Leaf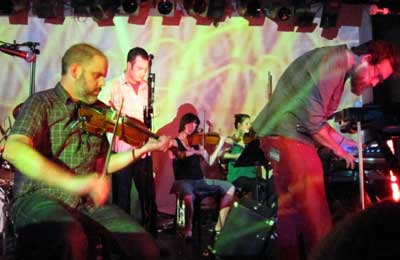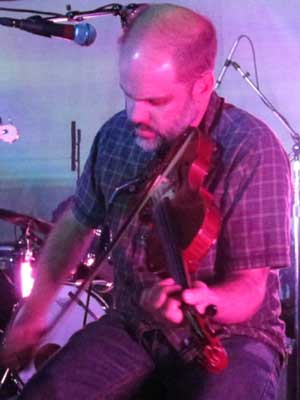 First impressions of The Album Leaf, listening beforehand to better acquaint myself, were of a synth-based layered and sometimes spacey ambient sound, with pretty vocal harmonies. One can sense deep undercurrents and complexity that's easy to get lost in, but live, they just took over every nook and cranny of the Paradise with the richness of their instrumentation and some serious grooves that were simply hypnotizing.
Multiple keyboards and glockenspiel, guitars and bass, drums and percussion, trumpet, violin – and for god's sake, a entire string quartet seated at the back, though front-and-center in their classiness and orchestral fullness – all wove together into a most amazing auditory experience that enveloped everything in a thick, delicious sauce. Complex and ambient, driving and dreamlike, ethereal vocals floating inside and around the music. At one particularly inspired moment, a musical maelstrom gradually broke down to focus on some lovely violin at the end. If you're not familiar with The Album Leaf, I very highly recommend having a listen. And seeing them in person, if at all possible. They'll be returning on August 13, to the Bank of America Pavilion. That should be a really nice show, with that outdoors ambiance and sea breeze (they're also at the Roseland Ballroom in NYC the day before, August 12).
share this: