So I'm a little late in reviewing this show (it's been a weird few months), but I happened to turn on WFNX, just in time to hear "WFNX, where new music starts – Local Natives, 'Airplanes.'" Wow. Yeah, ok, they're not really new, and the monumental song in question was on a 5-track EP of early studio tracks and a Daytrotter Session that they were selling at shows back in January 2009, just after they had moved from Orange County to Silverlake in Los Angeles. But it's great to see them getting recognition so well-deserved. They've toured all around Europe and the U.S. now and have a huge following, but this 'FNX nod made me happy. Because it means a lot of new listeners ahead of their August 5 show at The Middle East. So I'll take the opportunity to boast that I was amongst the first in Boston to know of this great band. True, I didn't get to see them play their first shows at the Silverlake Lounge or Spaceland, but being 'East Coast challenged,' I do what I can.
They've come a long way from that cold, slushy winter's night about a year and half ago, when they played a scorching set at T.T.'s along with Voxhaul Broadcast and The Union Line (come to think of it, it was like being at Spaceland). What struck me then, besides their mind-blowing musicianship and catchy tunes, was their boundless energy and enthusiasm and the passion they put into that performance, playing for pretty much the other bands and me. They brought the same spirit and great songs to the sold out Great Scott. Only this time, it wasn't just me enthusiastically bopping and snapping photos. Several professional photographers were in the audience, and the place was packed with loving fans singing along to tracks off their debut album, Gorilla Manor.
"Camera Talk" started things off, and the audience was right there from the first note, bouncing along to their infectious upbeat and African/tribal-influenced indie pop. Beautiful harmonies and even tighter than I remembered, due to their nonstop touring. I haven't followed every step, but I recall looking at their schedule every now and then and thinking "lordy!" But indeed that's what it takes these days, and it's paid off with a worldwide fan base. They performed the album nearly in its entirety, leaving out only "Sticky Thread," and including their awesome Talking Heads cover, "Warning Sign." Especially live, they've really made this song their own, though it also serves as a great tribute to a band that's obviously a big influence.
"Airplanes"
The ended with the jubilant drumming circle that is "Sun Hands," awe-inspiring the first time I saw it performed live… and it still is.
"And even if the morning never comes
my hands are blessed to have touched sun
and when I can feel with my sun hands
I'll promise not to lose her again."
Though they seemed maybe a little weary from the road (lights were kept at a "subdued lounge" level, which just added to the intimacy of the 220-capacity club), it was a powerful and exhilarating evening. After their set, Taylor mentioned the upcoming Middle East show, saying that it would be an amazing show. If that's to be the main course, then this was a very tasty appetizer.
Brooklyn's Suckers opened, and they were wonderful. A perfect complement to Local Natives, they have a percussion-driven sound with 3-part vocal harmonies and some unconventional performance techniques. Such as lead singer/guitarist Quinn Walker hitting his guitar strings, frets, etc., with a mallet. Bassist (and also keyboard player, trumpeter) 'Pan' was also entertaining to watch as well as listen to, and along with drums and lead guitar, they had the musical complexity and textures of an 8-piece band. I believe only guitarist Austin Fisher "just" played guitar; even drummer Brian Aiken added keyboard simultaneously. Walker ventured into Passion Pit territory with some falsetto singing, and his expressive hand gestures conjured some sort of indigenous storyteller. The last song employed whistling in with the percussive blasts; high energy and dramatic. Their debut album Wild Smile is due out June 8. If you preorder it, you can immediately download "Black Sheep," the first single, as well as acoustic versions of two songs on the album. They'll be back to Great Scott on July 18. Highly recommended.
Upcoming East Coast Shows
Suckers
Jun 17 First Unitarian Church w/ Mates of State and Todd Barry – Philadelphia, PA
Jun 18 Music Hall of Williamsburg – WILD SMILE RECORD RELEASE PARTY!!! – Brooklyn, NY
Jun 29 Prospect Park Bandshell w/ Passion Pit & Tokyo Police Club – SOLD OUT – Brooklyn, NY
Jun 30 Governor's Island w/ Passion Pit, Tokyo Police Club & We Were Promised Jetpacks – NYC, NY
Jul 15 Iron Horse Music Hall – Northhampton, MA
Jul 18 Great Scott – Allston, MA
Local Natives
Aug 5 The Middle East – Cambridge, MA
Aug 6 The First Unitarian Church Sanctuary – Philadelphia, PA
Aug 7 The Beach @ Governors Island – New York City, NY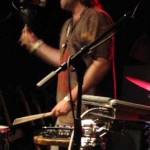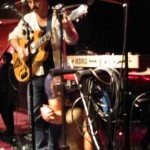 share this: