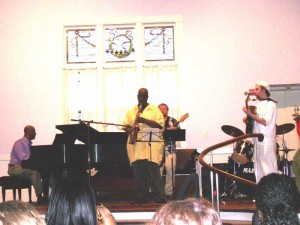 Yes, I suppose it's rather unusual to review a birthday party, but Arthur is a pretty unusual (and immensely talented) guy. The invitation read:
As many of you know, besides teaching martial arts and doing healing work, I write music. But only a few of you ever heard me play the piano. Ten years ago, on my 50th birthday, I decided to give a party/recital and play the piano. People seemed to enjoy the music, so I said I would do it every ten years. Well it has been ten years.
So on Saturday, April 25th at 6pm I will give my 'every ten years' party recital.
This special event was held at Watertown's First Parish Church, and if you think this is an usual venue for a party, well, the church also regularly hosts Mirabai Devi's public Darshans, so no, not unusual at all.
The recital began with Arthur performing solo piano, in an unusual program featuring his "channeled works", improvised pieces based on specific composers' musical styles. These composers ranged from South African pianist Abdullah Ibrahim to Eric Satie, Leonard Bernstein to Cecil Taylor, Ravel and Debussy to "Over the Rainbow" from The Wizard of Oz. Displayed around the stage and room were interesting sculptures courtesy of his artist friends.
I was blown away by how his music flowed so beautifully and moved as if carefully orchestrated from one piece to another, totally seamless and wildly engaging. Completely improvised?? How is that even possible!? But it was, and the joy Arthur had in presenting these spontaneous compositions for his appreciative audience of family and friends was contagious. That joie de vivre – how rare a thing to possess, and he has it overflowing and ready to share. My mood of late has been less than joyous (that's putting it mildly), so when I felt myself completely relax into that gorgeous swirling piano, feeling it sweep me up and carry me off, this was nothing short of a miracle.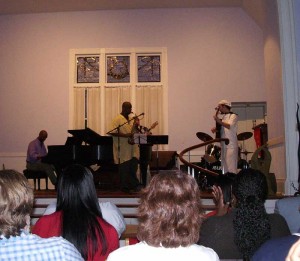 After a brief intermission, Arthur came back on with an amazing "cool jazz" band comprised of his friends: his nephew Gary L. Goodridge on piano, Rev. Trenton Rose on drums, the astonishing Matthew Dorko on guitar, and Michael Clarage on bass. All superb musicians, you could see how much fun they were having jamming together on classics "Take Five" (Paul Desmond), "Bluesette" (Toots Thielemans), "My Favorite Things" (Richard Rodgers), and "Foot Prints" (Wayne Shorter). Arthur started on alto saxophone, moving to flute, and then amusingly "horning in" on his nephew to add some piano. Only a natural musical talent could be so comfortable with complete spontaneity. He made everything appear effortless.
After the recital, there was a party downstairs with a lavish spread of great food, much merriment, interesting conversation, and good company, adding to the already perfect evening. Thank you, Arthur, and a very happy birthday! Already looking forward to your party in 2019…
---
About Arthur Goodridge
He began in the fourth grade by studying alto saxophone, playing until midway through college, when an involvement in the civil rights movement and Vietnam protests took him away from music temporarily. Many years later, he started playing piano to relieve stress, and then took lessons so that he could learn to compose. He states that he is "not a pianist in a traditional sense", which is astonishing considering the level of virtuosity displayed during his amazing solo performance.
Besides playing piano, saxophone, and flute, Arthur composes music (with several compositions performed by others available on CD), he teaches martial arts, is currently revising a musical he wrote entitled "Winter Butterfly" and is also writing a book discussing his philosophy of politics, teaching and learning entitled, "Moving Together". You can learn more about this fascinating person by visiting his website.
share this: