The last time I saw the wonderful Silverlake band The Local Natives (also at T.T.'s, with The Union Line & Voxhaul Broadcast) was back in January, and I was amazed at how good they were. It was a Sunday night, the weather was cold, slushy and miserable, and there were maybe 20 people in the audience, most of them the other band members and their friends. Even so, and considering they had come from L.A. cross-country to play for us, they put on an enthusiastic, fantastic show, and this really impressed me.
Fortunately, this night was quite different. No more snow, thank god, and on tour with Portland-based Blind Pilot, who seem to have quite a loyal (and large) following. I wasn't previously familiar with their music at all, but I'm sure glad I am now!
The Local Natives were even more marvelous than I remembered, no doubt feeding off of the already large audience who really seemed to enjoy them. Even in their recorded music, but especially live, there's an enthusiasm and joy of playing that comes through and is quite infectious. You can tell they're having such a good time, and they have such a tight sound (with incredibly nice harmonies). I realize now what an amazing song "Airplanes" is, and some in the audience were clearly already familiar with it (no doubt from MySpace). They performed songs from a fantastic 5-track EP they just put out (featuring tracks recorded at Rede Rockets Glare Studios and two from their Daytrotter session), plus "Stranger Things" and three I didn't know, which I annoyingly indicate as "??" in the setlist.
"Cards & Quarters" has a really cool, rhythmically-changing beat and very pretty guitar. Beautiful vocals throughout from Taylor Rice and Ryan Hahn, who were also on guitars. They performed a wonderful Talking Heads cover, "Warning Sign", and really make it their own. That song seriously rocked. When I first saw them I thought they reminded me of a looser and friendlier Talking Heads; maybe it was just a similar sort of vibe, or the truly jamming percussion. But I was probably too insecure to mention that at the time. Now that I see they do such a marvelous job with one of their songs, I'll go ahead and say it. I also see in my scribbled notes, "beautiful violin (viola?), with keyboardist on vocals and guitar". So I'll mention that Amanda Salazar on violin (hoping that's her name, as I'm looking at the EP) and Kelcey Ayer were great on this song, but yes, it's one of the tracks I didn't know. Andy Hamm on bass and Matt Frazier on drums were superb as well. They ended their set with "Sun Hands" which, done live, is a building, hypnotic, tribal ritual.
Blind Pilot up next, and looking back, I'd have to say what an inspired pairing, even though they're quite different musically. Same infectious joy, however. How to describe Blind Pilot? Mountain Appalachian hillbilly hoedown, casual and fun but musically rich and inviting… danceable, joyous, at time wistful and melancholy, but with great warmth. Lovely vocals from Israel Nebeker, and a fascinating line up of guitar, ukelele/banjo/mountain dulcimer, harmonium/keyboards/trumpet, drums & percussion, stand-up bass, and vibraphone! Sounds crazy, and it is, but it's also quite beautiful. People were simply knocked out by these guys. The rest of the audience were obviously more familiar with the music than I was, but they seemed delighted to be seeing them in person. It can't be easy for a small indie band to make the trek from Portland to the East Coast, so I think everyone is especially appreciative here. And to play a show at T.T.'s… well, it's an awesome little venue and we love it, but ya know, it ain't the Orpheum.
Listening to their wonderful CD now ("3 Rounds and a Sound"), they're lyrically lovely as well. Which I could tell during the show, but of course you can't always make out the words, and you're naturally focused on the amazing instrumentation, as it's live and right there in front of you. Sitting quietly at home, the vocals come to the fore and can be pondered over and admired.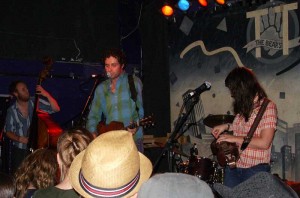 "The screen went blue before I touched you and my ride went home. All the photos came out lonely but we were not alone, talking of everything we could not hold… We were stronger than the preachers. We were wiser than the law." ("Things I cannot recall")
Greatly enjoyed these guys (and gal) live (and a really nice version of "A Whiter Shade of Pale" during the encore). The CD (which can be purchased directly on the MySpace) lists Blind Pilot as: Israel Nebeker – vocals, guitar, bass; Ryan Dobrowski – drums, percussion; Kati Claborn – vocals, mountain dulcimer, banjo; Shawn McLain – violin; Ian Krist – vibraphone; Dave Jorgensen – trumpet, Rhodes; and Skyler Norwood – vibraphone, bass, orchestration.
Thanks so much, Local Natives and Blind Pilot, for an awesome evening of music… Come back soon!
Setlist
(Local Natives)
World News
??
Airplanes
Cards & Quarters
Warning Sign (Talking Heads)
??
Stranger Things
??
Sun Hands
(Blind Pilot)
??
The Story I Heard
Two Towns From Me
Oviedo
Go On, Say It
Poor Boy
Paint or Pollen
Things I Cannot Recall
One Red Thread
I Buried A Bone
??
(encore)
The Bitter End
A Whiter Shade of Pale (Procol Harum)
Six Feet Under(?)
share this: