Continuing with my band roundup of artists I've recently been sent information on. Some of these people have been around for a while but I'm not terribly familiar with their work, so apologies to hardcore fans if the background information provided elicits a kind of "well, duh" reaction.
Part IV – Five Finger Death Punch, Historics, Hugh Cornwall, Cage The Elephant, Hot Chelle Rae, and Steve Aoki.
Five Finger Death Punch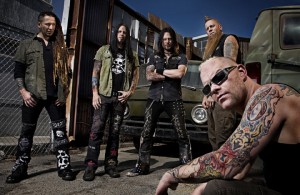 This extremely popular heavy metal band have been performing together since 2006, with their first show on September 8th at L.A.'s Wiltern Theater opening for DragonForce. Their debut album, The Way of the Fist (2006) sold 300,000 copies, due in no small part to two years of solid touring with bands such as Korn, Disturbed, Slipknot, Hellyeah, Trivium, and Atreyu. They followed an appearance at The Metal Mayhem Festival with their own headlining tour in the U.S. and Canada, then a European tour with Lamb of God, Metal Hammer's Defender Of The Faith tour, and another headlining tour.
The band was started by guitarist Zoltan Bathory, their name inspired by Kill Bill Vol. 2. 5FDP also includes lead singer Ivan Moody (Motograter & Ghost Machine), drummer Jeremy Spencer (W.A.S.P.), bassist Matt Snell (Anubis Rising/Deadsett), and lead guitarist Jason Hook (BulletBoys).
Their second album, "War Is The Answer" (Prospect Park Records), is due out September 22nd, and available for presale with special deluxe packages.
Hard To See official video
Official site | MySpace | YouTube Channel | Metal Hammer's Guide to 'War Is The Answer' | Wikipedia page
Upcoming Shows
'Shock and Raw' Tour- with Shadows Fall, Otep, 2 Cents
Sep 18 2009 9:00P | Wasted Space @ Hard Rock Hotel – Las Vegas, NV
Sep 22 2009 8:00P | The Regency Grand – San Francisco, CA
Sep 23 2009 8:00P | Crest Theater – Fresno, CA
Sep 24 2009 8:00P | The Glass House – Pomona, CA
Sep 26 2009 2:00P | KUPD's Summer Scorcher @ THE FARM – Phoenix, AZ
Sep 27 2009 8:00P | Sunshine Theater – Albuquerque, NM
Sep 28 2009 8:00P | The Black Sheep – Colorado Springs, CO
Sep 30 2009 7:00P | Sokol Auditorium – Omaha, NE
Oct 2 2009 8:00P | The Rock – Maplewood, MN
Oct 3 2009 8:00P | Club V – Chicago, IL
Oct 5 2009 8:00P | Wescott Theatre – Syracuse, NY
Oct 6 2009 8:00P | Northern Lights – Clifton Park, NY
Oct 8 2009 8:00P | House of Blues – Boston, MA
Oct 9 2009 7:30P | Bourbon Street Ballroom – Baltimore, MD
Oct 10 2009 8:00P | Webster Theatre – Hartford, CT
Oct 11 2009 8:00P | Starland Ballroom – Sayreville, NJ
Oct 13 2009 7:00P | TLA – Philadelphia, PA
Oct 15 2009 7:00P | The Crofoot – Pontiac, MI
Oct 16 2009 8:00P | Orpheum Theater – Madison, WI
Oct 17 2009 6:30P | Orbit Room – Grand Rapids, MI
Oct 18 2009 7:00P | Expo Five – Louisville, KY
Oct 20 2009 7:00P | Sunset Station – San Antonio, TX
Oct 21 2009 7:30P | Pavilion – Lubbock, TX
Oct 23 2009 7:00P | The Village – Little Rock, AR
Oct 25 2009 7:00P | Pop's – Sauget, IL
Oct 26 2009 8:00P | Diamond Ballroom – Oklahoma City, OK
Oct 28 2009 6:00P | KBPI's INFEST @ The Fillmore – Denver, CO
Oct 30 2009 7:00P | The Great Salt Air – Salt Lake City, UT
Oct 31 2009 7:00P | Knitting Factory – Boise, ID
Nov 1 2009 7:30P | Knitting Factory – Spokane, WA
Nov 2 2009 6:30P | Showbox SoDo – Seattle, WA
Nov 11 2009 8:00P | Live Music Hall – Koln
Nov 12 2009 8:00P | Columbia Club – Berlin
Nov 13 2009 7:00P | Vox Hall – Aarhus
Nov 14 2009 8:00P | Klubben – Stockholm
Nov 16 2009 8:00P | Nosturi – Helsinki
Nov 18 2009 8:00P | John Dee – Oslo
Nov 19 2009 8:00P | Brewhouse – Gothenburg
Nov 20 2009 8:00P | The Rock – Copenhagen
Nov 21 2009 8:00P | Sputnikhalle – Munster
Nov 22 2009 8:00P | Grunspan – Hamburg
Nov 24 2009 8:00P | Wulfrun Hall – Wolverhampton
Nov 25 2009 8:00P | Garage – Glasgow
Nov 26 2009 8:00P | Academy – Manchester
Nov 27 2009 8:00P | Electric Ballroom – London
Nov 29 2009 8:00P | Academy – Oxford
Nov 30 2009 8:00P | Waterfront – Norwich
Historics
Historics is a collaboration between Don Devore (Amazing Baby; Ink & Dagger; The Icarus Line), Josh Grubb (VietNam), Mickey Madden (Maroon 5), Jeff Knutsen (Fast Fourier), and Matt Werth (Favourite Sons). Psychedelic, garage rock, experimental, electronic… kinda difficult to describe.
"Taverns" has a nice swirly, dreamy quality which is echoed perfectly in the video (see below). City scenes and bird imagery merge nicely with performance footage. Directed by Brendon Devore. Lovely job.
"Skin Orders" is multi-layered and psychedelic-tinged, Vocals weaving in and out of acoustic guitar lines. "All Fathers" is hypnotic with its start-stop pacing, repeated lyrics, and percussive blasts, and crazy soaring guitars.
They completely change direction on "Take It To The Top", which features a guest appearance by rapper Kool Keith, relating a story of rock star excess to a rather schizophrenic "mashup" of hip-hop beats, hints of an orchestra gone awry and distant bells, and maybe an Indian mystic in there somewhere.
Their debut album Strategies for Apprehension (Metropolitan Indian Records) out now.
Taverns music video
I don't see any shows listed for Historics, but Amazing Baby has a U.S. tour starting September 10th in Detroit.
Hugh Cornwall
The original vocalist, guitarist and songwriter for The Stranglers (1974-1990), Hugh Cornwall has released seven solo albums – Wolf (1988), Wired (1993), Guilty (1997), HiFi (2001), Beyond Elysian Fields (2004), Footprints in the Desert (2005), Dirty Dozen (2006) – and three collaborations, Nosferatu (1979) featuring Robert Williams, CCW (1992) featuring Roger Cook and guitarist Andy West, and Sons of Shiva (2002) featuring poet Sex W. Johnston (a.k.a. John W. Sexton). He's also published two books – The Stranglers: Song by Song (2001, Sanctuary Publishing) and an autobiography A Multitude of Sins (2004, Harper Collins).
He currently performs as a three-piece, with drummer Chris Bell and bassist Caroline Campbell. Their latest album, Hooverdam (Invisible Hands Music), a fun garagy romp with a rockabilly feel, is available for free download on Hugh's official site. In February/March of this year, they toured the UK and France, performing the entire album followed by a mix of older solo and Stranglers material, and played to a packed crowd at the Glastonbury Festival.
Physical copies of the album (in stores September 8th) will be available on vinyl and as a triple-sleeved digi-pak CD/DVD, which will contain Hugh's film "Blueprint," featuring live studio performance inter-spliced with an interview with Hugh at the Tate Gallery in London. Both Hooverdam and "Blueprint" were recorded in Toerag Studios with producer Liam Watson (best known for producing the White Stripes' Elephant).
Official site | MySpace | Interview on pennyblackmusic.com (June 2008)
Upcoming Shows
09/08: Philadelphia, PA @ Johnny Brenda's
09/09: Long Branch, NJ @ Brighton Bar
09/10: Washington, DC @ Black Cat
09/11: Bordentown, NJ @ The Record Collector
09/12: New York, NY @ Highline Ballroom
09/13: Boston, MA @ TT The Bear's Place
09/14: Portland, ME @ Port City Music Hall
09/15: Montreal, PQ @ TBA
09/16: Hamilton, ON @ This Ain't Hollywood
09/17: Toronto, ON @ The Mod Club
09/18: Cleveland, OH @ Beachland Ballroom
09/19: Milwaukee, WI @ Shank Hall
09/20: Chicago, IL @ The Abbey
09/22: Minneapolis, MN @ 400 Club
09/23: Winnipeg, Manitoba @ The Pyramid
10/06: Frankfurt, Germany @ Nachtleben
10/07: Kõln, Germany @ Luxor
10/08: Hamburg, Germany @ Grunspan
10/09: Berlin, Germany @ Quasimodo
10/10: Amsterdam, Netherlands @ Paradiso
10/15: Vilnius, Lithuania @ New York Club
10/16: Druskininkai, Lithuania @ Amber Club
10/17: Palanga, Lithuania @ Ramybe Club
11/13: Newcastle, England @ O2 Academy Newcastle
11/14: Glasgow, Scotland @ ABC Glasgow
11/20: London, England @ O2 Academy Islington
11/21: Oxford, England @ O2 Academy Oxford
11/27: Manchester, England @ Manchester Academy 1
11/28: Birmingham, England @ Academy Birmingham
Cage The Elephant
I had the pleasure of seeing these guys at the WBRU/McFadden's Block Party in Providence last month, and man, were they awesome. Quick re-introduction: from Bowling Green, Kentucky. Matt Shultz (vocals), his brother Brad (guitar) and their friends Daniel Tichenor (bass), Lincoln Parish (guitar) and Jared Champion (drums). Crazy southern-style punk rock, Matt Shultz goes into a voodoo trance when on stage, convincingly channeling Iggy Pop. Listening to them now on their MySpace as I write this, at a much lower volume than when I last heard them, I hope I don't offend them by saying how pretty their stuff is as well as unhinged and powerful. "Ain't No Rest For The Wicked" (their huge radio hit) has that lovely dobro throughout. "Lotus" has a nice funky beat and surprisingly insightful lyrics that for some reason, I kinda didn't expect:
"Woke up before the morning sun
I found it tucked beneath the hills
I sat and watched it rise
It hit the sky and burst to flames
The lotus flower's
Got me thinking bout the way we live
I've got this feeling
It's gonna stop"
"Driven by religion
Running backwards down a one way road
A course collision, split decision
Tryin' to save your soul
Manifest destiny
Is just a fancy word for murder
I've got this feeling
It's gonna stop"
– Lotus
Their debut self-titled album is out now, they've been on David Letterman, at SXSW, Coachella, Bonnaroo, All Points West, and Lollapalooza. They were recently named a Breaking Artist by Rolling Stone. They're now touring with Silversun Pickups. WOW. Must try to catch this somewhere.
"Back Against The Wall"
Upcoming Shows
+ with Silversun Pickups
09/11: Nashville, TN @ WBUZ Radio Show @ Riverfront Park
09/12: Noblesville, IN @ WRZX Radio Show @ Verizon Wireless Music Center
09/13: Dayton, OH @ WXEG Radio Show @ Montgomery County Fairgrounds
09/14: Cincinnati, OH @ Bogart's+
09/15: Grand Rapids, MI @ The Orbit Room+
09/16: Green Bay, WI @ The Club+
09/18: Omaha, NE @ Sokol Auditorium+
09/19: Des Moines, IA @ Hoyt Sherman Place+
09/21: Fayetteville, AR @ George's Majestic Lounge+
09/22: Tulsa, OK @ Cain's Ballroom+
09/23: Memphis, TN @ Minglewood Hall+
09/25: Little Rock, AR @ The Rev Room+
09/26: Huntsville, AL @ Big Spring International Park at Big Spring Jam+
09/28: Lexington, KY @ Buster's+
09/29: Johnson City, TN @ Electric Cowboy+
09/30: Knoxville, TN @ Valarium+
10/02: Mobile, AL @ Bayfest
10/03: Ft. Myers, FL @ Ricochet+
10/04: Jacksonville, FL @ The Florida Theater+
10/05: Columbia, SC @ Headliners+
10/07: Charleston, SC @ Shoreline Ballroom+
10/09: Myrtle Beach, SC @ House of Blues+
10/10: Durham, NC @ Duke University at Joe College Day
10/11: Norfolk, VA @ The NorVa+
10/13: Montreal, QC @ Metropolis+
10/14: Ottawa, ON @ Bronson Centre+
10/15: Toronto, ON @ The Sound Academy+
10/17: Providence, RI @ Lupo's Heartbreak Hotel+
10/18: Clifton Park, NY @ Northern Lights+
10/20: Hartford, CT @ The Webster+
10/21: Burlington, VT @ Higher Ground+
10/23: Rochester, NY @ Main Street Armory+
10/24: Pittsburgh, PA @ Ches-A-Rena+
10/26: Toledo, OH @ Headliners+
10/28: Peoria, IL @ Exposition Gardens+
10/30: Chicago, IL @ Cubby Bear
10/31: Madison, WI @ University of Wisconsin – Freekfest
Hot Chelle Rae

From Nashville, Tennessee, Hot Chelle Rae is Ryan Keith Follese: guitar, lead vocals.
Nash Overstreet: lead guitar, vocals, Ian Keaggy: bass, vocals, Jamie Follese: drums. Straight-ahead rock with a soft ballad here and there ("Bleed"), definitely Top-40 radio friendly and very accessible. More mainstream pop than alternative (but there's still time; they're young), and definite "boy band appeal" judging by their pretty looks. I'm guessing they probably have a lot of teenage female fans. Not a bad thing; I'm not the sort of blogger who passes judgment on what someone else may like (Say Yes To Apes, anyone?). Only thing that pisses me off is insincerity, but these guys are clearly genuine, doing what they do from the heart, even naming their band after one of their biggest fans!
They signed with Jive Records in October 2008, and their forthcoming album, Lovesick Electric, was produced by Eric Valentine (All-American Rejects, Taking Back Sunday) and Butch Walker (P!nk, Avril Lavigne). The first song, "I Like To Dance", is available on iTunes [by the way, this song has already been featured on Fox's hit show "So You Think You Can Dance", so it looks like they're off to a good start.]
Upcoming Shows
Sep 26 2009, 6:00P – Big Spring Jam w/ The Fray, Honor Society – Huntsville, Alabama
Steve Aoki
Steve Aoki is the mastermind and visionary leader of Dim Mak Records, specializing in electro dance music, whose artists include Bloc Party, The Gossip, Klaxons, MSTRKRFT, Scanners, and The Bloody Beetroots. He is also a club promoter and does DJ sets all over the world, under his stage name DJ Steve Aoki Kid Millionaire. Interesting background – born in Miami, raised in Newport Beach, California, his father was a Japanese Olympic wrestler and founder of the Benihana restaurant chain. In college he produced DIY records and presented underground concerts out of his living room. Two early bands he was in: This Machine Kills, which released Esperanza on Ebullition Records, and The Fire Next Time. He founded Dim Mak in 1996.
Along with production partner Blake Miller and under the name Weird Science, he did remixes for Snoop Dogg, Peaches, and Bloc Party. Under his own name, he's done remixes for Michael Jackson, NASA (w/ Kanye West, Lykke Li & Santigold), The Killers, Lenny Kravitz, Tiga, and others as well as collaborations and tracks with The Bloody Beetroots, Armand Van Helden, Laidback Luke, Boys Noize and the Faint, Junkie XL and The Bloody Beetroots. His debut mix album, Pillowface and His Airplane Chronicles, was released in January 2008.
Aoki will release his own debut single, "I'm In The House", on September 15, "Featuring the Mysterious Masked Rapper, [[[zuper blahq]]]" (I'm guessing fans who follow this genre know who this is). The single features a diverse collection of remixes, with a second single featuring remixes by LMFAO, Sharam of Deep Dish, pianist Eric Lewis and more to be released later this year. He'll release his full-length debut album in spring 2010.
"I'm In The House"
Meanwhile, he continues his many DJ residencies around the world – and oh yeah, he's got his own clothing line.
Official site | MySpace | Dim Mak Records | Wikipedia page | Steve Aoki interview
Upcoming Shows
Thu, Sep 10: Cardboard Robot ASR Party @ Voyeur | San Diego, CA
Fri, Sep 11: Sugar | Victoria, B.C.
Sat, Sep 12: Blueprint 12 Year Anniversary | Vancouver, B.C.
Mon, Sep 14: Prive | Las Vegas, NV
Fri, Sep 18: Club Tango | Beijing
Sat, Sep 19: 808 Bangkok | Bangkok
Sun, Sep 20: Zouk | Singapore
Mon, Sep 21: Creative Center | Osaka
Tue, Sep 22 : Ageha @ Studio Coast | Tokyo
Fri, Sep 25: Diesel Event | Shanghai
Sat, Sep 26: Dragon-I | Hong Kong
Tue, Sep 29: Welcome to the Neighborhood @ Next Door | Honolulu, Hawaii
Thu, Oct 01: Mario Barth Presents "The Biggest Tattoo Show on Earth" | Las Vegas, NV
Fri, Oct 02: The S.A.T. | Montreal, Que.
Sat, Oct 03: Invisible Children Fundraiser @ Henry Fonda | Los Angeles, CA
Mon, Oct 05: Case Of The Monday's Dance Party! @ The Wall | Northbay, Ont.
Tue, Oct 06: L3 Nightclub St. | Catharines, Ont.
Wed, Oct 07: Opus Lounge | Guelph, Ont.
Thu, Oct 08: Club Mansion | London, Ont.
Sat, Oct 10 : Crobar | Chicago, IL
Wed, Oct 14: La La Land | Byron Bay
Thu, Oct 15: Family | Brisbane
Fri, Oct 16: Villa | Perth
Sat, Oct 17: The Academy | Canberra
Sun, Oct 18: Electric Circus | Adelaide
Wed, Oct 21: La La Land | Byron Bay
Thu, Oct 22: Club 324 | Auckland
Fri, Oct 23: Roxanne Parlour | Melbourne
Sat, Oct 24: The Metro | Sydney
Sun, Oct 25: The Barking Dog | Geelong
Sun, Oct 25: Elsewhere | Gold Coast
Wed, Oct 28: Lower Sproul Plaza | Berkley, CA
Wed, Oct 28: Infatuation @ Vessel | San Francisco, CA
Thu, Oct 29: MiX Thursdays @ M!X Downtown | San Jose, CA
Fri, Oct 30: BFD Subsonic Fest | San Francisco, CA
Thu, Nov 05: V2O Thursday | Long Beach, CA
Fri, Nov 06: Ex Fabrica de San Agustin | Puebla
Sat, Nov 07: Zoon | Mexico City
share this: