Daniel Johnston, Capitol Years
at the Paradise Rock Club, Boston, MA
Thursday, October 15
(doors at 8pm; 18+ show)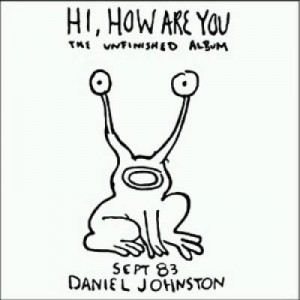 My earliest recollection of Daniel Johnston is hearing his now classic song "Speeding Motorcycle", performed as a special over-the-phone collaboration with Yo La Tengo, for WFMU's "The Music Faucet" show on February 4, 1990. Actually, this song from the hour-long session was on 'heavy rotation' over at Boston College's WZBC, and it was early 90s that I heard it, when I first moved up here.
I haven't really kept up with what he's been doing in the years since, but a song like that gets lodged in your brain and never leaves. He has an interesting story as well. Inspired by the Beatles, he started recording music in the late 1970s from his parents' home in West Virginia, singing and playing piano and organ. He moved to Texas, working with a traveling carnival for a while, playing shows and handing out homemade, lo-fi cassettes to everyone he met. Eventually he settled in Austin, gaining a local cult following, enough to be featured on MTV's "The Cutting Edge" in 1985, which then brought him national recognition. In the late '80s, Homestead Records re-issued some of his early cassettes on vinyl (Hi, How Are You, Yip/Jump Music: Summer 1983, and Continued Story).
He's been a favorite of the indie crowd for many years, with fans such as Kurt Cobain, Sonic Youth, Yo La Tengo, The Dead Milkmen, Butthole Surfers, and Half Japanese. Atlantic Records signed him in 1994 and put out Fun, his first major label release. Other albums include: Rejected Unknown (1999), Fear Yourself (2003), Lost and Found (2006), 1990 (2008), and Artistic Vice (2008). Discovered Covered – The Late Great Daniel Johnston (2004) featured various artists covering his work (Beck, Clem Snide, Gordan Gano, Eels, Calvin Johnson, Tom Waits, and others), and a CD of his originals.
As his biography states, "Daniel Johnston has spent the last 20 or so years exposing his heartrending tales of unrequited love, cosmic mishaps, and existential torment to an ever-growing international cult audience." His work has undoubtedly been influenced by his lifelong battle with bipolar disorder, yet fortunately it hasn't stopped him from being an incredibly prolific musician and artist. He is also an accomplished cartoonist; his drawings have appeared on his album covers, and in art galleries in Los Angeles, Zurich, and Berlin. There was a documentary made of his life and work, The Devil and Daniel Johnston, and a book, Hi, How Are You?
His new album, Is And Always Was (produced by Jason Falkner) is being released October 6, and is his first studio album in seven years.
Daniel's latest foray… onto your iPhone. (from the press release): AUSTIN, Texas – (September 24, 2009) – "Hi, How Are You" the first ever toon-shaded 3D puzzle platformer for the iPhone and iPod Touch, is now available in the Apple App Store. The game features dynamic, physics-driven gameplay and is set in a psychedelic universe filled with the art, music, and iconic themes of renowned indie artist Daniel Johnston.
Daniel Johnston – East Coast shows
Oct 13 – Washington, DC – 9:30 Club
Oct 14 – New York City, NY – Highline Ballroom, Irving Plaza
Oct 15 – Boston, MA – Paradise Rock Club
Official site | Official fan site | Yip Eye Tunes (digital download site for Daniel's music) | Wikipedia
share this: