If you're a guitar aficionado and lover of the mind-blowing riff, a connoisseur of brain-bending slide guitar sorcery, were anywhere in the vague vicinity of Cambridge, Massachusetts, and you weren't at the Lizard Lounge to witness Peter Parcek and then Ted Drozdowski and his Scissormen, I feel really, really sorry for you. When I say it was an evening of guitar showmanship, I don't mean that in a pretentious, self-satisfied rock-god poseur sort of way. I mean whiskey-soaked, venerable bluesmen blasting cobwebs out of dusty, unkempt corners of smokey Southern barrooms. Something timeless, and soul-satisfying.
I arrived late for The Ten Foot Pole Cats and only caught part of their set, but they're an impressive trio (Jay Scheffler on Vocals & harmonica, Jim Chilson on guitar, and Dave Darling on drums). They play some serious down-and-dirty blues, with very convincing vocals – far more Mississippi Delta than Allston, Mass. Two songs they performed were "Scratch Ticket" and "Chicken Head Man", the latter of which can be heard on their MySpace page. Great stuff. They have quite a few shows around Massachusetts through the early part of next year, and one inexplicably in New Jersey, on April 1 (ah, you don't suppose? nah, they probably are playing there).
The Lizard Lounge isn't what I'd call spacious (it's the basement of The Cambridge Common restaurant, though a nice and cozy basement it is), but the place – what there is of it – was packed. Ted Drozdowski is something of a local legend, having written music reviews for The Boston Phoenix for many years (still does), and he's played in such bands as Blood Blister, Vision Thing, and Devil Gods. He moved down to Nashville some years back, so when he comes to town, it's a special event.
It's a great tragedy that I hadn't heard of Boston-based Peter Parcek until this evening, but holy shit, I'll definitely be paying attention now. Rootsy and bluesy with incendiary guitar (and gorgeous vocals). Peter's a very classy guy in his pinstripe suit and it's appropriate dress because his style of playing is quite elegant; it just flows out of him. At one point he played what he referred to as "gypsy music", explaining that he had witnessed this genre being performed at the largest festival in the world that specialized in it, and how the guys playing didn't bother to tune first. He considered it a "minor detail", though he would in fact tune up before playing his tribute, appropriately titled "Minor Detail".
The highlight of his set, for me personally, was his rendition of Blind Lemon Jefferson's "See That My Grave Is Kept Clean", one of my all-time favorite blues songs. It's been widely covered by such diverse artists as Bob Dylan, B.B. King, Canned Heat, Lou Reed, The Dream Syndicate, and (chillingly) by Diamanda Galás. This was an astonishing version that brought tears to my eyes and gave me goosebumps, and wow, this guy can sing! I also realized a few times I was holding my breath during his riffs. I regret not shooting some video so you could see how amazing he is, but I was too busy standing there with my jaw on the ground. You can download "rollin' with zah", a new song from his forthcoming album, and get an idea. He was joined by drummer Steve Scully and bassist Mark Hickox, and they were really good as well. Definitely see them if you can.
On their MySpace page, the Scissormen band members are listed as "Ted D., slide guitar and vocals, and some mean-butt drummer", so I wondered who the "mean-butt drummer" would be, given Boston's rich musical history. Turns out there would be two mean-butt drummers. Matt Snow I was unfamiliar with, but he's in the Boston band Cassavettes, and is one fine percussionist. And then after Peter Parcek's amazing set, I spotted Larry Dersch wandering around… YES!! Now, if I had kept up with what Ted's been doing all these years since, uh, the mid '90s, I would know that he's kept up with several of his former Boston cohorts, and that Mr. Dersch drums on the Scissormen's 2008 release, Luck In A Hurry. Suffice it to say, it was quite an evening.
They performed a mix of mix of Scissormen originals, blues covers, and a surprise version of Jimi Hendrix's "Voodoo Child" towards the end. Ted's a fantastic guitarist, and being something of a slide junkie, those moments were especially satisfying for me. At one point they invited a friend up to play harmonica (I forget his name now… Richard?) and oh man, he was really, really good. It's been a long time since I've seen a live blues band, don't know why. It's just something I was into many years ago, and then inexplicably moved away from. Blues music is a live experience, I think. Or at least it's a genre best enjoyed in a small club with some soulful players full of heart, like these guys, and yeah, whaddya know, they can be white boys.
Besides being a wonderful guitarist and a surprisingly decent singer (I guess watching Blood Blister all those years ago, I just couldn't imagine any of those guys singing), Ted's the consummate showman. Free of a tether, he wandered freely around the room playing; lying on tables, on the bar, on the floor, in people's laps, continually wailing on that guitar. Everyone in the place got an up-close and personal private performance; perhaps in some cases, more than they bargained for. He used a wide and amusing assortment of "found objects" for a slide – glasses and vessels of all sorts, a drumstick, a chair leg, a guy's cellphone…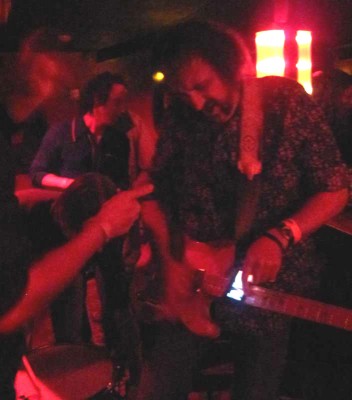 As the evening stretched delightfully on, not winding down until close to 2am, the proceedings got looser and looser, until the final song saw Ted, Matt and Larry all off the stage and in amongst the already satiated audience, the latter two bringing snares along with them. A crazy, wonderful evening.
Future performances – go see them if you can! Memphis TN on Dec. 11, Charleston SC on Feb. 5, two shows in Indiana, two shows in Mississippi, and a blues festival in Lausanne in May. See their MySpace for details.
Other Videos:
"Delta Train" (new song)