The Album Leaf, Sea Wolf at the Paradise Rock Club, Boston, MA
Friday, April 30 | doors at 8pm, 18+ show
For those who enjoy rich musical tapestries; some folky and warm, others dreamy and synth-driven ethereal, here's a really nice evening for you.
A lovely band from Los Angeles, Sea Wolf is: Alex Brown Church, vocals and guitar; Lisa Fendelander, keyboards; Joey Ficken, drums; and Theodore Liscinski, bass. I first profiled them in my 'Silverlake Band Roundup' and announced their visit last year at the Paradise, though due to a scheduling conflict, couldn't attend.
Their music is both richly orchestral and warmly folky. Lyrically sophisticated as well, with Church's intelligent observations and vivid imagery. "O Maria", their newest single, is quite compelling, with rich instrumentation and a powerful vocal; it can be heard on their official site. Check out another track from White Water, White Bloom, "Wicked Blood":
Their latest release is White Water, White Bloom (2009), and they had the good fortune of having a song of theirs, "The Violet Hour", included in the soundtrack for the wildly successful Twilight: New Moon. For the past few years, I've been enjoying their debut EP Get To The River Before It Runs Too Low and full-length Leaves In The River (2007). Hopefully this time I can catch them in person.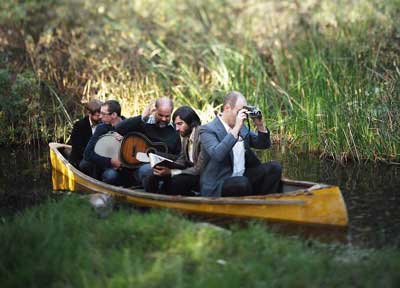 Headlining the show is San Diego band, The Album Leaf, led by composer and producer Jimmy LaValle, who create dreamy and lush flowing soundscapes of ambient electronica, woven together by inviting vocals. A Chorus of Storytellers, their 5th album (on Sub Pop), was released back in February and marks the band's 10-year anniversary. The live band includes Jimmy LaValle – keyboards, vocals, instrumentation; Drew Andrews – guitar, keys, vocals; Timothy Reece – drums; Matthew Resovich – violin, keys, vocals; Gram LeBron – bass, keys, vocals; and Andrew Pates – live visuals.
East Coast Shows
April 30 – Boston, Mass. @ The Paradise
May 1 – New York, N.Y. @ Bowery Ballroom
May 2 – Philadelphia, Pa. @ First Unitarian Church
May 3 – Lancaster, Pa. @ Chameleon Club
May 4 – Washington, D.C. @ Rock and Roll Hotel
Sea Wolf: MySpace | Official site | Facebook | Twitter
The Album Leaf: MySpace | Facebook | Official site
share this: