After loading the last two giraffes onto the ark Tuesday night, I headed down to the Paradise to catch… well, the last two bands – The Features and Manchester Orchestra. Apologies to Biffy Clyro and O'Brother, but a show that starts at 6:45pm is good for those who have to be up in the morning, but it does make things challenging for those not in town. I hope someone was there for those early sets!
I arrived to The Features already in progress. They're decent musicians and created quite a partying racket, bursting with energy, though what impressed me most were their last few songs which – for me anyway – seemed to raise the atmosphere considerably. Perhaps it was the great "anthemic" vocal harmonies, or the loud-soft dynamics (such as in "The Gates Of Hell"), which I really love when done well.. and they were. Expansive and celebratory, they closed out what must have been way too short a set for their fans in grand style, and I'll definitely have to check these guys out more closely.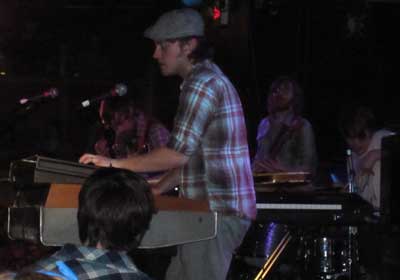 This was my first time seeing Manchester Orchestra, and it won't be my last. From some "casual listening", I knew their music packed a wallop, and they certainly didn't disappoint on that level, but I was surprised at the delicacy in many of their songs, which came across extremely well in this mostly very attentive audience. There was very little 'wandering off', due to the tremendous energy emanating from guitarist Robert McDowell, drummer Jeremiah Edmond, keyboardist/percussionist Chris Freeman, bassist Jonathan Corley, and most especially Andy Hull, who has extraordinary stage presence. I was completely rivited to his performance.
Andy has this great rock 'n' roll voice. At times, he sounds like he's desperately trying to purge himself of some horrible poison. He alternates between wild earth-moving shrieks and then the music settles down, often to just his guitar and his quiet, vulnerable plea. Which was very effectively done, for example, on an absolutely searing version of "Shake It Out", which enraptured the audience to such an extent that a guy near me yelled out "PLAY IT AGAIN!!"
"I felt the Lord begin
to peel off all my skin
and I felt the weight within
reveal a bigger mess
that you can't fix.
Backing up to the first song of their set, "Pride", which careened from crazy keyboard magic and mayhem from Chris Freeman to Andy Hull's soft balladry. What a gorgeous beginning. Speaking of Chris, I was hypnotized watching him move between keyboards and drum set, joining full-time drummer Jeremiah Edmond to create a throbbing percussive heartbeat that was just immense.
I already mentioned "Shake It Out", which built into a delicious cacophony, then dissolving into those shiver-inducing middle lines and ramping back up again… From there, they performed "Wolves At Night" (for which I wrote down "crazy" – and I see I used that word a lot), followed by a wonderful song (new and as yet unreleased, so it would seem), "April Fools".
Sometime after that, there was a strange "discussion" between Andy and an audience member regarding, I suppose, cocaine use? At first, not being familiar with all their music, I thought he was yelling out a request for a song of theirs called "Cocaine" – except for the fact that they don't have one. I'm really not sure exactly what he was going on about, and I couldn't quite make it all out, but it sure seemed like this band is very familiar with Boston audiences, as it turned into a totally whacked, profanity-laced, and highly entertaining conversation.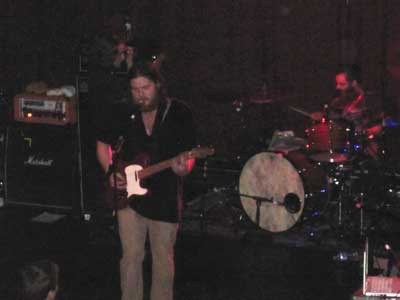 "Everything To Nothing" was, from my first impressions, "obliterating and majestic". "Colly Strings", from their debut album, began with an organ drone, a simple guitar line, and Andy's vocals, the others coming in slowly as the song built. Quite beautiful. "The River" was remarkable as well, starting quiet and raw, and building into that explosive dual drums assault. "The Only One", which starts off last years Mean Everything to Nothing album, was a deeply moving audience sing-a-long, and it was around this time that I realized how lovely their harmonies are. They're definitely hard-rocking, but there's a sweet, really sweet folky vibe as well. The combination of the two is breathtaking.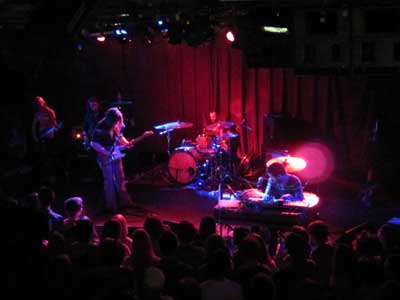 I believe it was "I Can Feel A Hot One", that was performed with just dual vocals and acoustic guitar; very pretty. And looking at the set list, I'm pretty certain the order or the songs was changed, so I'm not sure what exactly the final two songs were, but they performed an awesome extended piece which featured a 5-person drumming extravaganza, moving into beautiful guitar lines. I really hope this one finds its way onto YouTube, though for full effect, you had to be there.
Due to the all-ages show, the Paradise had its usual "11pm curfew", so there was no encore, but with such a full-on roof-raising set, no one seemed disappointed in the slightest. These guys are really a class act; definitely see them if and when you can.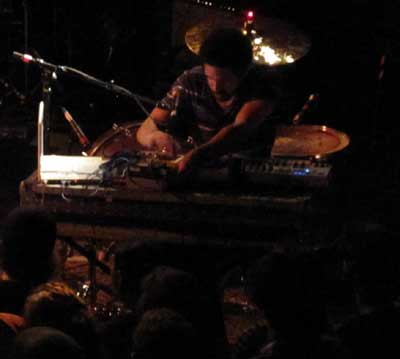 Set list (in no particular order, as I think they mixed up the later ones): Pride, 100 Dollars, In My Teeth, My Friend Marcus, Shake It Out, Wolves at Night, April Fools, Colly Strings, Everything To Nothing, The River, The Only One, Where Have You Been?, Friends, Hot One
Selected Upcoming Shows
(see their official site for a full show listing).
4/3 Philadelphia, PA – The Trocadero
4/5 Towson, MD – The Recher Theatre
4/6 Norfolk, VA – The NorVa
4/14 & 4/15 Atlanta, GA – Variety Playhouse w/Thrice
4/16 New Orleans, LA – The Howlin Wolf w/Thrice
4/20 Cleveland, OH – House of Blues w/Thrice
5/3 Reno, NV – Knitting Factory w/Thrice
5/7 Las Vegas, NV – House of Blues w/Thrice
5/8 Tucson, AZ – Rialto Theatre w/Thrice
6/10 Manchester, TN – Bonnaroo
share this: