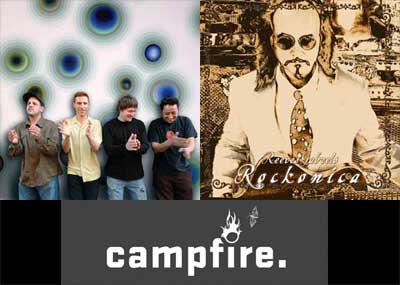 Happy Memorial Day Weekend, everyone – and let's see how quickly I can do this and get it up. Starting tonight, there's a four-day extravaganza over at Passim called The Campfire Festival. It's quite a good bargain for the price, with loads of fantastic local artists and bands (just found the schedule, so click on in for details). Also tonight, I'll be heading over to Lizard Lounge to check out Club d'Elf along with special guests Randy Roos, and – from the wilds of Nashville – Mr. Reeves Gabrels, who will surely be engaging in some mighty fine guitar wankery sorcery.
Club d'Elf with special guests Reeves Gabrels and Randy Roos @ The Lizard Lounge – Friday, May 28
Join Club d'Elf tonight at the Lizard Lounge (along with their friends Reeves Gabrels and Randy Roos) as they grace the small stage with some crazy jazz-fusiony experimental mayhem. Or as Reeves calls it, "ambient dub avante jazz improv rock." And since Reeves will be there… well, who the hell knows?
The Campfire Festival @ Passim – Friday, May 28 – Monday, May 31

It's a wild extravaganza of music at Passim this weekend (starting this evening). Some of the bands performing are Walter Sickert & The Army of Broken Toys, Margaret Glaspy, Americana Ensemble, Flightless Buttress, David Wax Museum, Treat Her Right, Danielle Doyle, and Blue Moose & The Unbuttoned Zippers. Cost is $10 per day or $30 for the entire weekend. Tickets can be purchased here. See Passim's site for the full schedule and links to all the bands' pages so you can check them out beforehand.
share this: