It's surely a testament to fine musicians and a memorable performance when one can still recall details of a show even when it takes two weeks to review it. Such is the case of 'punk/rap Ecuador-by-way-of-the-Ukraine exploding gypsy caravan' Gogol Bordello and that delicious musical smorgasbord, 'Eastern European wedding band of your wildest dreams', DeVotchKa. Oh yeah, and The St. Marks Social was pretty good too.
Though St. Marks Social has only been around since last summer, frontman Jesse Malin has been performing for a decade as a solo artist and in hardcore/punk bands Heart Attack and D-Generation. They've just released Love It To Life, which is a melding of spirited punk and straight-ahead Springsteen style rock. Live they're noisy and rambunctious (in a good way), with 'dual drumming' that further propels Malin's frenetic activity and in-your-face vocal style. They started with the lead song from the new album, "Burning the Bowery," an ode to their base of operations, and performed a handful of other songs, including "All The Way From Moscow" (about touring in Russia) and "Black Boombox," which was introduced as being "for people who don't want to watch YouTube and jack off." They ended their set with a scorching rendition of The Clash's "Death or Glory."
There is no classier act than DeVotchKa. Even as stagehands are setting up and testing their instruments – accordion, violin, keyboards, acoustic and electric guitars, bouzouki, trumpet, double bass, sousaphone, theramin, and various percussion – you know this is going to be something special. Elegant, worldly and otherworldly, romantic, defiant, celebratory. Eastern European combined with Spanish Bolero, gypsy traditions, folk, and punk. The four multi-instrumentalists that comprise DeVotchKa bring with them a wide-ranging mix of backgrounds, styles and sensibilities. There's classical violinist Tom Hagerman (who also plays keyboards and accordion). Jeanie Schroder, who plays double-bass and that most unlikely of rock instruments, the sousaphone, once performed in a Civil War recreation band. Shawn King (drums, percussion, trumpet), raised by Lithuanian polka musicians, studied mariachi horn music. Lead singer, guitarist, bouzouki, piano, trumpet and theramin player Nick Urata has Sicilian and Gypsy roots. The band began their touring life about 10 years ago as the backing band for a traveling burlesque troupe. Seriously, how can this not be great?
They began with "Basso Profundo" from A Mad And Faithful Telling, followed by a mind-blowing rendition of the Velvet Underground's "Venus In Furs" (which can be heard on their 2006 EP Curse Your Little Heart). Festive and rambunctious in one moment, sweetly sentimental in another (as in the mariachi "We're Leaving," from How It Ends), with Urata switching from electric to acoustic guitar or bouzouki for some breathtakingly beautiful moments. In the midst of this musical kaleidoscope, as if things couldn't get any more transcendent (and all the more dramatic if one wasn't familiar with their stage show), the proceedings turned into Cirque de Soleil with two lovely ladies and some impressive aerial acrobatics, dangling from curtains suspended from the House of Blues ceiling. Incredible.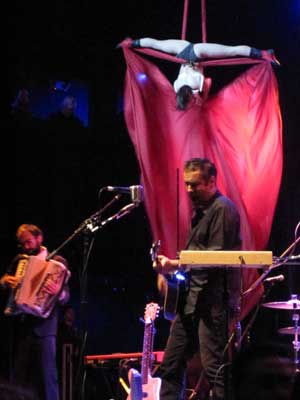 I must also say… theramins ROCK. Every band should be required to have one. For anyone who hasn't yet heard one, if you ever see someone standing over a rectangular box with their arm raised, drawing strange invisible designs in the air, and you suddenly feel like you've stepped into a Dr. Who episode, it's probably a theramin.
"How It Ends" started off pretty and finished as a crazy unhinged gypsy wedding party, complete with theramin, violin and sousaphone. DeVotchKa ended this breathtaking journey with their powerful Balkan spaghetti-western march, "The Enemy Guns." Their performance was a full-length theatrical production crammed into an hour-long club set. Absolutely astonishing. Hoping for a quick return.
DeVotchKa discography: SuperMelodrama (2000), Triple X Tango (2002), Una Volta (2003), How It Ends (2004), Curse Your Little Heart EP (2006), Little Miss Sunshine (soundtrack, 2006), A Mad & Faithful Telling (2008).
For the uninitiated, there was virtually no build-up nor time to fully prepare oneself for the audio-visual onslaught of the gypsy punk caravan that calls itself Gogol Bordello (their name is derived from Ukrainian-born Russian novelist Nikolai Gogol). Ok, so one told me Gogol Bordello's set was going to be a participatory sport. [I see now that they're performing at WFNX's First Annual Clam Bake, so the only advice I can offer is: embrace the idea that music is a communal experience in which you must be fully engaged, prepare to get up-close and personal with your concertgoing neighbors, and don't wear anything you care about.]
They began with a quiet and pensive number from their last album, "Ultimate" (yes, I'm kidding; first song of the set, and the whole House of Blues floor was one giant mosh pit). They played several songs from their just released Trans-Continental Hustle such as "Rebellious Love," "Break The Spell," "Pala Tute," and "My Companjera." It was an astonishing crazy musical feast, with guitars, bass, percussion, accordion, violin, and the irrepressible master showman Eugene Hütz on vocals, acoustic guitar and whirling insanity. Two backing vocalists and dancers and even a rapper joined in for some songs, making for quite an awesome production. Eastern European gypsy music mixed with punk, rap, and dub to create something powerful and addictive.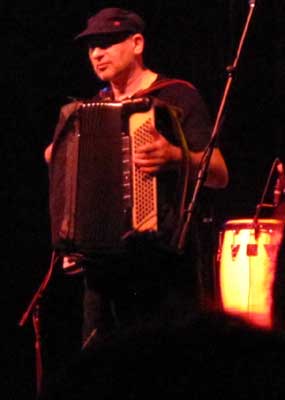 This is a truly international band – Hütz is originally from the Ukraine, and others are from Russia, Ethiopia, Ecuador, Scotland and the U.S., and theirs is a strong message of solidarity and the bringing together of the world's people through the power of music (check out Hütz's amazing intro on their MySpace page). "American Wedding," a hilarious commentary on the difference of cultural traditions, was followed by "Start Wearing Purple," a decidedly non-American wedding romp with festive accordion and the most inane of lyrics. Lots of fun recorded; serious moshing madness and mayhem live.
For the encore, Hütz came back out to begin a gorgeous performance of "Alcohol" (from their 2007 album Super Taranta!) accompanying himself on some very lovely Spanish style acoustic guitar. He was joined after a while by accordion and violin. Definitely one of the highlights of the evening. The lovely and wistful "Sun Is On My Side", with some beautiful acoustic guitar and accordion, followed.
Gogol's maniacal audience, who were a backing chorus for much of evening (when they weren't taking turns being hoisted above the crowd and surfing up to the front of the stage) joined in for Hütz's chant of "It's about community – fight the negativity!" which exploded into one more crazed rap-punk-gypsy-wedding-celebration to finish off an exhilarating, full-on experience.
[Gogol Bordello are currently on a crazy tour of venues and festivals, crossing back and forth between Europe and the U.S. through (at least) the end of August.]
Gogol Bordello discography: Voi-La Intruder (1999), Multi Kontra Culti vs. Irony (2002), East Infection EP (2005), Gypsy Punks: Underdog World Strike (2005), Super Taranta! (2007), Live from Axis Mundi (2009), Trans-Continental Hustle (2010).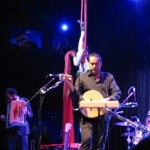 Jesse Malin & The St. Marks Social: MySpace | official site | DeVotchKa: MySpace | Official site | Facebook | Twitter | Gogol Bordello: MySpace | Facebook | Official site | Twitter
share this: