It was a wondrous and hilarious clashing of cultures in the House of Blues restaurant on Lansdowne Street after Evelyn Evelyn's tour finale in the big room. Jaggery brought a huge helping of class to this section of town best known for baseball, burgers and beer. And Walter Sickert and The Army of Broken Toys, with a wicked gleam in their eyes, tried to see just how far they could go before having the plug pulled. Pretty damn far, I'm happy to report. Jaggery harpist extraordinaire Petaluma Vale commented after their classical and gothic-inspired ethereal set, "I think I'm overdressed for this place," as she glanced down at her elegant long skirt, appearing for all the world like a fairy princess lost in Walmart. I argued that the Lansdowne Street eatery was lucky to have such a classy event grace their establishment.
I was amazed to see Jaggery thrive as they did in such an odd and somewhat hostile environment. Waitresses and busboys walked back and forth with food, taking orders from bemused and bewildered folks who were probably not even at the Evelyn Evelyn show, but rather stopped in for a bite to eat after the Red Sox game. Meanwhile, Daniel Schubmehl and Tony Leva created a deep groove on drums and upright bass, Rachel Jayson – once again doing "double duty" in both bands this evening – glided and soared on her viola, Petaluma spun magic with her glistening harp, and Mali Sastri whipped up her special brand of musical voodoo with her tempestuous piano playing and all-encompassing, emotionally stirring vocals. If anything, they were even better under these curious circumstances, fighting valiantly for command over the elements, and emerging victorious, with a growing, increasingly rapt audience, the music slowly taking precedence over late dinners.
Walter Sickert and the Army of Broken Toys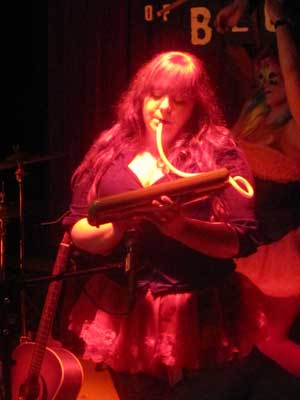 They're always impressive, forever the strangely-flavored gumbo of late 1800s Coney Island sideshow, backstreet burlesque, and New Orleans voodoo blues, but Walter Sickert and The Army of Broken Toys were absolutely unhinged this night. A famous rock establishment, corporate conglomerate, the epitome of all that is scary, unsettling, and downright disturbing these days about the music biz – and the deliciously decadent, dancing at the boundaries of what's socially acceptable 'Broken Toys'… This was either going to be a recipe for disaster, or one of those special evenings not soon forgotten.
Their set began with the gothic and bluesy Victorian dirge, "No Room," with the steamrolling "Friend In Goddamn" hot on its heels. There was vague mention made of barreling through their set – I think there may have been some time constraints – but I'm always exhausted anyway after one of their exhilarating sets like I'd just run a marathon, so bring it on! "Cataclysm" and then their wonderful Johnny Cash cover, "Sam Hall" followed (both from their newly released SteamShipKillers). "Sea Song (Mare Carmen)" had the usual audience accompaniment, perfectly on cue – "This is a song about…" "THE SEA!!" Bolstered perhaps by their adoring followers and the oddness of the evening, it was an especially, um… vigorous 'Love and Marriage'/gay marriage rap and clamshell lady striptease. And I'll now mention the two guys next to me who, by the looks of it, were more likely at that Red Sox game than the Evelyn Evelyn show. A few songs into the set, one suggested to the other that they should take off, but the other said no. And now, as our esteemed stripper jiggled her clamshell-adorned assets around, he turned to his friend, "and you wanted to leave?!?" Needless to say, they stayed until the bitter end and left as new recruits into the Broken Toys Army.
"Hole In The Boat" had an especially robust German beer hall vibe to it, with the audience going nuts (I have "crazy shit" written in my notes), and I suppose that must have been what led Mr. Sickert into his disparaging remarks about "America's Got Talent" and other such television fare, and there was also something about getting crabs from Simon Cowell, but memory fails… They performed a lovely version of Elvis Presley's "Trouble," the proceedings getting looser and looser with various audience members coming up on stage. Though actually there wasn't a stage, and where the audience stopped and the band began was never quite clear, and soon people who I'm pretty sure were part of the band (or decided to be for that night) were wandering around the restaurant with instruments and cords, and happy chaos ensued.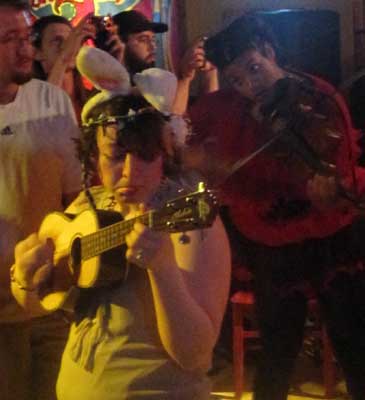 TAOBT's legendary "Ghostbusters" cover was an out-of-control, shriekingly mad affair, which segued nicely into "Off With Her Head!!!," the audience choir pretty much picking up the song and running off with it. Mali from Jaggery came up to bestow a final blessing on the event with some wonderful piano accompaniment to an earthy rendition of "I Put A Spell On You." WS does quite an extraordinary job with this; it's a perfect song for his bluesy hell-fire.
There were some more nice bluesy forays in the encore, with the band coming back out a few times to a wildly cheering crowd. Exhilarating. Exhausting. Wonderful.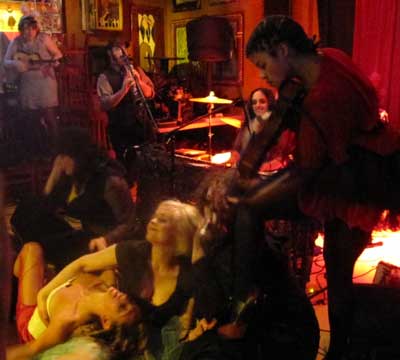 "Sea Song" and "Ghostbusters" were happily caught on video by TheDrtravis.
share this: