It seems unbelievable that one can still see The Happy Hollows in a tiny, low-key establishment like O'Brien's Pub. Why the hell isn't this amazing band stupidly huge by now??
First there was their astonishing, deeply textured, pop-experimental odyssey Spells. Which was released last year, just before a middle slot on an odd line-up at T.T. the Bear's Place, where they were sandwiched between two southern rock bands, and where they were surprised to find they were the biggest draw of the evening. And then there was that awesome Samsung ad which featured a clip of "High Wire" and Sarah texting. Sweet, adorable, and some damned exciting prime-time placement (like during the "24" season finale), did, uh, not much in breaking things open to a wider audience. But on this warm summer night, this great injustice worked in my favor, as I selfishly basked in the glow of an intimate evening with one of my favorite bands.
It was a far more amicable line-up this night at O'Brien's Pub in Allston, with power-punkers The Sinbusters opening, then The Happy Hollows, and headlined by the psychedelic, crazed outer-space jamming of The Dead Marxist Trio. On one end, 90-second blasts of thrashy punk joy, shots of straight adrenaline that left everyone happy and breathless. On the other, a thick blanket of expansive space jam that I think may have been one or two songs comprising their mind-melting 40 minute set.
The Sinbusters, based in Lowell (yes, Lowell) are a tight, no-nonsense punk quartet. Incredible rocket bursts of energy – it's impossible not to like this. Their rapid-fire set included such tunes as "Seizure," "Slave," "Generation Locust," and "Dance with Bouncer's GF" (the titles alone give some indication…), and ended with "Baghdad Love." Have a little look and listen:
They just released an album called Prime Blowout, which can be heard and downloaded courtesy of Nice Bass Productions.
The Happy Hollows
The Happy Hollows – Sarah, Charlie and Chris – were, as always, an impressive and joyous affair. They have this unique gift of being able to go off on crazy sonic tangents, yet are still cozy and warm and insanely inviting. The magic is conjured by Sarah Negahdari, symbiotically supported but never overpowered by Charlie Mahoney and Chris Hernandez. Enchantress and shamen, she alternates between a voice sweet as honey and otherworldly shrieks that can purge demons, at the same time causing jaws to drop with her instrumental prowess as she morphs suddenly into Guitar God.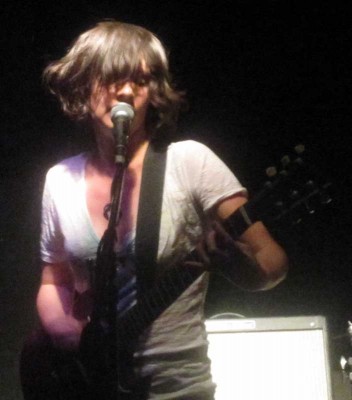 They opened with "Monster" and "Faces" and played other selections from Spells, ending with the lovely "Tambourine," and performed a version of "Lieutenant" that was worthy of thousands, but deeply appreciated by the enraptured 50.
[If you find yourself in Los Angeles on Thursday (7/8), The Happy Hollows are playing a free show at the Hammer Museum with Admiral Radley.]
Other Happy Hollows videos: "Monsters" | "We Will Find You" | "Death To Vivek Kemp" | Sarah, the Guitar Goddess
In contrast with The Happy Hollows' bouncy feel, The Dead Marxist Trio were a deep, unfathomable ocean. Lead singer and guitarist Tristan Brown began their set with a crazed musical and physical aerobic workout that felt like the grand finale and set the bar quite high. They quickly left safer shallow waters and embarked on a fantastic sea voyage of mind-numbing, hard-driving bluesy psychedelia. It may have been just two really long songs; I don't know for certain, 'cause I kinda went away somewhere strange.
They have a debut 6-song EP coming out soon, and two upcoming shows: July 30 at Max's Blues Cafe in Brockton, and July 31 at Temple Sound in Jamaica Plain.
share this: