Sometimes it takes an unexpected glitch to realize how brilliant a band really is. No, not glitch; to lose power two songs into your set at the long-awaited CD release party for your new album is nothing short of a clusterf*ck. This was after having duplication problems with their new release, Upon A Penumbra, with the (somewhat) fixed CDs arriving just the day before. It was, as Jaggery's Mali Sastri pointed out the second time we were plunged into total darkness, "fitting." But being the amazingly talented musicians they are, not only did they persevere; they wrapped their hands tightly around the neck of this debacle and shook it. Hard. What resulted was a powerful and poignant joining of spirits, and the most awe-inspiring set I've seen them perform.
The plan was to play 'Penumbra' from back to front, so they started with the stark and lovely "Funny Faces" and made it through "Rare Earth Element" before the power cut out. "Sea of Sideways" (aptly titled, as it happens) began as a haunting spontaneous jam, as the band grappled with how exactly to play keyboard-based songs without a keyboard. Oh, for a grand piano, but alas. The lights teasingly went back on for a few minutes, with a nimble segue into the intended song. Powerful stand-up bass lines and drumming that sounded especially immediate and tribal that night, and Rachel Jayson's viola sounded gorgeous without amplification. As they were without a piano, Petaluma Vale spontaneously started playing the piano parts instead on her harp, with someone in the audience lighting her strings with some sort of tiny penlight so she could see them. Unbelievable. And Mali, with her powerful voice and delivery, clearly has no need of any technological enhancements nor any microphone either. It was a perfect way to hear their beautiful new music, pure and unadulterated.
There was so much love and support in the room, Mali was inspired to do an uncharacteristic stage dive and crowd surf. In almost complete darkness. Punk rockers out there take note! With perfect timing as they stood triumphant after having blown everyone's minds, the power, no longer required, came back on. So they ended with an anticlimactic though still beautiful plugged-in version of "Fair."
Other videos: Rare Earth Element | Improv. jam / Sea of Sideways | Small Town | Lady | 7 Stone (from In Lethe) | Incestuous Tendencies | What You Lack | Fascination (?) | Fair
Jaggery's musical companions for the evening were also wonderful. Oddly, when the power came back on at the end of their set, it stayed on for the rest of the evening. Beat Circus is a unique and curious southern gospel/Americana/gothic affair led by Brian Carpenter who is a compelling storyteller with a religious fervor in his mannerisms, singing songs about his grandfather with a mysterious swampy vibe from his native Florida panhandle upbringing. Two lovely ladies on violin and viola with sweet backing vocals, stand-up bass, drums and bongos, banjo and trombone of all things, triangle and jew's harp. Bizarre… and really great. From a sort of 'hillbilly bluegrass" with serious fiddling, to a very experimental piece with droney overtone singing which was quite mesmerizing. They performed a mix of selections from their 2009 release Boy From Black Mountain ("The Life You Save May Be Your Own" (about his grandfather), "The Quick and the Dead," "Judgment Day") and new songs as well.
Incus were equally fascinating and impressive. They combine an Eastern European gypsy vibe (think DeVotchKa) with Middle Eastern, African and Native American influences – and a touch of goth. Perfect. Jason Cohen (vocals, keys, accordion, percussion) has been involved in various ritual work and gatherings, and this definitely came through in their hypnotic performance. Chris Baum (who has performed with Dropkick Murphys) plays a mean violin. They whipped up some enthralling voodoo – really enjoyed these guys. Oh, and they had a belly-dancer who was pretty amazing (they regularly incorporate dancers into their live shows). I see on their MySpace, "Incus is equally at home rocking out onstage at clubs and bars 'plugged in' and electrified as they are performing in their acoustic power at fire festivals around the country." Fire festivals. Definitely have to check that out sometime.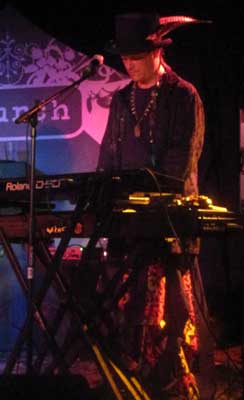 Upcoming Shows
Jaggery
Sep 5 Harper's Ferry, Allston ~ w/ Faux Ox + The Milling Gowns + What Time Is It, Mr. Fox?
Sep 26 Whitehaus Gallery w/Ember Schrag ~ Jamaica Plain
Incus
Aug 16 Club Passim, Harvard Square, Cambridge MA
Aug 20 The Boston Greenfest, Boston City Hall Plaza
share this: