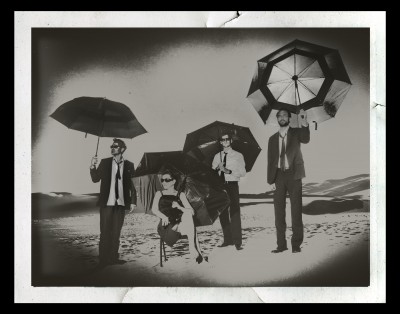 Better late than never… (but I come bearing video)
So who says a band can't achieve huge success on its own terms? No "formula". No concern about demographics (unless there's a new genre called "Eastern-European-Gypsy-Mariachi-Southwestern-Desert-Polka-Pop"). DeVotchKa is deliciously uncompromising, with a wildly unique sound and globetrotting vision. What we have here is a phenomenally gifted group of musicians doing what comes naturally, with increasingly larger audiences (such as their Paris stadium show with Muse for 90,000 last year) delighting in the exotic experience.
Tragically sad, gloriously triumphant, and may I just say this: Nick Urata can seriously wail on a bouzouki. Shredding electric guitar solos are one thing… but a bouzouki? Oh yes. And then there are those dreamy romantic vocals that had everyone in the Paradise swooning. He'd switch to a mournful whistling straight off the prairie, and we were suddenly in a spaghetti-western groove for "The Enemy Guns", sensuous and mysterious. A bit later on, they would all get going on a jam, dual drums pounding away, stand-up bass, and Nick just going at it on that bouzouki… and never mind the mariachi tune they just played, or the German polka, or the sousaphone, accordion and violin… this was a f*cking ROCK BAND. They're everything, really, and it all works. All of it.
With old friends like "You Love Me" and "How It Ends" (which became an audience sing-along) and new favorites, such as the absolutely charming pop tune, "100 Other Lovers", they seduced and entranced, and left everyone breathless.
Los Angeles-based Mariachi El Bronx opened, and they were wonderful in their own right. Moonlighting as an authentic mariachi band (complete with matching traditional outfits, violin, trumpet, and a guitarron), their regular gig is as hardcore punk band El Bronx. Incredibly festive and obviously having a great time on what was their last night on tour with DeVotchKa, you couldn't help but get sucked in to the fun. Nick invited them up during for an especially exuberant version of "We're Leaving" with dual trumpets and violins.
A few words about the new DeVotchKa album… Buy It. From the sweeping, orchestral majesty of "The Alley", to the sweet lovelorn charm of "100 Other Lovers", to the rollicking adventure of "Contrabanda", this is a masterpiece. Sentimental love songs in a myriad of flavors. The deluxe version includes a DVD with some tasty morsels – the two official videos for "100 Other Lovers" (beautiful and heartbreaking, the damn thing made me cry) and "All the Sand", a nice trailer for the album, and brief footage of one of the string arrangements. There's also two bonus tracks: the "100 Other Lovers" radio mix, and a very nice instrumental, "Firetrucks on the Boardwalk". The package includes, just like a box of cracker jacks, "a toy surprise inside" – a curious little device called a Zoetrope CD that you put together with a strip containing a repeated design, a cardboard CD cutout, and a chapstick tube, all supplied. Wacky and delightful… much like this fine band.
Other video clips:
Mariachi El Bronx (unknown song)
DeVotchhKa encore (video quite rough, sorry, but it sounds great! watch at the end for a slide bouzouki jam!)
share this: