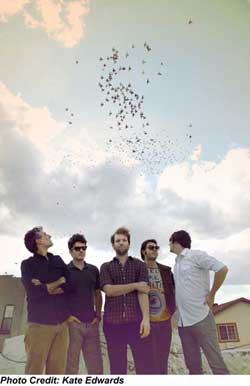 Caveman with The War On Drugs, Porcelain Raft
at Brighton Music Hall
Sunday, August 21, 2011 – TONIGHT!
Doors at 8 PM; Show at 9 PM; 18+ show
Advance Box Office Price $10 | buy tickets
Why "Caveman"? Why not "Primordial," or "Palaeolithic," or "Troglodyte," or "Aborigine"? Never mind; all that matters is that their music is luxuriously primative, dreamy space pop with 4-part harmonies, little blasts of cosmic madness, and some hypnotic tribal drumming.
Since coming together at the start of 2010, Caveman have already toured with some impressive bands – Edward Sharpe & the Magnetic Zeroes, White Rabbits, Here We Go Magic, Cursive, Wye Oak and Yuck.
To celebrate their debut album, CoCo Beware (digital release 9/13; CD and vinyl on 11/15), they're on tour with The War On Drugs, and will be decending on The Brighton Music Hall on Sunday night to caress and then melt your ears for a little while.
If you're in New York next month, you can celebrate the release at the Mercury Lounge on September 15th.
The War On Drugs are headlining the show, and they are similarly psychedelic, so if you're looking to go on a little trip Sunday night, and you're not planning on checking out this folk singer who's playing at the House of Blues (whose name slips my mind), this may well be the show for you. The War On Drugs have a new album just out, Slave Ambient.
The War on Drugs, "Baby Missiles" by The FADER
Fellow space travelers Porcelain Raft open up the evening.
Tour Dates
08/21 Allston, MA – Brighton Music Hall
08/22 Burlington, VT – Monkey Bar
08/23 Montreal, Canada – Casa del Popolo
08/24 Toronto, Canada – Drake Hotel
08/25 Ann Arbor, MI – Blind Pig
08/26 Chicago, IL – Schubas Tavern
08/27 Milwaukee, WI – Club Garibaldi
08/28 Minneapolis, MN – 7th Street Entry
08/30 St. Louis, MO – The Biliken Club
08/31 Lexington-Fayette, KY – Cosmic Charlie's
09/01 Pittsburgh, PA РClub Caf̩
09/02 Washington, DC – The Red Palace
09/15 New York, NY – Mercury Lounge (Album Release Show)
Caveman: facebook | twitter
The War On Drugs: facebook | myspace
Porcelain Raft: official site | facebook | bandcamp
share this: