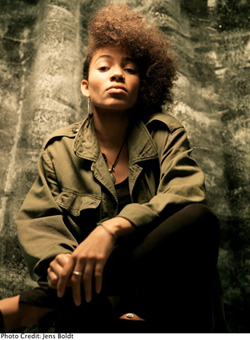 Nigerian-German songstress and activist Nneka Elise Egbuna has important things to say concerning social justice, human dignity, and the soul's journey, and she's been doing it in elegant fashion since 2004, when she first started working with German hip-hop producer DJ Farhot, performing in Hamburg, where she lived at the time. Singing in both English and her native Igbo, she cites hip-hop as her main influence, and her powerful social commentary touches on the best traditions of that genre, but her sound is unique, melding hip-hop beats with shuffling reggae rhythms, African pop and authentic '60s/'70s soul, with strong tribal roots.
Taking from the best of all worlds, she creates an atmosphere that wraps perfectly around her amazingly agile vocals.
On her new album, Soul Is Heavy (on Decon Records), she examines political and social issues in her native country – power, corruption, injustices – in the context of her personal experience of struggle, loss and the salvation of love. This is one woman who walks the talk. In a recent documentary directed by Sam Bathrick (with Sahara Reporters, which supplied footage of Nigerian demonstrations), she speaks about the recent "Occupy Nigeria" demonstrations and how America's addiction to oil helps fund the corrupt government, and continues the sad plight of the Nigerian people.
Soul Is Heavy is a rich musical stew, where the traditional seamlessly melds with the modern. The soul/hip-hop/house/reggae of "Lucifer" leads into the hypnotically woven spoken/sung vocals on "Sleep," which features guest vocals from Ms Dynamite. "My Home," with its tinkling classical piano, reggae into soul vibe and brightly shining brass section, is just one example of the amazing synergy created by a beautifully blended smorgasbord of musical flavors, capped with Nneka's richly resonant soulful voice. As Nneka explains, "it is about finding a place in your mind, a place where you can be yourself and just be in God." (read interview in Topman Generation). There's powerful commentary in "God Knows Why," which features Philadelphia rapper Black Thought (The Roots).
The title track, "Soul Is Heavy," with its hypnotic rapped/sung style, captures Nneka's essence, as she relates the struggle of her country and its people, and the rediscovery of one's self.
"Naija in the loud and roudy of my world
there is a secret place where I find myself,
can I find you?
Biafra, the noise of horns of thirsty nigerians,
of hustlers, of mothers confront me as I walk pass
Lagos, in prayer contemplation, like a ghost
I feel the sorrow of a many,
still I do not know how much pain it takes
Naija, I walk the island, i walk the mainland,
I see diversity, I smell capacity but still we suffer, why?"
Judging from the potent beauty of this album, it's a given that Nneka's live performance must be something special, and straight from the heart. She has just a few East Coast dates before she tours in the UK and France. This is definitely one show you won't want to miss.
3/26 T.T. the Bear's Place, Cambridge, MA
3/27 Gramercy Theatre, NYC, NY
3/28 Johnny Brenda's, Philadelphia, PA
3/29 Jammin' Java Music Club & Cafe, Vienna, VA
3/31 Vinyl, Atlanta, GA
4/11 King Tuts Wah Wah Hut, Glasgow, Scotland
4/13 The Ruby Lounge, Manchester, UK
4/15 The Fleece Bristol, Bristol, UK
4/16 Komedia, Brighton, UK
4/17 Scala, London, UK
4/19 – 4/28 France (see site for details)
web | facebook | twitter | wikipedia | Topman Generation interview
listen to the album on soundcloud
share this: