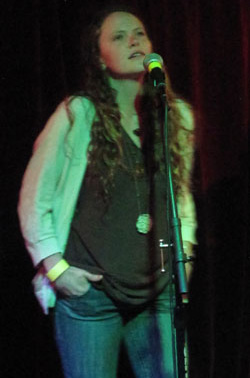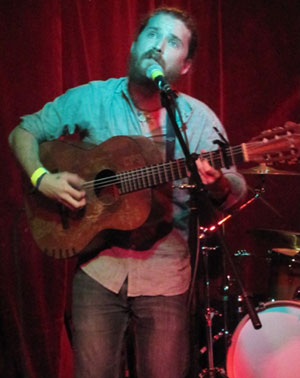 It's a testament to this fine performer that eleven days after Christopher Paul Stelling's mid-evening set at Precinct, I still have a vivid memory of it. I'd written about him a few times here, marveling at his lightening-fast finger picking style and impossibly warm and soulful vocals, but wasn't able to get out to see him the last time he was in town (also at Precinct).
CP's music and his live performance has this religious fervor that's both deeply moving and overpowering. It's in his eyes – wide and piercing, as if remembering some especially vivid night horror. I was instantly drawn in and fascinated by this solitary figure standing on a piece of plywood, stamping out a beat with his boots, fingers flying fluidly across his beat-up acoustic guitar, and vocals compelling like a hellfire-and-brimstone revivalist but without the preaching and damnation.
He performed songs from his gorgeous new album, Songs of Praise and Scorn, and brought along his bandmate and girlfriend Julia Christgau (who is also on the album) to add backing vocals and shaker to a few songs. She has a beautiful voice as well, sweet country and like a warm breeze, and did a stunning job handling the lead for one song. Their mesmerizing set unexpectedly included a hilarious 'road story,' providing some great comic relief amidst the heart-pounding intensity.
Though I was there for CP Stelling, there was plenty to enjoy in the other bands performing. Subpar Co-Star (a.k.a. James Force) was compelling with his whimsical irrelevant style and acoustic guitar looping (quite impressive). I would call his thing 'experimental folk,' though it took on a spacey vibe when he invited friends Adam and Eric up on stage to indulge in some mind-expanding electric guitar tones. He has an album available, Gidgets and Gadgets, an aptly-named venture, what with its neo-folk, jazz-funk, spoken word, experimental, electronic and ambient influences (and sometimes all on the same song). DIY recorded, produced and "distributed" as a numbered limited edition, the packaging is as lo-fi as the recording, hand-lettered with custom stickers, each bearing a different method of acceptable payment for the release (mine says "pay w/ a unicorn, if ya got one").
A curious but not unwelcome mix of genres, Divison Tree are a 3-piece psychedelic prog rock outfit, complete with their own laptop light show that gave their set that special mid-70s vibe, though technologically updated. Seriously spacey and mind altering, I went away somewhere, but came back just in time for a full-on crazed demon spirit visitation. At CP's urging, I had decided to stay for Shoney Lamar and The Equal Rights, and I'm really glad I did. Having lived in Boston for many years, I'd heard of him here and there, but as in so many other cases, never witnessed him live. Quirky as all hell, in-your-face and confrontational with some pretty damn sophisticated musicianship surrounding him, there's an exceptionally psycho Captain Beefheart thing going on. They clearly brought their own audience along; there was a tight group pressed against the small stage, who Shoney held captive with his riveting stage presence and poetic-punkish persona.
[As I'm old and it was past my bedtime, I unfortunately was not able to stay for Dead Cats Dead Rats, who closed the evening's festivities.]
Other videos of Christopher Paul Stelling:
Never Been There | Christopher Paul Stelling and Julia Christgau
share this: