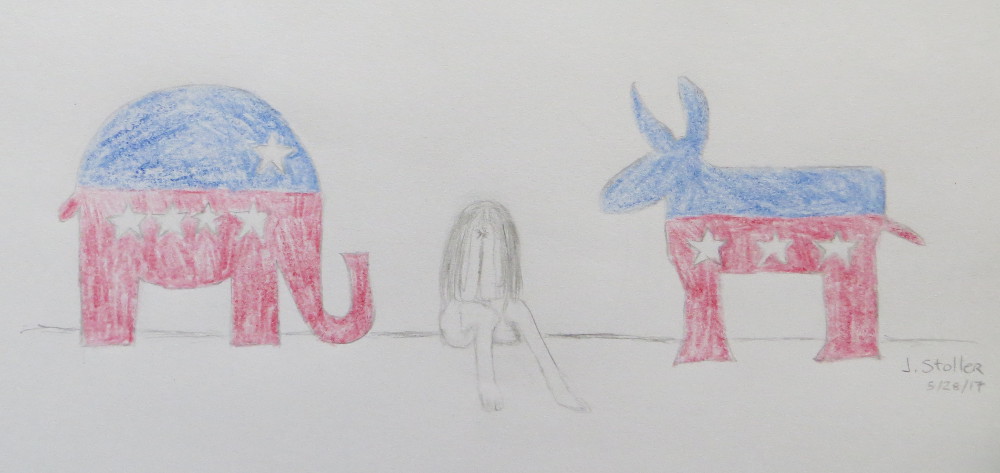 [This article was originally published on The Depression Army blog. Thank you, Dr. R., for editing. Note – this was originally written May 29. Three and a half weeks later, the Senate has indeed written their own AHCA proposal, and their "discussion draft" can be seen here].
People who struggle day-to-day with a mental health issue don't usually spend a lot of time following politics. When the world is closing in, it becomes necessary to shut out all that extraneous noise, push away the distractions and focus single-mindedly on one's well-being. However, with a new administration comes proposed changes to the American health care system that may make it more difficult for the less wealthy among us to find adequate mental health support.
Difficult as it is to take in all the information, ignorance is not bliss. People who are struggling need to be informed about — and sometimes even stand up for — one's basic right to decent mental health care.
Mental Health Coverage Under the Affordable Care Act (a.k.a. Obamacare)
On HealthCare.gov, the official site of the Affordable Care Act (ACA), there is a mental health and substance abuse coverage page that clearly states the legal requirements of all ACA Marketplace health care plans. This includes behavioral health treatment (for example, psychotherapy and counseling), mental and behavioral health inpatient services and substance abuse treatment. Specifics depend upon where you reside and your health plan, but the law states that all ACA plans prohibit spending limits and must cover pre-existing conditions, which includes any mental illness. The ACA also provides "parity protections" for mental health services. This means that it enjoys the same protections as any other kind of health coverage in terms of deductibles, co-payments, out-of-pocket limits, treatment limits and care management.
In fact, there's an entire government website devoted to mental health, with clear information about how the ACA has improved access to mental health services for many people, regardless of where they live and what type of plan they have. This official source says, "As of 2014, most individual and small group health insurance plans, including plans sold on the Marketplace, are required to cover mental health and substance use disorder services. Medicaid Alternative Benefit Plans also must cover mental health and substance use disorder services. These plans must have coverage of essential health benefits, which include 10 categories of benefits as defined under the health care law. One of those categories is mental health and substance use disorder services." In the ACA program, mental health care is seen as an essential health benefit.
Despite the improvements to mental health care since the ACA first went into effect in 2014, a study by researchers at NYU's Langone Medical Center found that mental care access in the U.S. is still inadequate. Nearly one in 10 Americans who had mental health problems in 2014 didn't have insurance that would allow them access to treatment. For approximately 10.5 percent of people, there were delays in receiving professional mental health treatment due to insufficient coverage, compared to 9.5 percent in 2006. In 2014, 9.5 percent of those suffering with mental health issues couldn't afford to pay for psychiatric medications, up from 8.7 percent in 2006.
The AHCA – Just Passed by the House of Representatives
The American Health Care Act, passed by the House of Representatives on May 4, seeks to roll back federal guarantees of mental health coverage and substance abuse treatment, instead leaving it to the discretion of individual states. Under the new plan, states can also opt-out of requiring that insurers cover pre-existing conditions. Other Essential Health Benefits (EHBs) left to the states to provide or not provide include emergency services, hospitalization, maternity and newborn care, rehabilitative services, chronic disease management, pediatric services and prescription drugs. The AHCA, as currently written, allows insurers in states that have opted out of covering EHBs to charge people more for their health insurance if they have pre-existing conditions.
What Do We Stand to Lose?
The ACHA bill leaves critical mental health care treatment and prescription medication coverage for poorer people up in the air. Depending on where you live, there may be state-provided financial assistance for psychiatric evaluations, counseling and potentially life-changing psychiatric drugs — or not. Should this bill go into effect, coverage that you're currently receiving from your insurer, whether it's through your employer or through the federal ACA marketplace, might go away. In a worst-case scenario, those families who need certain medical coverage for pre-existing mental health conditions may have to consider moving to a state where insurers will cover them. Unable to get proper care in their community, people with a serious mental illness are increasingly ending up in local jails, a sad development that is straining law enforcement. Mental Health America states that 1.2 million people living with mental illness are in jails and prisons every year. The Sentencing Project study referred to in the article found that six out 10 of those states with the least access to mental health care (Southern states) also have the highest incarceration rates.
The New Health Care Proposal: Here's What Happens Next
As the House's AHCA bill moves to the Senate for approval, the Congressional Budget Office(CBO) has issued their findings on the House's proposed bill. The CBO estimates that the AHCA will leave 23 million more people without insurance by 2026 than if the ACA were to stay in place. They also discuss the dangers of leaving coverage decisions to the states. A CBO breakdown confirms that a state opting out of covering mental health care and prescription medicines, as well as pre-existing conditions, could cause out-of-pocket expenses to significantly rise for that coverage, leaving many priced out of the healthcare marketplace. The good news is that the U.S. Senate is unlikely to approve the House bill and in fact, they're writing their own version. The bad news is that there are senators who may not heed the warnings in the CBO report.
What Can You Do?
First, don't despair! There are many people who are aggressively fighting these radical changes to a healthcare system that, although flawed and in need of fixing, many people rely on. However, if you're someone who is especially sensitive to mental health issues, it is imperative that you add your own voice to the choir of discontent. Indivisible is a nationwide organization that encourages people to take local action to express their concerns and tell their personal stories. Town Hall Project has an interactive database of town hall meetings by members of congress that constituents can attend. Add yourself to the mailing list of upcoming events in your area. If you're unable to attend a meeting in person, you can also contact your senators directly to tell them how important mental health care coverage is for you and your family. You can also contact your House Representatives. When your representatives aren't legislating in Washington, they should be back in their states to meet with their constituents. You can view the senate schedule and house schedule for 2017.
Above all, keep yourself well-armed with information! Important decisions are being made right now that could impact your mental health care and essential support services. If you believe that healthcare is a basic right, and that those living with mental illness should have the same rights as anyone else who suffers from a crippling affliction, Speak Out and Speak Loudly!
Your voice matters, and the voices of millions of sufferers will be heard in the voting booths!
share this: