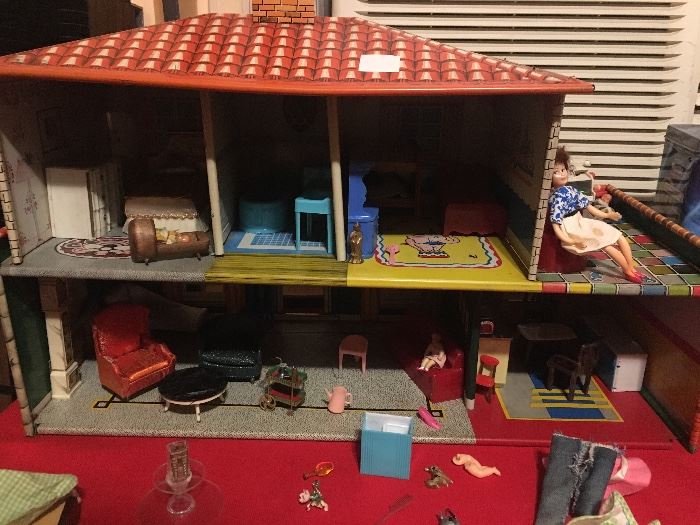 In the 1950s, it was a home of the future. There were shiny linoleum floors and wall-to-wall carpeting, with gleaming appliances and a neat lawn. The child's dollhouse, much the same, designed to make a little girl's dreams come true. She imagined it as her own private place — just the same as the home she grew up in.
In her land of make-believe, the rooms were handsomely appointed, neat and tidy. The master bedroom had as a regal, golden bed and elegant headboard, with a baby sleeping in a wooden cradle. A gleaming tile bathroom was right next door. There was a child's festive bedroom, with a circus elephant, various plush toys and clowns waiting patiently for children to play with. The home, though it was modern and pristine, seemed sad and empty.
The living room, too, awaited inhabitants. A comfy red armchair, upholstered in a rich Asian fabric, kept company with a sparkly blue-black chair and round, low black marble coffee table. A white silk divan stretched out luxuriously, all under the watchful eye of a stately white marble grandfather clock, which presided over the glamorous décor with a sense of haughty importance.
This was a room imagined for gracious dinner parties, and a cocktail trolley stood waiting to entice guests with refreshments. Upon more careful inspection, there was one single child, who sat alone on a red leather sofa.
But where were the parents? In the kitchen, there was no one, and the table, sink and counter were oddly free of plates and dishes.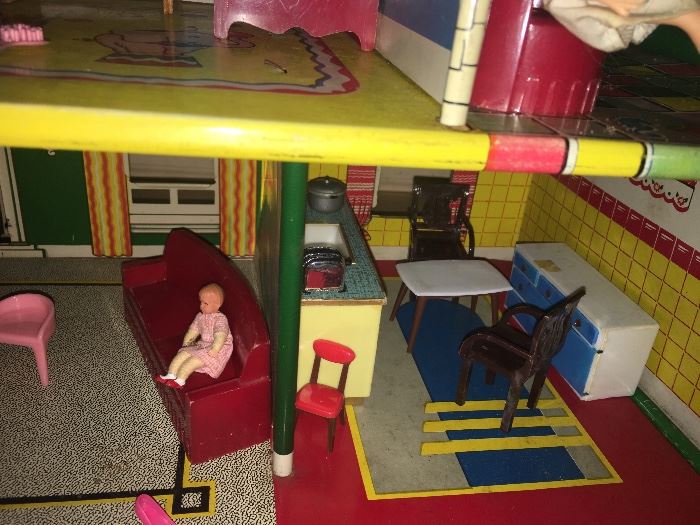 The little girl who was busy playing with her imaginary family wondered this also. Would the children be left unattended in such a well-appointed home? Surely not?
Her young, innocent gaze pulled back from the individual rooms to take in the entire structure. And it was then that she saw her. The woman of the house was harried and staring off into space. She sat slumped in a chair against the outside wall of the small patio on the second floor, with a look of distress on her movie starlet's face. Her hair was untidy, and she wore a dirty dress that had a blue and white blouse and white skirt. Her bright red shoes were the only indication that she was once a great beauty who lit up dance floors and loved to spend the evening sashaying to big band music. This was when her life was more carefree and the world, a simpler place, was filled with limitless possibilities.
I can tell you that her husband was busy at work, researching and designing medical equipment that would one day save many lives. He loved his wife and their children, of course, but he was so involved in his work, it was so all-consuming, that it might have, at times, seemed like he suddenly awoke and found himself in a family unit not of his own choosing.
It is now that fantasy and reality merge, as the young girl, playing with the dollhouse, wonders about her own parents and her upbringing. Pictures of the dollhouse, being sold in an estate sale, stir something undefinable deep inside her. She allows herself to feel the grief of her recent loss, pushed out of the way to make room for endless probate papers, settling of bills, clearing of family possessions and all the other hard work that accompanies grief.
She asks herself these questions:
Why was mom so sad? (it was likely related to the physical abuse she suffered as a young child)
What could she have done differently to make mom happier?
What questions could she have asked to show dad that she was interested in his work?
Was she really uninterested in his medical research, or did it just seem too far over her head for her to comprehend? (she probably felt intimidated by his superior intelligence)
Why did dad feel at a loss in relating to his young daughter until much later in life?
What was it exactly that made dad so mistrustful of people? (very likely the knowledge that he was a "mistake," an unwanted child)
Did she do enough to support them?
What can she do, now that they're gone, to properly honor their memory?
What would they have wanted the most? (for her to be happy, as they often said, but how does one achieve that?)
She is left gazing at the dollhouse, surrounding by sadness and unanswered questions. But a small voice inside implores her to continue, to push on, to work through it — and to write it all down.
share this: