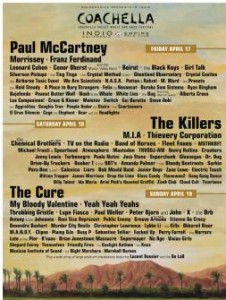 For those of us who aren't in Coachella this weekend (I tried, I really tried… too acerbic, perhaps?), I will be briefly profiling some of the lesser-known bands who will be performing. It's an amazing lineup this year. Yes, it breaks my heart not to be able to see the Airborne Toxic Event, Leonard Cohen, The Cure, Morrissey, Throbbing Gristle, Conor Oberst, Silversun Pickups, Franz Ferdinand… all on the same bill! But I'm not the only one who doesn't have the cash to do something like this, so I'll quit my whining.
I was going to just go alphabetically, but since the schedule has now been released, I'll do it chronologically. And I've decided to focus on the "tent artists", and only those I've never heard of. Which, I must admit, are most of them. Look at it this way – if you were at the actual event, you would no doubt be missing most of these folks, because you'd be at the main stage or the outdoor theatre, waiting for the big names to come on. Or you'd be running back and forth between stages and tents, trying to catch a few of those gems that unluckily got put on at the same time as another "must see". So no stress, and no drunken shits spilling beer all over you (just a guess; I've never been to a festival like this). I'll try to get to as many as possible; brief info and my first impressions. Pull up a comfortable chair, grab a beverage, and enjoy.
Friday, April 17
Switch (Sahara Tent, 12-1:30 pm)
Club / Hip Hop / House – UK | MySpace
UK-based producer, remixer and DJ Dave Taylor, also known as Switch, Solid Groove and the Brucker in A Brucker & Sinden. Producer of M.I.A's 'Kala', Santogolds 'Creator', remixer of P Diddy and Azzido do Bass. Not really my thing, but might be yours. "Worst time slot for style of music".
EL gran silencio (Gobi Tent, 12:45-1:40 pm)
Rap / Rock / Ska – Monterrey, Nuevo Leon Mexico | MySpace
Wow, great way to get the party started. Super high energy with a dancy groove. These guys should be a lot of fun live, but even stuck in my office, they raise the mood quite a bit, and are pulling me out of my coma. Lovely percussion and vocals (listening to their track "Timbalero" on their MySpace page).
Dear and the Headlights (Mohave Tent, 1:00-1:45 pm)
Rock / Indie / Pop – Tempe, Mesa, Phoenix, Arizona | MySpace | official site
Quirky, pretty, upbeat indie pop – not a thing wrong with that! Lyrics warrant closer attention (when I'm not racing through bands). Nice vocals from Ian Metzger on "I'm Not Crying. You're Not Crying, Are You?". "Best band name" (tied with A Place to Bury Strangers).
DJ Craze & Klever (Sahara Tent, 1:30-2:30 pm)
(DJ Craze) Club / Electronica / Freestyle (Miami, Florida) | (Klever) Black Metal / Disco House / Electro (Atlanta, Georgia) | DJ Craze on MySpace | Klever on MySpace | official DJ Craze site
Not generally a big fan of rap and techno, I like the sound of DJ Craze's "Say Whoa Craze Rmx". These guys will probably be pretty wild together, and they both seem to have big followings.
Ryan Bingham (Gobi Tent, 1:55-2:40 pm)
Singer/songwriter, country, Americana (Texas) | MySpace | official site
Nice singer/songwriter-focused slice of Americana, with lovely mandolin, harmonica, and slide guitar. Performing at the same time as DJ Craze & Klever, it occurs to me how musically diverse Coachella really is, and that's a wonderful thing. I see his influences include Townes Van Zandt and Joe Ely, and I was just about to say if you like Townes (and I really, really do), you'd probably enjoy Ryan Bingham. Also some folky influences like Woody Guthrie and Dylan, and maybe a bit of Southern rock in there as well (as I'm listening to "Hard Times"). Great sounding band, too.
The Aggrolites (Mohave Tent, 2:05-2:50 pm)
Reggae / Soul (Los Angeles, California) | MySpace | official site
From Techno to Ska to Indie Pop to Texan Americana, to Reggae… Smooth vocals and a tight-sounding band, The Aggrolites have a nice sound, varying from the sleekness of "The Sufferer" (I really like this one) to the soul-infused all-out party of "Dirty Reggae". They should be a lot of fun live, but are pretty damn good not live also.
Gui Boratto (Sahara Tent, 2:30-3:30 pm)
Techno / Synth-pop (Sao Paulo, Brazil) | MySpace | official site
Gui Boratto is an architect, musician, composer and producer, focusing exclusively on his own work since 2005. Cold sounding for my tastes (it's those synthetic drums; can't stand 'em – and yes, I was around and listening to music in the 1980s, so I can make a blanket statement like that), but it may well be to your tastes, so have a listen. [note that the video below has "vocals" but the tracks I listened to on his MySpace page didn't and were more straight techno-sounding.]
More band profiles coming soon! Stay tuned…
share this: