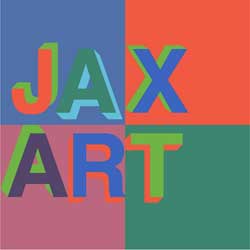 It was one of those odd moments of serendipity. This morning, I was thinking it was high time to begin writing what I've been thinking about for nearly a month now – my first "label profile" of a small but wonderful and prolific enterprise out in L.A. called JAXART Records. Since they've put out releases by a few of my favorite bands from that astonishing "Silverlake scene" (Rademacher, The Henry Clay People, Mezzanine Owls…), I decided to put on a bit of music to get me in the mood. I plucked out another one of my favorites, "Our Tears Have Wings" by the Monolators. Then I proceed to dig around for some background information. I come across an interesting and informative interview from LAist with JAXART founder Ashley Jex . Reading along, I discover she's in the Monolators, first joining them on the brilliant "Don't Dance" album, which has been sitting for a while on my turntable. And that she publishes a blog that I include in my blogroll and regularly frequent, Rock Insider. It was one of those "ohhhhhhhh" moments (stop that chuckling out there; I'm on a computer day and night, so I have short-term memory issues. Sometimes it just takes me a while, ya know?). She's deeply immersed in L.A.'s local music scene, having done a stint as a KROQ intern, worked at a few indie labels, and even DJ's and books shows. She started Rock Insider in 2005, and JAXART Records in 2007.
JAXART's first release on September 11, 2007 was The Valley Arena's single "Kick At The Ceiling" (which included a b-side remix by Free the Robots). They pressed 1000 copies on 7-inch colored vinyl, and also released it digitally. They went on to release music from some of L.A.'s most amazing bands – Mezzanine Owls, The Henry Clay People, Rademacher, The Voyeurs, The Broken Remotes, The Parson Red Heads – and most recently, Divisadero and The Valley Arena's third album.
At a time when the lumbering and bumbling major labels are trying to figure out their place in the New World of viral marketing and illegal downloading, JAXART and other enterprising indies are nimbly maneuvering their way around and finding innovative ways to get the music out and well, if not make a financial killing, at least not lose too much money in the process. This includes, in addition to selling digital releases, the delightful re-emergence of collectible vinyl. In JAXART's case, this means nicely packaged limited runs of 7-inch EPs, sold online and at bands' shows.
A vital part of the incredibly vibrant artistic community of the Silverlake/Los Feliz/Echo Park area, JAXART's latest releases are the digitally re-released "Lefty" from the musically lush and lyrically melancholy Divisadero, and the noisy rocking goodness of The Valley Arena's "We Died" (full-length digital release and vinyl EP). There's such an enticing selection of bands out there right now, It'll be interesting to see what they put out next.
---
Many thanks to Ashley and Stephanie at JAXART!
JAXART on MySpace | Follow them on Twitter
JAXART's Bands
From Long Beach and performing together since 2003, The Valley Arena are Chris Stevens, Michael Nielsen, and Warren Woodward. A heavy sort of sound at times, then more flowing, with a punkish vibe and some glimmering guitar work from Chris Stevens. Early influences include Fugazi, Q and Not U, and San Diego bands Hot Snakes and No Knife. Listening to a selection of their songs on MySpace, "Kick At The Ceiling" is a standout track for me, and the Free The Robots remix of this song on the just released "We Died" is lovely. From the new offering, other personal favorites upon first listen are "1000 lbs Of Light" and "DFWF" (with very nice interplay of guitar and vocals). Their third album, "We Died", was released on JAXART a few weeks ago as a digital download and a 7″ vinyl EP with a remix of "SOS4XOX" by Ikey Owens of The Mars Volta and Free Moral Agents.
A favorite of mine for a little while now, as I've been enjoying their "Slingshot Echoes" CD. Influences include the Jesus and Mary Chain, My Bloody Valentine, Pavement, Yo La Tengo, R.E.M. and The Cure. Melodic and dreamlike; at the same time soaring, driving. It's been quite a while since they posted anything to their MySpace page, so I have no idea what's going on with them, and if we can look forward to any shows soon. With my usual moaning about how I hate living so far away from all these great bands, they are definitely on my list of "would love to see" shows.
Awesome band. Another favorite. Garagy classic rock with an indie sensibility and sublime quirkiness. Was delighted when they supported The Airborne Toxic Event on their last tour and I was able to see them. They slayed the Boston crowd, and that can be a tough audience. Same goes for NYC. Things are really happening for them now, and rightly so. They played Sasquatch, and will be performing at Lollapalooza and the Austin City Limits festival. Brothers Joey and Andy Siera, with Mike Hopkins and Jonathan Price put on wicked cool, really fun live shows.
Ah, Rademacher… I love them so much, they were my first band profile on musings. Quirky, literate, wistful, deeply touching… they're technically from Fresno, but are definitely part of the "Silverlake scene". They've released the marvelous "Stunts" album, and a truly wonderful compilation of their early EPs, called "RIP Gardenside". There's also a great live recording of one of their shows at The Echo. All very highly recommended – and available via their MySpace. They play frequently around L.A. and Fresno (including solo outings from Malcolm Sosa) and also supported Airborne Tox, but sadly, very sadly, not here on the East Coast. I hold out hope that they will one day (soon) play here.
Poppy and upbeat, The Voyeurs (Jonathan Hylander (lead vocals), Sean Johnson (drums), Daniel Woods (guitar), and Elisha Jacob (bass) released their debut album "Well Known Drag" back in January of this year. Jonathan and Sean were previously in the band E>K>U>K and are also (currently) in the band Vaudeville, the latter of which I had the great pleasure of catching live at Spaceland last December while I was visiting. Good times. Their very enjoyable new release features playful honky-tonk piano and lovely vocal harmonies. Favorites for me are "You're A Wreck" and "Things People Say". And check out their MySpace for a really nice cover of "Sunny Afternoon".
Their tagline on MySpace reads "making people get up off the couch since 2004", and I can hear why. Another band I wasn't previously familiar with, but again, I like them a lot. "Boxer's Arm" (from their recently released JAXART single) is wonderful. "I'm weary as a boxer's arm… but I've got one last punch in me." "Last Resort" is a dancey pop tune about heartbreak, and listening to their music reminds me how much I enjoy this juxtaposition, of happy upbeat songs with underlying… well, I won't say despair. Let's just call it nostalgic melancholy, but with stubborn hope. "Worth the Regret" (from their second album), is especially lovely. Their previous releases are "Throw Me The Keys" (2004), "Lose The Swagger" (2005), and "Tonight's Last Stand" (2006).
A band I'm somewhat familiar with from other bands they've performed with at places like Spaceland and The Echo. At the risk of sounding redundant… a great band. Pretty, airy vocal harmonies and a folksy, slightly country, psychedelic sound. We just don't seem to have this sort of music here in Boston. With comparisons to the Byrds and the Flying Burrito Brothers, I guess it's an "L.A. thing". Their releases include "King Giraffe" (their debut in 2007), "Field Mouse Carnival", two live recordings (Spaceland and The Echo), "Owl and Timber", and their most recent EP, "Orangufang" (on JAXART).
I wasn't previously familiar with Divisadero, but they're absolutely wonderful. "The Boxer's Daughter" is a luscious mix of bluesy harmonica, guitar strummings with folksy-sad vocals, building to all-out space jamming. Dreamy, desolate, rocking, prog/psychedelic as it moves out into the stratosphere… nice! Currently streaming on LaLa.com (and on their MySpace), this "new" release is a revelation to me, and I strongly suspect it will bring Divisadero to the attention of a wider audience. "Lefty" is described as "a concept album about a boxer and his greatest opponent: his family." Wistful and melancholy vocals are complimented perfectly by a sweet and heady mix of rolling percussion and bass, violin and cello (and at times harmonica, slide guitar, musical saw, glockenspiel…), starting out quietly and reverently, then opening up into a delicious swirling mass of sound. "The Fight" is haunting and unsettling, both lyrically and musically. When the line "Daisy, daisy" floats in unexpectedly, the effect is chilling. A lovely, heart-tugging dirge. I can only imagine how incredible they would be live, so I'm hoping they make it out to the East Coast… soon.
JAXART Discography
The Valley Arena – "Kick At The Ceiling" EP (7″, digital) – 9/11/07
Mezzanine Owls – "Snow Globe EP (7", digital) – 2/26/08
Henry Clay People – "Working Part Time" EP (7″, digital) – 3/20/08
Rademacher – "Era" EP (digital) – 9/30/08
The Voyeurs – "Well Known Drag" debut LP (12″ vinyl, digital) – 1/27/09
The Broken Remotes – "Boxer's Arm" single (digital) – 3/17/09
The Parson Red Heads – "Orangufung" EP (7″, digital) – 4/28/09
Divisadero – "Lefty" (2008) (digitally re-released) – 5/19/09
The Valley Arena – "We Died" LP (7″ EP, digital LP) – 5/21/09
Upcoming Shows
Jun 12 – Rademacher – Malcolm Sosa SOLO – Guru Cuisine w/ David Dondero – Modesto, CA
Jun 13 – Rademacher – The Partisan w/ David Dondero – Merced, CA
Jun 13 – The Valley Arena – Tour Des Artistes Afterparty @ the Cellar – Long Beach, CA
Jun 15 – The Broken Remotes – Echoplex (first show since their "Boxer's Arm" release) – Los Angeles, CA
Jun 16 – The Voyeurs @ The Prospector with Bright Light Fever and By Sunlight – Long Beach, CA
Jun 19 – Rademacher – Tokyo Garden w/ David Dondero – Fresno, CA
Jun 20 – Rademacher – Malcolm Sosa SOLO – Pehrspace w/ Foot Foot & Dustin Fire – Echo Park, CA
Jun 23 – The Parson Red Heads – On The Rox w/ The Boat People & The Picture – Hollywood, CA
Jun 25 – The Valley Arena – the Yost Theater w/The Jakes and Army Navy – Santa Ana, CA
Jun 26 – The Valley Arena – Hell Yeah! @ Dragonfly – Los Angeles, CA
Jun 27 – The Voyeurs – The Comic Bug with The Damselles and more TBA – Manhattan Beach, CA
Jun 27 – The Parson Red Heads – Summershine Pop Festival – Ventura, CA
Jul 3 – The Parson Red Heads – The Crepe Place w/ Brothers and Sisters, Birds Fled From Me – Santa Cruz, CA
Jul 4 – The Parson Red Heads – Henry Miller Library w/ Everest, The Mother Hips, Brothers & Sisters, Little Wings – Big Sur, CA
Jul 7 – Rademacher – Cellar Door w/ Red Cortez & These United States – Visalia, CA
Jul 9 – The Voyeurs – Hyperion Tavern (acoustic as Vaudeville) – Los Feliz, CA
Jul 13 – The Parson Red Heads – Evan SOLO @ Silverlake Lounge w/ Avi Buffalo – Silver Lake, CA
Jul 15 – The Parson Red Heads – Evan SOLO @ Echo Curio w/ Brittain Ashford, Red Tag Rummage Sale, Rejouissance – Echo Park, CA
Jul 16 – The Parson Red Heads – The Ruby Room w/ Team Abraham – San Diego, CA
Jul 17 – The Valley Arena – @ Pehrspace w/ Kill Kill Kill and more – Los Angeles, CA
Aug 7 – The Henry Clay People – Lollapalooza – Chicago, IL
Aug 12 – The Parson Red Heads – Knitting Factory (main room) w/ Avi Buffalo, Roadside Graves, M. Bison – Hollywood, CA
Oct 2 – The Henry Clay People – Austin City Limits Music Festival – Austin, TX
share this: