Continuing where I left off last time, here's part II of my 'band roundup'. If you're in one of the bands I'm profiling and there's new information, please let me know, and I'll add it in.
Part II – Former Utopia, The Venetia Fair, Your Favorite Ex, Shudderwall, Godshills, and PAPA.
Former Utopia
Former Utopia is singer-songwriter/guitarist/vocalist George Gargan, with special guests Violeta García López and Chiara Meatelli. George formerly played bass in Lazarus Clamp (1999-2003), and formed Former Utopia in 2003. Lovely and very pretty folky acoustic guitar as on "A Love Like Infinity" and "Chilli Linguini Demo" (the latter adding violin and a female vocalist (not sure who it is, sorry), to great effect. Then there are truly quirky and odd things like an unrecognizable cover of "Tiptoe Through the Tulips" and the relationship ruminations of "Women X Possibilities", with the line "but you're impossible and I'm a rascal, I just want an easy life."
He also performs with Michael L. Clamp and Huw McPherso as The Philanthropists and with Chiara Meatelli and Violeta García López as More Bad Times. Additionally, he hosts the bi-weekly NetRadio show, Damnably Radio, which is "dedicated to John Peel and great groundbreaking music".
He/they have one recording available: a limited edition (250) 3-track vinyl 7″ which includes a CD with two additional bonus tracks. It includes tracks from Former Utopia, Michael L. Clamp, The Philanthropists, and Stupidly For Blood.
Upcoming Shows:
9/23 – The Donkey, Leicester-with Julie Doiron & Construction and Destruction plus guests – Leicester, Midlands
9/24 – The Cluny2 Newcastle-with Julie Doiron & Construction and Destruction plus guests – Newcastle, Northeast
9/25 – The Bowery, Edinburgh-with Julie Doiron and Construction and Destruction – Edinburgh, Scotland
9/26 – Glasgow DIY Festival-with Julie Doiron, Construction and Destruction plus guests – Glasgow, Scotland
9/27 – Islington Mill, Salford-with Julie Doiron, Lazarus Clamp, Construction and Destruction – Manchester, Northwest
9/28 – The Buffalo Bar, Cardiff-with Julie Dorion, Construction and Destruction plus guests – Cardiff, Wales
9/30 – Julie Doiron @ Luminaire with Lazarus Clamp, Construction and Destruction, Former Utopia – London, London and South East
10/10 – World International John Peel Day @Bloomsbury Bowling Lanes – London, London and South East
10/29 – DJ Set (DJ Set) with We Vs Death (Holland) plus guests @ Bardens Boudair – London, London and South East
"I like your style, you dress like you've been crazy for a while" – Those trainers r f*cking crazy
The Venetia Fair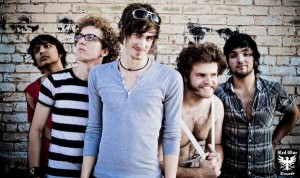 When I first listened to The Venetia Fair, I jotted down "punkish, crazy shit. fun." That assessment still stands. Based here in Boston, there's Benny Santoro on (shrieking, snarling, nutty) vocals; Samuel Parsons, bass; Chaz Kang, guitar; Joe Brown, keyboards; and not quite sure who on drums (guess they're looking for a drummer). I honestly don't know why Sparks comes to mind when I listen to them. Maybe Sparks at the circus, while doing badly-manufactured amphetamines.
Their debut release, "The Venetia Fair Presents: The Circus was released on June 12 on Red Blue Records. As for tour dates, it's rather cryptic on their MySpace, because they've listed all the places they want to play – which I think with most bands would be everywhere, right? So here's the ones that are actually – I think – real shows happening at real venues in real cities. Check back with them for updates.
8/30 – Red Electric w/ Phone Calls From Home – Las Vegas, Nevada
9/4 – Jake's Back Room w/ Phone Calls From Home – Lubbock, Texas
9/10 – The High Ground w/ Phone Calls from Home – Metairie, Louisiana
9/12 – Island Oasis w/ Phone Calls From Home – Winter Park, Florida
9/18 – New Brookland Tavern w/ Phone Calls From Home – West Columbia, South Carolina
9/19 – DRINK! w/ Phone Calls From Home – Myrtle Beach, South Carolina
9/20 – The Canal Club w/ Phone Calls From Home – Richmond, Virginia
9/23 – Shawnee VFW w/Phone Calls From Home & The Paramedic – Louisville, KY
9/25 – The Cavern w/ Phone Calls From Home & The Paramedic- Xenia, Ohio
9/27 – Park Theatre w/ Phone Calls From Home – Holland, Michigan
10/1 – Bogies w/ Phone Calls From Home – Albany, New York
Your Favorite Ex
Just one year old as of this past August 1, this Boston-based band plan consists of Chris Mitchell, vocals and guitar; Anthony Sharamitaro, guitar; Joe Borge, bass; and Tim Ringwood, drums. Their debut EP, Seven Days 'til Spring, is set for release in late September, and you can listen to the three tracks and download "Caramel Thoughts; The Sweetest Dreams" from purevolume. It's pretty decent stuff for their first recorded songs and considering how young these guys look. Age is not an issue, of course, but I'm always impressed when a bunch of kids (yeah, unfortunately I'm old enough that I can call them kids) have enough focus and savvy to jump right in and do it.
They have three shows currently planned, and it sounds like more on the way soon.
8/29 The West End Theater // ALL-AGES // Gloucester, Massachusetts
8/31 Harper's Ferry // 18+ // w/ The Sophomore Beat, All Out – Allston, Massachusetts
9/18 The Sad Cafe // ALL-AGES // w/ Hollywood Lies, The Coming Weak, and more! – Plaistow, New Hampshire
Your Favorite Ex MySpace | Facebook | Twitter
Shudderwall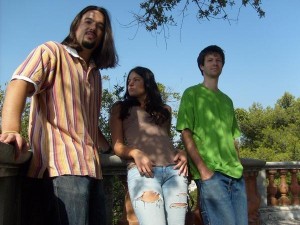 From Nice in the south of France, Shudderwall (two brothers, Emmanuel and Christophe (drums and guitar/piano), and their sister Florence on bass, with all on vocals) have been recording and performing together since 2007. Their 11-track debut album is available from Believe Digital. It was recorded and produced by Scott Matthews, who has produced, recorded or performed with Mick Jagger, Barbra Streisand, Carlos Santana, Eric Clapton, Keith Richards, John Lee Hooker, George Harrison, Joe Satriani, The Beach Boys and Neil Young. They've performed shows in France, Italy, and England, with radio, TV, and press coverage in Europe, Canada, the U.S., and even India.
An interesting sound – dark and gothic on songs like "Fairy Tale" and "The World Is So Gray"; quite hard-edged and even industrial in places, as on "Grudge". Upcoming shows are just in Nice for now: Oct 6th at King's pub, Oct 9th at Staccato with On The Edge, and Oct 14th at Nikaia 700 with Majda + Really addictive sound + The Nuances.
Grudge promo video
Fairy Tale
Godshills

Godshills first formed when Ewelina (lead vocals, guitar) moved to Baltimore from Poland and met Marc Canyon (bass) via a newspaper ad. Marc had previously played with Futureground in Los Angeles. John Tomakos rounds things out on drums and percussion. Influences include The Cure, The Strokes, Pearl Jam, early Modest Mouse – and they have a dreamy, atmospheric feel with lovely vocals from Ewelina.
After performing in Baltimore clubs for about a year, they released their debut album March (er, in April) on Rescue Records, which is available through iTunes, CD Baby, or Amazon.com.
Spider Webs
PAPA
PAPA (based in New York City), is Darren Weiss, Danny Presant, and Sean O'Brien. From what I can tell, they've been around for just under a year, and released their debut album back in April, available on iTunes. I like their sound; someone in their MySpace comments mentioned a Modest Mouse influence, so I'll go with that until I hear/learn more. They also have a Facebook page, but not much on there yet. I don't see any tour dates mentioned, so I'll assume they're 'in the works' and I'll keep my eye out for them. I'd definitely go see these guys.
Papa – What You Can't Leave Behind from Keegan Gibbs . com on Vimeo.
share this: