I was not sure what to make of this new "Siamese sister duo", Evelyn Evelyn. Technically speaking, they're Parapagus Tripus Dibrachius twins, and while their story is unique and compelling, one can't help but question the undoubtedly good intentions of Jason Webley and Amanda Palmer, who are bringing these lovely but vulnerable young girls to a worldwide audience, embarking on a rigorous touring schedule that would be physically challenging for a healthy individual with two arms, two legs, and one head. Though of course, like everyone else at the sold-out OBERON that night, I was curious and had to see and hear these remarkable sisters.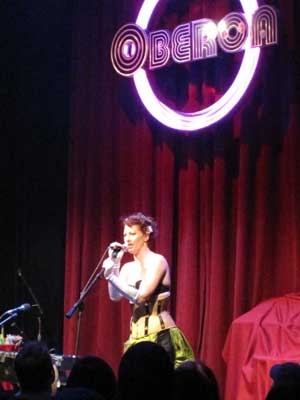 The evening began with brief but lovely sets from Jason Webley and Amanda Palmer, the two noteworthy musicians who first discovered the twins' music on MySpace and were inspired by their story to help produce their debut album and support them on this tour. Jason performed a handful of songs, accompanying himself on guitar and accordion; not at the same time, but still an impressive musical troubadour and riveting storyteller. Part tortured poet; part Tin Pan Alley. Humorous and engaging; a charming rogue. I've now had a chance to acquaint myself with his last solo release, The Cost of Living, and I can tell you, it's dark and powerful, frantic and melancholy, thoughtful and very beautiful.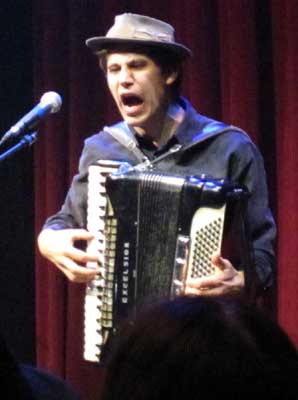 "Our minds were sharp, our bodies burning.
We gave ourselves over to learning,
How to break and how to give,
Betrayal taught us to forgive,
We stretched and soaked up everything they
Taught us well, we were first in our classes.
We learned to see through many glasses,
How to sink and how to fly,
We learned to watch each other die.
My God, this course is harder than we
Thought we had learned enough ways to love,
Still I don't know mother where we are."
– Ways To Love
Amanda (F*cking) Palmer – what can be said? Boston's reigning gothic goddess. First with beloved Boston punk cabaret act The Dresden Dolls, then her solo career starting with the release of Who Killed Amanda Palmer. She's both tempting and threatening, accompanying herself on piano, she and her audience engaged in an ongoing conversation of mutual adoration as she performed "Oasis", "Ampersand", and "Astronaut", after which Sxip Shirey and Jason Webley joined her for the quirky and oddly touching "Electric Blanket", a song about freezing on the tour bus in the U.K. and being given a special gift. I'll admit that I cried during "Ampersand" – that stark, awe-inspiring, quintessential anthem of self-empowerment:
"And I'm not gonna live my life
On one side of an ampersand
And even if I went with you
I'm not the girl you think I am
And I'm not gonna match you
'Cause I'll lose my voice completely, no
I'm not gonna watch you
'Cause I'm not the one that's crazy.
I also cried during "Electric Blanket". I mean, how could you not?
Sxip Shirey, the puppeteer, composer, guitarist, circus performer and founder of the Luminescent Orchestrii came back out to amaze and astonish us with his storytelling and soundscapes. With a crazy assortment of bells, tin cans, 'expanded penny whistle', glass bowl with marble, megaphone, and other unlikely "found objects", he was able to recreate with amazing aural accuracy entire cities – whether it be a Brooklyn barrio or an Eastern European marketplace.
He once said in an interview with unrescuable schizo, "What I say about my solo music is, I want to pull the ghost from the meat. I want to create this intensity that makes people's souls slightly move off their bodies." Indeed he did. As Ms. Amanda had done earlier, inviting a few audience members up to add choral accompaniment, Sxip invited a member of the chorus to play "supporting bells" on one number. Did I say "invited"? What I really meant was taunted, stating sarcastically, "because you did such a good job before." But the young man was unfazed, and did a lovely job.
Sxip left the stage, and excitement built for Evelyn Evelyn. Time passed. More time passed. Was there something wrong? Sxip's alter-ego, The Great Sxiphisto, appeared. As the twins' manager, I thought his manner was rather abrasive. I'm sure that shepherding around such an obviously delicate creature(s) is an awesome task, but as they were raised on a chicken farm and are unaccustomed to the limelight, I believe a more gentle approach and some sensitivity is what's called for. With a warm round of applause, the sisters were eventually coaxed out onstage. They appeared at first reticent and shy, but soon launched into the heart-wrenching tale of their life as conjoined twins, "Evelyn Evelyn".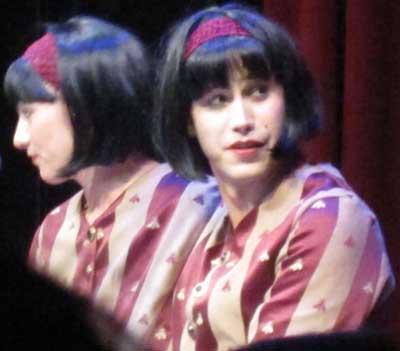 They touched us deeply from this first introduction, but Sxiphisto would have none of it, figuring perhaps that their honest and sad portrayal of their life together was bad for business. He jumped onstage and quickly launched into his spiel (which also serves as a biography of their time with Dillard and Fullerton's Traveling Circus), "A Campaign of Shock and Awe", inviting audience members up to take photos with his reluctant and obviously uncomfortable star(s). Fortunately, the audience's support put the twins more at ease, and soon he was telling the story of their terrible arrival into the world, illustrated by a disturbingly graphic (and ok, I'll admit, quite hilarious) puppet show, "The Tragic Events of September".
From this point on, the audience was riveted to the Evelyn twins. We were brimming with compassion and yes, curiosity. Sure, their story was compelling, but could they entertain? They could. They performed selections from their debut album, including the ragtime romp, "Have You Seen My Sister Evelyn?" and "Chicken Man", though during the latter, Sxiphisto's idea to sprinkle feathers over them for added effect proved to be a harsh and insensitive reminder of their traumatic upbringing, and greatly disturbed one of the sisters, requiring the other to comfort her.
Happily, they recovered to perform the childlike and whimsical "Elephant Elephant", and the clever tale of sister rivalry, "You Only Want Me 'Cause You Want My Sister". They're marvelous performers, adeptly accompanying themselves on accordion, guitar, and piano – and with vocal interplay and harmonies so perfectly entwined that they could only come from conjoined twins.
Their influences are obvious – traditional Americana, circus music and showtunes, The Andrew Sisters, Joy Division (they did a sweet rendition of "Love Will Tear Us Apart"). As this was their first public appearance (the second of two nights at OBERON in Cambridge), their set was followed by a Q&A session, which can be seen – along with a few of the songs – on Amanda Palmer's YouTube channel. I feel privileged to have been present for Evelyn Evelyn's "coming out" party.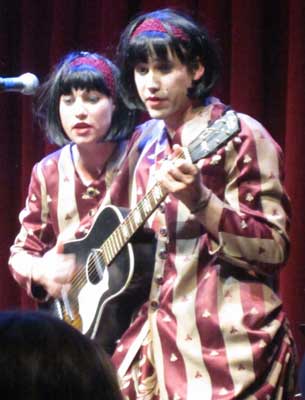 They're currently finishing up what I'm assuming has been a massively successful European tour, to be followed by month-long run in selected cities across the U.S. and Canada. I sincerely hope that early difficulties and the twins' shyness and discomfort have abated, because they're truly gifted entertainers and are most deserving of our support and love.
U.S. Tour Dates
May 17 Commodore Ballroom ~ Vancouver, Canada
May 19 Showbox at the Market ~ Seattle, WA
May 20 Crystal Ballroom ~ Portland, OR
May 22, 23 Great American Music Hall ~ San Francisco, CA
May 25, 26, 27 Largo at the Coronet ~ Los Angeles, CA
Jun 4 The Great Hall~ Toronto, Canada
Jun 8, 9, 10, 11, 13 Lucille Lortel Theatre ~ NYC, NY
Jun 18 Theatre of Living Arts ~ Philadelphia, PA
Jun 19 House of Blues ~ Boston, MA
Jun 23 Lucille Lortel Theatre ~ NYC, NY
Jason Webley: MySpace | official site | Amanda Palmer: MySpace | official site | Sxip Shirey: MySpace | official site | EvelynEvelyn: MySpace | Official site | Facebook | Twitter Twitter
share this: