Two Boston-area musicians featured this week. There's John Shade, a singer-songwriter performing with a string quartet (nice!) at the Lizard Lounge Tuesday night (that's tomorrow), as part of a three-week residency. Then there's Zac Taylor, guitarist/songwriter (guitarist for Vivian Darkbloom, whom I had the pleasure of seeing last month). He has a CD release party for his solo debut, Salesman, at cafe 939, where he'll be joined by his backing band and horn section, "The Drugs" (plus a few guests).
Tuesday, May 4
A residency featuring John Shade with The Neave Quartet, with special guests Nina Violet and Margaret Glaspy @ the Lizard Lounge – Tuesday, May 3. | 8pm doors; 9pm show | $5/$7 @ door; buy tickets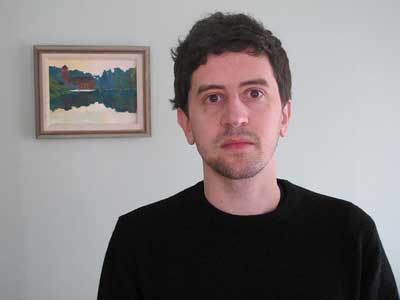 Those of you who enjoy simply stated, thoughtful and elegant songwriting with a touch of class should head out to one of the Tuesday night residency shows of Boston/NYC musician Dave Godowski's alter-ego, John Shade. He takes his name from the fictional poet in Vladimir Nabakov's novel Pale Fire [this is the second band I've covered in less than a month who's named for something to do with Nabakov… weird.] His debut album, the wryly titled All You Love Is Need, was recorded last autumn at Bon Iver's studio in Wisconsin (after opening up for them at a few shows).
He is now performing with The Neave Quartet, who will be with him at the Lizard Lounge for three consecutive Tuesdays – May 4, 11 and 18. They're also recording a version of the album with strings, which is being produced by Paul Kolderie (Radiohead, Pixies, Warren Zevon), who happened to catch one of their live performances and wanted to get involved.
Joining him for the first night of his residency will be songstresses Nina Violet and Margaret Glaspy. This should be quite a beautiful evening of acoustic-based music at the cozy and intimate Lizard Lounge. Have a listen to the opening track of John Shade's debut:
[John Shade's 5/11 show will feature special guest Vikesh Kapoor; his 5/18 show will feature special guests Jocie Adams (The Low Anthem) and Laura Cortese]
MySpace | official site | Facebook | Twitter
Thursday, May 6
Zac Taylor, with Nini & Ben and Kris Roche @ cafe 939 – Thursday, May 6.
Zac Taylor, guitarist for Vivian Darkbloom has his own solo project, Zac Taylor & The Drugs, which includes Derek McWilliams, bass; Bruno Esrubilsky, drums; Kristin Grillo, vocals; Paul Jefferson, alto sax; Tim Lewandowski, trombone; and Randi Kay Berniere, trumpet. Their sound moves from the bouncy pop of "Go If You Must," to funky and festive when the horns come in ("The Getaway") to slow, jazzy and meandering in "Sleeping In The Car". Boston's esteeemed publication The Noise raved about their live set, saying "The band's three-piece horn section caps the group off nicely, adding an additional element to the Ben-Folds-meets-John-Mayer sound."
Check out their 'virgin SXSW experience':
Joining Zac and The Drugs this evening will be Nini + Ben and Kris Roche. Nini + Ben are a very cool folk-Americana quintet that includes Nini Fabi on vocals, Ben Gebert on acoustic/electric/slide guitars, and Tommy Bohlen on pedal steel. Kris Roche is a Boston-based musician and street performer (he frequently plays on Boston Common) who released an EP Anything But Alone last summer. His music is jazzy, soulful, with smooth vocals and contributions from a host of others on guitar, piano/keys, organ, sax, percussion, bass.
If you miss this show for some reason, Zac and The Drugs will also be playing at Tommy Doyles in Cambridge on May 21 and the Plough & Stars in Cambridge on June 12.
share this: