It's fair to say that Los Angeles isn't best known for its country music, but there is a small and growing scene, partly coming out of the alt-country history of Laurel Canyon, and supported by an excellent folk/country/roots blog, When You Awake. Leslie and the Badgers are proud purveyors of this fine country tradition, made all the more authentic by Leslie Stevens' Missouri upbringing. But there's also a lyrical and musical sophistication, a big city street-wise sensibility, that for me, sets them apart.
They've been really moving along lately, with shows supporting Roky Erickson and Okkervil River, and a recent performance on NPR's Mountain Stage. They were joined this evening at T.T.'s by Ferraby Lionheart, a Nashville/Los Angeles-based singer-songwriter with a love of old-timey entertainment and a unique quirkiness worthy of his unusual name.
Ferraby Lionheart is an interesting guy. I had seen his name mentioned along with other Silverlake artists. He actually was born in L.A. but grew up in Nashville, then went to school in Chicago, before returning to live on L.A.'s Eastside. Of course, once one hears that name, it's quite unlikely one can forget it. Ferraby is actually his real name; Lionheart isn't, though it's a fine choice given his sensibilities and influences, which are a bit different from his fellow Silverlake musicians. His singing is a smooth croon in the folk-country style, but there's an 'olden' quality to him – at times he conjures 1930s showtunes (his influences include Cole Porter, Judy Garland, and Shel Silverstein, which explains quite a bit). He described his debut album Catch The Brass Ring to LAist as "It's like if Jim Jarmusch took Mary Poppins, and Butch Cassidy on a paddle-boat ride." Yep, that's about right. Oh, and I guess they picked up Roy Orbison along the way.
For this tour with Leslie and the Badgers, he brought with him Phil Krohnengold (keyboards, guitar) and "borrowed" Badgers Ben Reddell (bass) and Travis Popichak (drums). They were all excellent, performing songs from his debut as well as several songs from his upcoming album The Jack Of Hearts, to be released August 3. Ferraby switched between guitar and piano, and added a few nice touches of harmonica, which complemented his dreamy vocals. Songs included "Pocket Knife", "Holding Me Back," "Corinne" (all from The Jack Of Hearts), and an older tune apparently written for a playwright ex, "Put Me In Your Play."
Leslie and the Badgers
When Leslie and the Badgers took to the stage at T.T.'s, to a small but deeply appreciative audience, they launched right into my favorite song of theirs, the melancholy and incredibly beautiful "Los Angeles." For some reason I wasn't expecting that one until the end, believing I would have to wait in sweet anticipation, so when I heard Leslie's plaintive ode to her adopted home first thing out of the gate, I got immediately teary, and stayed in that emotionally vulnerable state throughout their set. Which is quite right for authentic sentimental and heart-tugging country music.
"Oh yes, Los Angeles
so many nights in bars like this
Oh yes, Los Angeles
enchantment can be found, but not quite this
enchantment can be found, but not quite this.
And there are birds that have wings
not all birds with wings can fly
yes there are birds that have wings
not all birds with wings will sing."
– "Los Angeles"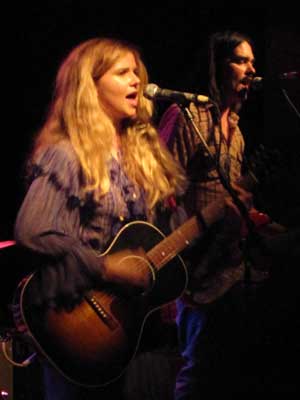 The band also features Glenn Oyabe on guitar and lap steel, and Charlene Huang's sweet-sounding violin – ah sorry, fiddle (by the way, she's also in another highly esteemed Silverlake band, One Trick Pony). Leslie's voice is like warm honey pouring into your ears (she's been compared to such country luminaries as Emmylou Harris and Dolly Parton). She has that lilting down-home Midwestern sound, but at the same time, classy and refined.
"Got a bottle and a guitar tonight
I'm gonna play them both until I get it right
please don't laugh at me if I play them wrong
it was your idea to get so gone.
outside the winter wind sings
but inside these walls it don't mean a thing
we're gonna lay around here 'til spring…"
"…love is what the angels will bring
it's just feathers falling down from their wings
we're gonna lay around here until spring."
– "Winter Fugue"
If you pick up their Roomful of Smoke CD (and you really should), I must make note of a few songs on there. The Badgers transform into a roving band of musical gypsies for the beautiful "What Fall Promised" and lovely, haunting "If I was a Linen". Just gorgeous.
"Soon the snow has turned the river
into a road that leads me here
takes you miles through burning branches
your reflection like a mirror
now the earth is dark and deeply
seeds are frozen to the land
it is winter on your pages, on your pages, on your hands.
– "What Fall Promised"
Ferraby Lionheart: MySpace | official site | Facebook | Twitter
Leslie and the Badgers: MySpace | Facebook | Twitter | Mountain Stage performance
share this: