Sometimes it's nice to ditch the loud rock club in favor of something a bit more low-key and relaxed, and spend an evening focusing on the songs and heartfelt singing accompanied very simply by acoustic guitar. Such was the case Thursday night at the legendary and venerable Club Passim, in the company of Portland, Oregon singer-songwriter Shelley Short and from L.A., aficionados of American songwriting – both traditional and modern, Les Shelleys.
Shelley Short opened the evening. Accompanied only by her own acoustic guitar gave singular focus to her vocals and songwriting, which are sweet, warm and very personal. Softly spoken with a delicate alt-country lilt, she performed several songs from last year's release on Hush Records, A Cave, A Canoo.
She began with the beautifully haunting song "Familiar," soft and pretty but with lyrics that are stark and chill-producing:
"familiar, familiar
familiar, familiar
places i go and the places i've seen
splash of the face in a cold water fountain
away from the top of a snowy mountain
since i met you, i'm afraid of dying
since i met you, i'm afraid of dying"
– Familiar
Her music is like this – a prettiness and simplicity upon first hearing, until you catch bits of lyrics which suggest something perhaps a little darker and more uncertain. Thoughtful songwriting and an engaging, gentle style with a dreamy fairytale quality, though with a sense of something deeper under the surface.
"i'm looking back over my shoulders
throwing bad apples away
oh what a day, oh what a day"
– Swimming
During her 45 minute set, she created a nice camaraderie with the small but very supportive and appreciative audience, and performed other songs from her last release, including "Mockingbird," "Time Machine / Submarine," "Hard To Tell," "A Cave" – and also "Swimming," from her 2008 album Water For The Day.
She has a few shows on the West Coast (Seattle and Portland) and in August, is off for a dozen shows in Australia.
Les Shelleys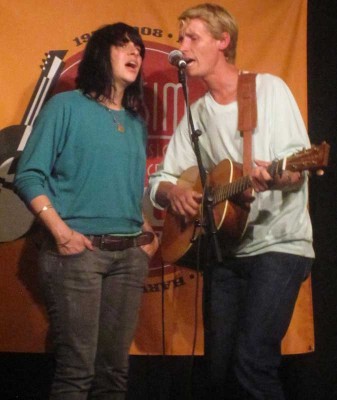 A bit of an adventure coming up from their previous gig down in New York didn't seem to faze Angela Correa and Tom Brosseau of Les Shelleys one bit. Nor did the very small turnout; if anything, it inspired a personalized performance that felt like an impromptu gathering in a friend's living room. Much of what I see are loud rocking affairs in skanky clubs, so to kick back at a table in Passim's cozy back room and listen to lighthearted, friendly acoustic performers like this was incredibly refreshing.
Though both Angela and Tom have given us a wealth of wonderful music on their own, with Angela's indie pop/alt-country project Correatown, and Tom's old timey-flavored acoustic folk, this was the first time they brought Les Shelleys, their personal tribute to the great American songwriting tradition, to Boston. They lovingly touch upon traditionals such as "In My Time Of Dyin'" and "Deep Blue Sea," the charmingly quaint "Something Stupid" (which, surprisingly, has been covered by both Frank & Nancy Sinatra and The Smithereens), and songs rich in Americana like "Wreck of the Old 97."
In this delightfully intimate performance that paid homage to some gifted songwriters, they also connected the bridge between old and new by performing, to my great joy, Elliott Smith's incredibly beautiful "The Biggest Lie." While this came up on me rather suddenly and I didn't catch it on film, I stupidly (but as it turns out, quite fortuitously) left the camera going as it sat on the table in front of me, so I do have the audio.
Les Shelleys – "The Biggest Lie" (Elliott Smith) mp3
In addition to the obvious love and admiration Angela and Tom have for this timeless music, they also emanate a real down-home vibe and genuine warmth which draws you in to their performance in a special way, and perfectly complements this sort of music. They also have a great chemistry together, fun and playful, which is really sweet to watch and become a part of. Hopefully they garner more attention through these shows, as I could really see them doing a set like this at summer festivals – something like Newport Folk Festival would be perfect.
For the rest of June, they'll be making their way back to Los Angeles, with shows along the way. See their MySpace for more info. Their debut album comes out later this year on Fat Cat Records.
Songs performed:
"Brother Can You Spare A Dime" (1931, E.Y. "Yip" Harburg and Jay Gorney)
performed by Bing Crosby, Rudy Vallee
"Wheel Of Fortune" (1951, Bennie Benjamin and George David Weiss)
performed by The Cardinals, Kay Starr, Dinah Washington
"In My Time Of Dyin'" (traditional)
performed by Blind Willie Johnson, Bob Dylan, John Sebastian, Led Zeppelin
"Wreck of the Old 97" (G. B. Grayson and Henry Whitter)
performed by Flatt and Scruggs, Woody Guthrie, Pete Seeger, Johnny Cash
"The Biggest Lie" (Elliott Smith)
"More and More" (1954, Webb Pierce)
also performed by Van Morrison, Mickey Gilley, Charley Pride
"Somethin' Stupid" (1966, C. Carson Parks)
performed by Carson and Gaile, Frank and Nancy Sinatra and others including The Smithereens and DeVotchKa
"Hearts Of Stone" (1954, Rudy Jackson)
performed by John Fogerty and The Blue Ridge Rangers, Elvis Presley
"The Lonesome Death of Hattie Carroll" (1964, Bob Dylan)
"Deep Blue Sea" (traditional)
performed by Pete Seeger, Grizzly Bear & others
"Late John Garfield Blues" (John Prine)
"Billy 1" (Bob Dylan)
from "Pat Garrett & Billy the Kid" soundtrack
"The World is Waiting for the Sunrise" (Ernest Seitz, Gene Lockhart)
performed by Duke Ellington, Les Paul & Mary Ford, Chet Atkins, The Beatles, Neko Case, Vic Damone and others)
Other videos:
"Something Stupid" | "Deep Blue Sea"
share this: