The Fatal Flaw, The Hush Now, and The Sheila Divine @ Great Scott ~ Wednesday, November 24, 2010 (SOLD OUT)
Just as I'm getting to this, late as always, I see now that this show is sold out. So if you don't have tickets, sorry. But I'd like to make a note of it, being as how it's a big "Boston Band Spectacular", and at least one of the bands is coming out of a kind of semi-retirement. So I'll briefly profile all three. If you already know all about them and are going to Great Scott's Wednesday night, awesome. If you don't know about them, check 'em out. How's that?
The Fatal Flaw
The Fatal Flaw have been around since 2008, started by native Californian Joel Reader who suddenly found himself in the frozen wasteland of Boston, gathered together a few other guys, and "began to write collaboratively, creating melodies in line with Reader's traditional pop sensibility while infusing the songs with the beautiful Northeast pessimism to which he had quickly acclimated." Indeed. "Don't Start Believing" (I'm assuming a nice jab at the Journey mega-hit) has a pleasant enough, non-threatening pop melody, but oh, the lyrics – "You let your reach exceed your grasp, but just be glad you tried before you die." YES!
From a lost friendship in "When We Were Friends" to the perils of dating a musician in "The Great Indoors" to a hilarious Guns N' Roses tribute in "Where's Izzy," these guys are a lot of fun (well, for those of us who enjoy pretty pop music and a cynical, sarcastic world view).
"He wants to see the great indoors, he'll live in vans and sleep on floors,
he wants to lead a raucous life and lead his band to distance shores
she wants to see him change his mind, about the home he's left behind,
she knows one day he'll settle down into the life that she's designed."
– The Great Indoors
Their one full-length release, so far as I can tell, is their 2008 debut, We Are What We Pretend To Be (on Lunch Records), where you can also find the single "Stab the Speakers". Not sure what they have planned next.
myspace | facebook | Lunch Records
The Hush Now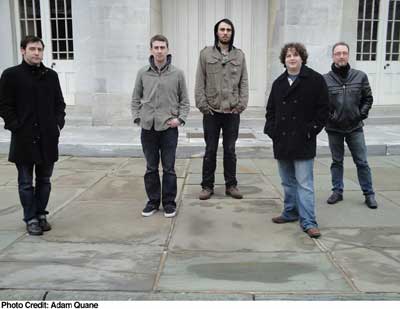 Founded by West Coast native Noel Kelly and joined by Boston-area musicians when he moved East, The Hush Now have two full-length albums, last year's self-titled debut and this year's Constellations, both of which can be downloaded free of charge on their official site. The Shiver Me Starships EP was released back in September. They have a light and loungy upbeat pop sound with smoothly sung vocals from Kelly. Their newest offering, "On Holiday"… despite the mention of being "trapped in snow and ice", the vibe is Christmas in Malibu rather than the frozen streets of Southie. Big band horns add to the whimsy.
Better suited to my darker tastes is their Halloween single, "Please Mephistopheles (Leave Me Alone)". Bluesy, haunting, creeping stealthily along… ah yes, that's more like it.
They reported last week that they're going into hibernation to begin work on a new album. That's after the show, I guess!
[audio:http://www.bostonsurvivalguide.net/wordpress/wp-content/uploads/2010/11/TheHushNow_On-Holiday.mp3|titles=The Hush Now: "On Holiday"] "On Holiday"
[audio:http://www.bostonsurvivalguide.net/wordpress/wp-content/uploads/2010/11/Please-Mephistopheles-Leave-Me-Alone.mp3|titles=The Hush Now: "Please Mephistopheles (Leave Me Alone)"] "Please Mephistopheles (Leave Me Alone)"
myspace | official site | facebook | twitter | youtube
The Sheila Divine
The Sheila Divine had their heyday from 1997 to 2003 when they were officially together, though they've had several reunions since then. I'm writing this for people who are unfamiliar with them, and my apologies to their large contingent of hardcore fans for this brief nod, those folks who recently contributed $13,000 for a $5,000 project on Kickstarter (who needs a stinkin' label anyway?). Presumably they're at work on this new album. Their sound is strongly reminiscent of many of the bands they cite as influences – Echo and the Bunnymen, Pixies, U2, The Smiths – with Aaron Perrino's vocals soaring in mid-range and gliding up at times into a nice falsetto… quite moving.
When the band broke up in 2003, the various members went on to different things. Singer, songwriter and guitarist Aaron Perrino formed Dear Leader, drummer Ryan Dolan went on to Hiss and Chambers, and bassist Jim Gilbert to The Plain Janes. Though now with a new album in the works, perhaps there will be a longer Sheila Divine tour?
myspace | facebook | The Sheila Divine Archive (fan site) | twitter | wikipedia
share this: