The Home Improvement Series, Part 5 of 10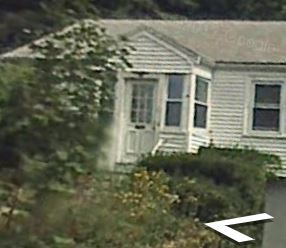 The problem: Sometimes something that's old and no longer viable must be fully knocked down and cleared out before you can begin anew. In a physical sense, it was an old wooden enclosed front porch—tiny, nearly useless and sinking fast into the ground. The entire thing was pitched at an angle, the roof no longer level. Long ago, carpenter ants had feasted and moved on to more fertile surroundings. It was long past time for me to move on as well.
The metaphor: Like the old porch, I had become rickety in my belief and confidence. I needed to break out of the narrow confines of my self-image and into a more expansive space where I had room to grow.
It's about expanding one's boundaries, real or imagined, and setting one's sights on broader possibilities and a wider horizon. The new porch will be made larger and open to the outdoors. There will be expanded vision, out to the ocean and to the open sky, getting out of my comfort zone and out of a restricted space, into the larger world.
Remade of stronger material, we will be resilient in the face of strong winds, challenges and adversity.
share this: