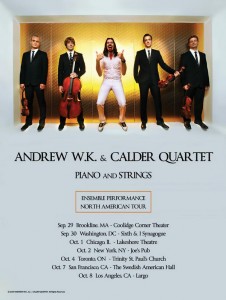 Andrew W.K. & Calder Quartet ~ Piano and Strings
at the Coolidge Corner Theatre, Brookline, MA
Tuesday, September 29
(show at 9:00 p.m.)
If you're wondering what to do on Tuesday night, and looking for something that promises to be unusual, look no further. I can tell you that the Calder Quartet are wonderful, having seen them perform with The Airborne Toxic Event, though I've never seen one of their own shows. They're based in Los Angeles, and the quartet features: Ben Jacobson, first violin; Andrew Bulbrook, second violin; Eric Byers, cello; and Jonathan Moerschel, viola. They specialize in classical and contemporary repertoire, and are focused on discovering new, emerging composers and, as they say on their MySpace page "pursuing unique collaborations". Um, yes indeed, as joining them for this evening at the Coolidge Corner Theater will be Andrew W.K., and I'm not even sure how to go about describing him. He's a musician (a classical pianist and metal aficionado), performance artist, lecturer, visual artist, writer… and is known for his spontaneous performances.
When they performed together for the Wordless Music Series back in November of last year, the Calder Quartet played selections for string quartet and electronics by Philip Glass and Christine Southworth, and Andrew did improvisations on themes of Bach, plus selections from his own repertoire. No telling what they have planned for this series of seven shows in the U.S. and Canada, but I for one am too curious to pass it up!
Andrew W.K. & Calder Quartet ~ Piano and Strings Performances
Sep. 29 ~ Brookline, MA ~ Coolidge Corner Theatre
Sep. 30 ~ Washington, D.C. ~ Sixth & I Synagogue
Oct. 1 ~ Chicago, IL ~ Lakeshore Theatre
Oct. 2 ~ New York, NY ~ Joe's Pub
Oct. 4 ~ Toronto, Ontario ~ Trinity St. Paul's Church
Oct. 7 ~ San Francisco, CA ~ The Swedish American Hall
Oct. 8 ~ Los Angeles, CA ~ Largo
share this: