There's been lots of exciting stuff going on for my favorite Eastside L.A. bands, which I first profiled in my "Silverlake Roundup" – Part One and Part Two. I'll be including those I have some info. for; if I'm leaving anything out (or got anything wrong), please let me know. Stay tuned for a batch of new bands from – or who regularly play at clubs – in this area (which, to be technically accurate, comprises Silverlake, Los Feliz, Echo Park, Eagle Rock, Highland Park, etc.). But for now, read on…
Old Favorites, New Projects…
Afternoons | Autolux | Avi Buffalo | Calder Quartet | Castledoor | Darker My Love | Death To Anders | Division Day | Eagle and Talon | Earlimart | Everest | George Glass | Local Natives | Mississippi Man | Molino | Radar Brothers | Radars To The Sky | Rademacher | Red Cortez | Robert Francis | Sea Wolf | Shadow Shadow Shade | Silversun Pickups | Summer Darling | The Airborne Toxic Event | The Deadly Syndrome | The Flying Tourbillon Orchestra | The Happy Hollows | The Henry Clay People | The Monolators | The Parson Red Heads | The Pity Party | The Rhone Occupation | The Union Line | The Voyeurs | Voxhaul Broadcast | Xu Xu Fang || East of Sunset Documentary
Afternoons
(See Shadow Shadow Shade)
Autolux
Early last month, they were negotiating with record labels to see who would end up putting out their new album, Transit Transit. Haven't seen any news yet, but the feeling seems to be "soon". They've also contributed to a track on the new Unkle album. Don't see any word on that either, other than it was being mixed. | MySpace | Official site | Facebook | Twitter
Avi Buffalo
Exciting times for Avi Buffalo. They recently signed to Sub Pop and have their debut full-length album (recorded by Aaron Embry) due out this spring. They did a "mini-tour" of the East Coast earlier this month, though sadly not Boston. They've also been confirmed for SXSW in March. An exclusive performance of "Coaxed" is up on Dirty Laundry. UPDATE!! It was just announced by Sub Pop that the new album will be released on April 27, coinciding with a U.S. tour along with Rogue Wave and Japandroids, which begins on March 1 in… Boston! All is forgiven, guys! They'll be at the Paradise Rock Club, and I'll definitely be there. For now, read more about the upcoming album and tour on L.A. Weekly. | MySpace | Official site | Facebook | Twitter
Calder Quartet
Though they're mostly performing in California, they'll be playing the Big Ears Festival in Knoxville, Tennessee March 26-28, the MATA Festival in NYC on April 20, and Peace Center in Greenville, SC on May 8. | MySpace | Official site | Facebook | Twitter
Castledoor
They're currently recording/mixing, and will be releasing a new EP this spring called Flashlight. Plans for video and photo shoots are "in the works". They'll also be playing a free show at Spaceland on Feb. 22 with Princeton. These guys are really great, and are one of the "first three" Silverlake-area bands I first started listening to back in January of 2008. Another reason to love them (aside from their lovely music) is that they posted lyrics to all their songs from their last (highly recommended) release, Shouting At Mountains. All bands should do this! | MySpace | Facebook | Twitter | Blog
Darker My Love
New album is imminent (mixed at Prarie Sun Recording Studio). And they'll be at SXSW, but no details yet. | MySpace | Blog | Facebook | Twitter
Death To Anders
See George Glass.
Division Day
Finished recording their new album in the Dangerbird studio (mid-January). | MySpace | Official site | Facebook | Twitter
Eagle and Talon
Two shows this month in L.A., but that's all I see for now. | MySpace | Official site | Facebook | Twitter
Earlimart
Something interesting coming up with a band called Admiral Radley, which – according to Buzz Bands late last year is "a collaboration between Earlimart's Aaron Espinoza and Ariana Murray and Grandaddy's Jason Lytle and Aaron Burtch. | MySpace | Official site | Facebook | Twitter
Everest
Their second album ("LP2") will be out in April. They donated a song from it, "The Rush", to Songs For Haiti – 2010 Earthquake Relief, an amazing effort with over 200 artists contributing music. Definitely check it out… and donate. | MySpace | Official site | Facebook | Twitter
George Glass
Yes, this is a new band, buy it's also kind of an old band, and one I had been wondering about. Guitarist Nick Ceglio and bassist Pete DiBiasio of Death to Anders have formed George Glass. Their demo "Call It Whatever" is currently streaming on Web In Front. | MySpace | Facebook | Twitter
Local Natives
Lots going on for the Local Natives! There's a recent Aquarium Drunkard Session (aired 2/5/10). Their new album Gorilla Manor (named for the Silverlake house where the entire band lived for a while) will be released here in the U.S. on Feb. 16th, and NPR is currently streaming it online. They'll also be performing at Coachella, SXSW, and Bonnaroo this year. The band's currently in Spain in the midst of a European tour. | MySpace | Official site | Facebook | Twitter
Mississippi Man
They'll soon be going into the studio to record their second EP which apparently will be released on an actual label – though they're not yet saying who. They have a "name our new record" content currently in progress. See their MySpace page for more info (where you'll also be able to see new videos they'll be doing). As for touring, a few mini-CA tours in the spring, with a 30-day national tour in the summer. | MySpace | Facebook | Twitter
Molino
They've got some stuff planned, though no major announcements yet, but for now, they're on the Radio Free Silver Lake Presents Winter 2010 Mix (along with a bunch of other really great bands). | MySpace | Facebook
Radar Brothers
They did a session with Aquarium Drunkard that will air in March. They'll be releasing a new album, The Illustrated Garden on March 23 (with a show at Spaceland on March 26), and will be performing at SXSW with a U.S. tour planned for early summer. The current line-up is Jim Putnam, Be Hussey (bass), and Stevie Treichel (drums), with keyboardist Brian Cleary (The Movies) and guitarist Dan Iead (The Broken West) joining them on the road and on future recordings. See Merge Records for more information and a free MP3 of "Horses Warriors" from the forthcoming album. | MySpace | Facebook | Twitter
Radars To The Sky
They're playing a show with a ridiculous (as in ridiculously great) line up on Feb. 19 at Echoplex – themselves, Rademacher, Mississippi Man, and One Trick Pony. Other than that… not sure. | MySpace | Facebook
Rademacher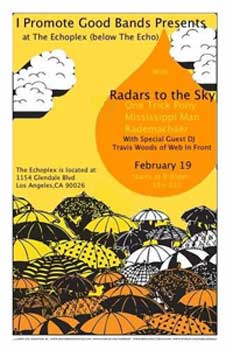 Currently recording a new record "chock full of licks and sad lyrics". Awesome. They have a few shows scheduled in CA (L.A., Fresno, San Francisco, Visalia) over the next few months – of spcial note: I Promote Good Bands and The Echo present Radars To The Sky / One Trick Pony / Mississippi Man / Rademacher with guest DJ Travis of Web In Front @ the Echoplex. Yet another of those "gosh, I really wish I could go to that" shows. | MySpace | Facebook | Twitter
Red Cortez
They will have an exclusive vinyl-only release – two previously unreleased songs – out in April (on JAXART Records). They're currently recording their new album, which will be their debut full-length (following their excellent Hands To The Wall EP). Though they were selling a full-length compilation at their shows last year which was pretty f'in spectacular. Really looking forward to the new music. They're also scheduled to play SXSW in March. | MySpace | Official site | Facebook | Twitter
Robert Francis
Currently in Europe touring (Germany, France, Belgium). Will be performing at SXSW. And I just discovered he'll be performing here in Boston on April 11 at the Paradise – no doubt part of a larger tour. YES! | MySpace | Facebook | Twitter
Sea Wolf
About to finish up a West Coast tour. They'll be performing with The Album Leaf at the Paradise on April 30 (I'm guessing it's part of a larger U.S. tour, but full dates haven't been announced yet). I won't miss them this time! | MySpace | Official site | Facebook
Shadow Shadow Shade
Formerly the Afternoons and now Shadow Shadow Shade (note the new MySpace page – and check out the very lovely Dark Of Heather, Pale Of Fern). Also, for a limited time only, you can listen to "Tempest in the Shape of a Bell" streaming online on Web In Front. Recently, they've been mixing their new album, at Ocean Way Studio A, and will performing at Spaceland tonight (Feb. 12). If you're lucky enough to live in L.A., well, I'll assume you're already planning on going. | Why the name change? | Interesting interview in the L.A. Times || MySpace | Facebook
Silversun Pickups
There's a cool article in USA Today about Grammy-nominated Silversun Pickups. Gosh, how I enjoy saying that. On Feb. 27th, they embark on a tour with Muse, which begins in Atlanta and comes to the Boston Garden ("TD Banknorth Garden" as it's now called) on March 6. | MySpace | Official site | Facebook | Twitter
Summer Darling
A week ago there was a mention of being "a few tweaks away" from having a new album ready to release. Waiting for word on this, and in the meantime – if you're in L.A. – they have a few shows lined up in the next few months. One of their rehearsals was recently filmed by LA-Underground. | MySpace | Official site | Facebook | Twitter
The Airborne Toxic Event
After near constant touring for a year and a half (including 220 shows in 2009), The Airborne Toxic Event seem ready to take a break now to work on their second album. Their last shows for a little while included a benefit for Friendly House at the Troubadour in Los Angeles (where they raised $40,000 for the charity), and a performance with the Louisville Orchestra, along with Calexico. The Disney Hall show DVD will apparently be released in April. As for their next album, Mikel told Spinner last month, "I have about eight songs written, another 10 half-written and a decent idea of what I want the record to be," he says. "There's definitely a lot of reflecting about the road and what it's like to feel lost. They always say your second record is your road record, like your first novel is an autobiography. All you've done is be on the road — what else are you going to write about? There are themes of isolation, losing your bearings and being lost in some big tremendous blur." UPDATE: they're currently "making demos, demos, and more demos". Great news. | MySpace | Official site | Facebook | Twitter
The Deadly Syndrome
As another of the "first three" Silverlake-area bands I first listened to, The Deadly Syndrome hold a special place in my heart, and I was fortunate to be able to see them way back in December of 2008 when I was visiting L.A. (in happier, wealthier times). Exciting news just hit as I'm writing this update! The Deadly Syndrome finally announces the release of their new album Nolens Volens. It'll be coming out on March 23, available via the usual digital outlets, with the physical CD from their official site. For now, you can download "Wingwalker", which is absolutely beautiful… "Say what you know, and fake what you don't". Indeed. | MySpace | Official site | Facebook | Twitter
The Flying Tourbillon Orchestra
They've been mixing a new album, but no word on a release date yet. Seems like they're looking to be in Austin during SXSW, if not actually officially playing it, with an April residency at the Echo in Los Angeles. | MySpace | Official site | Facebook | Twitter
The Happy Hollows
They recently won a contest for their video Death to Vivek Kemp (see above), which will now be added to rotation on mtvU! Awesome stuff. Also awesome: seeing their Samsung commercial during the season premiere of "24". Shows planned: L.A. on Feb. 18, and again at The Troubadour on March 12 w/The Veils, Phoenix, El Paso and SXSW in March, before which they're venturing out East! (3/3 in Washington DC, 3/4 in Phila, PA). Waiting with baited breath to see if they make it to NYC and… Boston? Please?? | MySpace | Facebook | Twitter | Blog
The Henry Clay People
Coupla shows in Cali. this month (free show at the Troubadour Feb. 16 with Dios and Signals), coupla shows in Cali. in May, and in between, SXSW. Beyond that… not sure. Update! (a.k.a. "if you take long enough to write an update, you end up with a lot of news") MichaelHsiung, who has designed HCP's 7″, CD, and tshirts, just posted his early draft of a design for their new album! Hmm… Somewhere On The Golden Coast? | MySpace | Facebook | Twitter
The Monolators
Excellent article and interview with Eli and Mary by Jonathan Kim for ReThinkReviews.net in The Huffington Post, and an interview with Eli on This Ain't A Scene (which is a very cool new site, and I'll give them a plug in my next "Eastside L.A. Band Roundup", coming up… uh, soon). Currently no word on any shows outside L.A., but I'll keep a lookout. | MySpace | Official site | Facebook | Twitter | Blog
The Parson Red Heads
Currently in the midst of a month-long "Northwestern U.S. Residency" with shows still coming up in Ashland, Eugene, Portland, Corvallis, and Salem, OR; plus two in Seattle, WA. Back in October they were working on a new album, but no news as of yet. | MySpace | Official site | Facebook | Twitter
The Pity Party
I don't see any news since the Sweater Fest and a recent benefit for Haiti, but I really like these guys, so I'll keep 'em up here and hope I hear something soon. | MySpace | Official site (such as it is) | Facebook | Twitter
The Rhone Occupation
A couple of shows planned for the L.A. area, and their latest EP Would It Kill You To Talk This Out (released last December) is available for free download on their site. | MySpace | Official site | Facebook | Twitter
The Union Line
No shows currently scheduled, but there was a mention of a "new EP" late last month. | MySpace | Facebook | Twitter
The Voyeurs
Cryptic tweet last month: "See you in February with new music." | MySpace | Facebook | Twitter
Voxhaul Broadcast
Just finished recording (as of Feb. 7). Their latest EP Fact, Fiction & Turquoise is not yet released, but you can hear it on their official site. They'll be at SXSW in March. [Wow, SXSW is gonna be an Eastside L.A. spectacular!] | MySpace | Official site | Facebook | Twitter
Xu Xu Fang
I think they've been working on a new album? | MySpace | Official site | Facebook | Twitter
East Of Sunset Documentary
Haven't heard anything about this recently, but supposedly it was in "post production". They'll be posting "Raw Clips" of what they've filmed on their official site – first one up is The Movies – "Pass the Music" (filmed on a rooftop).
share this: