Here's part 2 of my Silverlake update, featuring such bands as Rademacher, Silversun Pickups The Deadly Syndrome, The Happy Hollows, and The Henry Clay People (and lots more).
Pity Party | Radar Bros. | Radars To The Sky | Rademacher | Red Cortez | Robert Francis | Silversun Pickups | Summer Darling | Tables And Chairs | The Airborne Toxic Event | The Deadly Syndrome | The Happy Hollows | The Henry Clay People | The Monolators | The Movies | The Parson Red Heads | The Rhone Occupation | The Valley Arena | The Flying Tourbillon Orchestra | The Union Line | The Voyeurs | Vaudeville | Voxhaul Broadcast | Wet Cassette | Xu Xu Fang || Awesome film on the horizon! East of Sunset
L.A. Blogs: Aquarium Drunkard | Buzzbands.LA | Classical Geek Theatre | L.A. Underground | Radio Free Silver Lake | Rock Insider | Web In Front | You Set The Scene
The duo of Heisenflei and M have been performing together since 2006. Last year, they released their Orgy Porgy 4-song EP in a limited edition of 1,000, the cases of which are hand-sewn from an old billboard, featuring the atwork of Ronald Dzerigian, with six different covers (available on their MySpace page). They also released a limited edition EP called Rubbish to commemorate an art show at Echo Curio of the same name, celebrating trash. There were plans to release their debut full-length album, but I'm not sure what happened with that. They recently supported The Happy Hollows at Spaceland, though I don't see any shows listed right now. | Official site (but nothin' there yet) | MySpace | Wikipedia page | Rock Insider article (Jan. '08)
Radar Bros. is Jim Putnam on guitar, vocals, piano; Be Hussey on bass and vocals; Stevie Treichel on drums and vocals. Jim and Stevie also play in Tables & Chairs and Adeline & The Philistines. They have a really nice folky sound, and have released five albums, the latest of which was last year's Auditorium (Merge Records). They just tweeted two days ago: "the mixing process is going to start getting thick this week", so I guess they're recording a new album! (yay, Twitter) | Radar Bros. blog | twitter | Wikipedia
Their two EPs, released all the way back in 2007, are quite lovely, and it would be nice to hear something new from them. At the start of the year, they amicably parted ways with guitarist Seamus Simpson, so my guess is they've been working on a new sound at the shows they've been playing this year, and will soon work on releasing something. They do have two shows currently scheduled: Sep 24 at The Echo with Titus Andronicus and Oct 3 at Spaceland with You Me & Iowa (their final show). | MySpace | BeatCrave interview (10/08)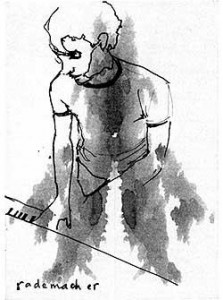 Rademacher! Very excited, because their new EP Belly Flop was just released. And they're currently on tour, which will take them across the U.S. and is rumored to include Boston, though nothing has been announced yet. There were some changes in band members earlier this year, so I'm not exactly sure who will be out on the road. Maybe someone who's been to one of their recent West Coast shows can fill me in? I can't wait to see these guys live. There are also plans for another EP that will be "mostly solo guitar and real quiet" (according to Malcolm Sosa, speaking to Web in Front). After that will be the full-length follow-up to the (brilliant and wonderful) Stunts. There's also the equally fantastic RIP Gardenside, which is a compilation of all the early EPs (it's available on their MySpace). They play Silverlake Lounge on Sep 16, and from there it's on to San Francisco, Fresno, Merced, and Sacramento CA; then Denver, Omaha, Iowa City, Lawrence KS, Chicago, and as they seem to be headed in the right direction, I'm breathlessly awaiting more dates to be added. | Featured Artist Interview – Web In Front
Red Cortez, about to go out on the road with The Airborne Toxic Event and The Henry Clay People for Airborne Tox's U.S. tour, have been recording new music and putting demos up on their MySpace. "Farewell, Dash Snow" is up there now, which is really good, and I look forward to hearing them live next month. The tour starts on Thursday (Sep 17) in Pomona, and heads across the U.S., with the East Coast in mid-October, and then back across, ending at The Fillmore in San Francisco on Nov. 2. Their latest release is Hands To The Wall. Harley Prechtel-Cortez just recorded a cover of Jim Carroll's "People Who Died" to commemmorate his recent passing. You can hear this lovely tribute over at Web In Front.
Lots going on for this amazing singer/songwriter. He's signed with Atlantic Records, and his debut album, Before Nightfall, will be released on October 20. You can watch his electronic press kit, which includes samplings of his new music. He performs with Portugal The Man in San Francisco on Sep 23, Pomona CA on Sep 26, Solana Beach CA on Sep 28, and Tempe AZ on Sep 29. He then opens for Jason Mraz in Berkeley CA on Oct 9, and supports Noah and the Whale in several cities – Los Angeles, San Francisco, Seattle, Portland, Chicago, Pontiac MI, and Toronto. Then he performs with Brett Dennen and Grace Potter and the Nocturnals in Baltimore, Washington DC and Philadelphia. | MySpace | Official site | Twitter | Web In Front interview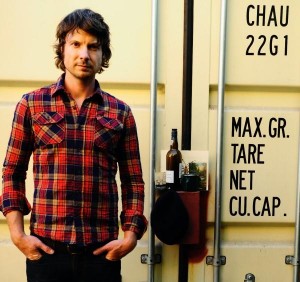 Their White Water, White Bloom album is due out September 22, and they've embarked on a big U.S. and Canadian tour. Tonight (Sep 16) they're in Pomona at The Glass House; then elsewhere in CA, Portland, Vancouver, Seattle… moving across and ending up in Boston on October 13 at the Paradise Rock Club. See MySpace for their full schedule. They're releasing a video preview/interview series, the first one which can be seen here.
I think this was the first group to put East L.A. 'on the map', as it were, so here they are. A great band as well. Their latest album is Swoon, from which "Panic Switch" and "Lazy Eye" have received a ton of airplay on the "mainstream alternative stations". Fortunately, they both happen to be good songs, haha (no actually, I don't really listen to those stations all that much – only when I'm trying to win shit). They're playing 'a few shows'… lordy. Sep 16 in Green Bay WI, Omaha, Des Moines… through the South, an interesting jump from Norfolk VA to Montreal, and then the East Coast, starting in Providence at Lupo's Heartbreak Hotel on October 17. Oddly, no Boston show, but Clifton Park (Albany), Hartford CT (The Webster, which is kind of a strange place for them, though I think it'll be perfect for Cage the Elephant), Burlington VT, and Rochester NY. After the L.A. 101 Festival on Nov. 3, it's off to Europe. By the way, that L.A. show will include other local (L.A.) bands which haven't been announced yet, so it'll be interesting to see who that will be.
They're currently putting finishing touches on the new album, which is scheduled for release "within the next few months". Vocalist/songwriter Ben Heywood is finishing a short story that inspired one of the songs, and the band had pen and ink portraits done; both of these items apparently will be included as inserts in the vinyl version. This will be their second full-length release, the first being I Know You — I Never Knew You. Currently no shows, but probably once the album is done. | MySpace | Official site | Facebook
Tables & Chairs
Well, their status on MySpace says "Hibernation nears an end". Could mean nothing, I don't know. What I do know is that Tables & Chairs is an experimental, electronic and fusiony instrumental band (really good, what a surprise), and features Brian Cleary on keyboards (The Movies, Adeline & the Philistines), Stevie Triechel on drums (same), Jim Putnam on bass guitar (same – plus Radar Bros.), and Marcos Lopez on guitar (The Movies).
They're touring. Yup. You can see their schedule here and follow their exploits. I'll make this easy; I'll just link to their category. I make no apologies for how much I love this band.
Wonderfully good. They have a show coming up on Sep 26 at the El Rey in Los Angeles w/ Eskimohunter & The Polyamorous Affair – something called TarFest. They've started performing shows again a few months ago after something of a hiatus, and hinted at "working on something" – hope it's a new album! | Official site | MySpace | Facebook
Their debut album, Spells, makes its appearance on Oct 6, but you can listen to it now on bandcamp, and man, does it ever sound good. The song "Lieutenant" has just received airplay on BBC Radio's "Introducing…" show; pretty cool stuff. They're playing some shows in San Diego, Los Angeles, Washington DC, Boston @ TT The Bears' on Oct 18 (yay! though I have to work, but I'll figure something out), and NYC at CMJ on Oct. 22. | MySpace | Facebook | Blog | Twitter | new interview at adequacy.net
Their MySpace status currently says "laboring". I'll bet. Their 35-date tour (most of which is with The Airborne Toxic Event and Red Cortez) begins on Thursday in Pomona and wraps up on Nov 3 in San Diego. Last year's For Cheap Or For Free (which is awesome) is available from iTunes, amazon.com, or Autumn Tone Records, though I'm wondering if maybe they'll have something new available at the shows? They probably have the same problem that Airborne does – no time to record anything! Major successes for them this year, including a few big-name festivals (Lollapalooza, Austin City Limits), and very well deserved. Looking forward to seeing them again. | MySpace | Twitter
The Monolators have some performances coming up in L.A., both as themselves and as Cobra Lilies (which includes Eli and Mary Chartkoff, Ashley Jex, and others). It's a little confusing, but here goes: Sep 18 at 6pm, Cobra Lilies will be on KXLU's Demolisten. [their older shows are archived here]. Later that evening, the Monolators play at the American Legion Hall in Highland Park w/ Wait. Think. Fast. & Seasons. On Sep 19, The Cobra Lilies have their EP Release and Fashion Show at the Highland Park American Legion Hall. On Sep 21 Eli and Mary will perform with other duos at "Sean Carnage Presents Duos Night" at Pehrspace. And on the 24th, The Monolators are at L'Keg with Blue Jungle, UV Lights, Mister Loveless. They'll also perform at this release show on Sep 29 at Silver Factory Studios to celebrate a 12″ vinyl record of remixes and covers of their song "We All Fell Dead", put out by LA Loves Records. Of course, none of this will matter to anyone not living in L.A., which is probably most everyone reading this.
Their latest release was last year's brilliant Based On A True Story. Not exactly sure what they're doing right now.
Their latest release is the 7″ vinyl and digital download EP, Orangufang on JAXART Records, which came out back in April. Not sure if they're working on anything new right now, but they do have some shows lined up, and I had a major "WHOA!!" moment while perusing their schedule. They play The Troubadour in West Hollywood with Everest for a KROQ Locals Only show on Sep 18. Then Spaceland on Oct 6 with Robyn Hitchcock and the Venus 3. From there, it's off to the East Coast for some shows in NYC and New Jersey with Roadside Graves, plus a few other shows in NYC w/other bands. Philadelphia w/Roadside Graves again, and then I see "Oct 17 Northern Lights w/Airborne Toxic Event, Henry Clay People, Red Cortez". Oh man!! Friggin' AWESOME!! First I've heard of this, and I have a ticket for that show; definitely going. What a great night that's going to be. They're back in L.A. for a free show on Oct. 25. | MySpace | Official site
The only show I see listed is the Abbott Kinney Festival in Venice CA on Sep 27, but you can download their latest release, the 5-track Would It Kill You To Talk This Out EP, from their official site. They're also on Facebook and MySpace.
The Valley Arena's We Died 7″ vinyl EP and digital download was released back in May on JAXART Records. I believe they toured over the summer, but I'm not sure what they've been doing lately.
They have two shows coming up: Sep 24 at Biola University (free show) in La Mirada CA, and Oct 1 at Knitting Factory in L.A. w/ Dusty Rhodes & the River Band. Their latest CD is Escapements, which can be purchased via iTunes or you can order a physical copy on their MySpace page. Currently they aren't playing out because they're recording and mixing a new album. To keep up with their latest news, visit their official site.
Union Line has one show listed – Sep 24 at Detroit Bar in Costa Mesa CA with Yellow Red Sparks. Not sure what else is happening. You can follow them on Twitter.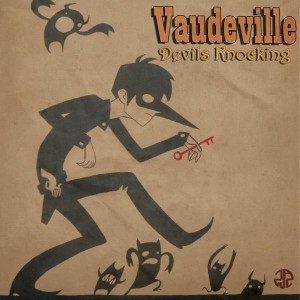 Back in July, JAXART Records partnered with OTIK Records to release Vaudeville's full-length digital album, Devil's Knocking, which is available on iTunes. And then I see on their MySpace page it says of their August 8 Long Beach appearance, "Our Last Show!". So I don't really know.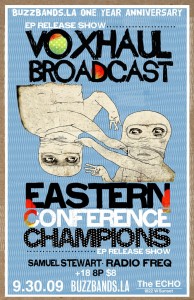 Voxhaul Broadcast have a new EP coming out September 30 called Fact-Fiction & Turquoise. Go to their MySpace page to download a free mp3 from it. And on Sept. 30, they're having an EP release show at The Echo w/ Eastern Conference Champions (seems it's a CD release party for them also), Samuel Stewart and Radio Freq. It's also the one year anniversary of Kevin Bronson's Buzzbands.la.
They have one show listed at this time – Oct 5 at The Echo in Los Angeles w/Correatown (Residency). Their debut album, Well Known Drag, (released back in January on OTIK Records/JAXART Records) is available as an LP or digital download on their MySpace page. Last month they released a video for "Things People Say" from their album. You can see it on Rock Insider.
Their debut release From God's Fang (featuring members of The Rolling Blackouts and The Voyeurs came out back in July on JAXART Records/OTIK Records, and is available on iTunes.
Seven Days Now, their 5-track EP which includes a cover of The Cure's "Fascination Street" (recently featured in a USA Today podcast, was released back in April. Previous recordings include The Mourning Son EP (May '08), These Days 12″ vinyl ('07), Los Angeles During The Winter Of '99 (their first CD), and they're featured on Perfect as Cats: A Tribute to The Cure, released late last year (which looks great, and I wasn't aware of). They have a show scheduled for Sep 22 at The Echo with Pink Mountaintops. | MySpace | Facebook | Twitter | Official site
I'll finish with an incredibly exciting film project: East of Sunset, a documentary focusing on the Eastside L.A. music scene, produced by Thrillhouse Productions. Read the synopsis. It features such bands as The Happy Hollows, The Henry Clay People, The Airborne Toxic Event, Mezzanine Owls, Monolators, Radars To The Sky, Division Day, The Movies, and Le Switch; DJs like Mr. Shovel from Indie 103.1 and KROQ's Kat Corbett; and local bloggers like Mouse of Classical Geek Theatre and Kevin Bronson of Buzzbands.LA. Thrilling stuff. I'll keep a close eye on this, hoping for a quick DVD release, though I'd love to see this in a theater (maybe I can somehow plan an L.A. visit to coincide with its first screening…).
East of Sunset Trailer from Thrillhouse Productions on Vimeo.